15 Celebrities Who Decided To Quit Hollywood For Their Children
Being parents of a child is perhaps the biggest celebration of life which at times can make them so desperate that they are ready to sacrifice just anything as they look at the face of their kids. People might wonder if these sacrifices are at all needed but you ask any parent, and the answer will be yes. Anything for their children. Motherhood or fatherhood is an incredible feeling, and the parents do not even think twice to do what is right for their kids without giving a second thought to what they lose.
Celebrities are people who chase after money, name, fame for whole life to be successful, but some of these successful people are also the ones who do not even hesitate to leave everything for their kids. We can find many cases where celebrities hardly care to finish their money-making career for the sake of keeping the family health and kids in the right shape. The thought of security, love and ultimate good for the children can even make these heartthrobs more popular. There are Hollywood celebrities who are ready to let go of their successful and glamorous life in order to give their children the best possible life.
Love for children makes these fifteen big stars of Hollywood quit their job, choosing instead to be an A-List parent.
15 JESSICA BIEL AND JUSTIN TIMBERLAKE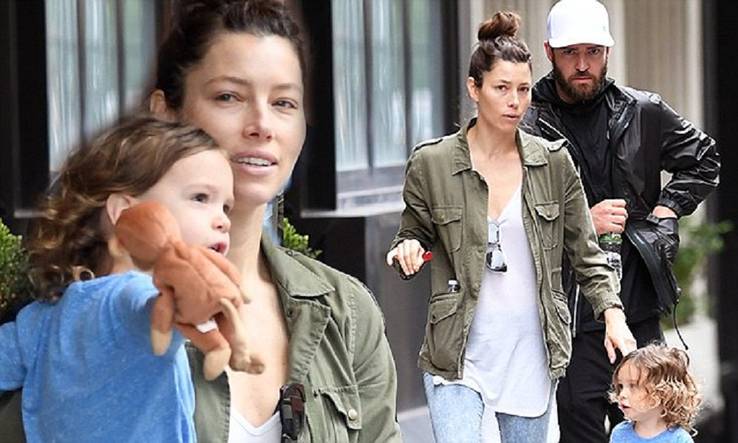 Remember Jessica Biel and her role as Erin Hardesty in The Texas Chainsaw Massacre? She also starred in Hollywood films like The Rules of Attraction, Blade: Trinity, Stealth, The Illusionist, The A-Team, Total recall and many more. On the other hand, the American singer-songwriter Justin Timberlake is also famous for his solo music career with numerous awards including Grammy, Emmy, Billboards, and others. Jessica Biel was actively involved in the Hollywood industry when she and her husband, Justin Timberlake became the proud parents of their son Silas. Starting from that moment, the new mom slowly disappeared from her active role in the industry in just three years. She is not to blame for her choice because she wanted to witness every milestone in her son's life. She used to post on Instagram now and then, but not as much anymore.
Jessica is playing the significant role of the entirely dedicated mother which would set an example for her son. That is not all; she is actively supporting charitable causes apart from being a full-time homemaker. She is clearly making sure that she creates a home for her son that is both nurturing and caring, not just for each other but for others as well. She is definitely putting her son above Hollywood. (Source: Thetalko.com)
14 SHANIA TWAIN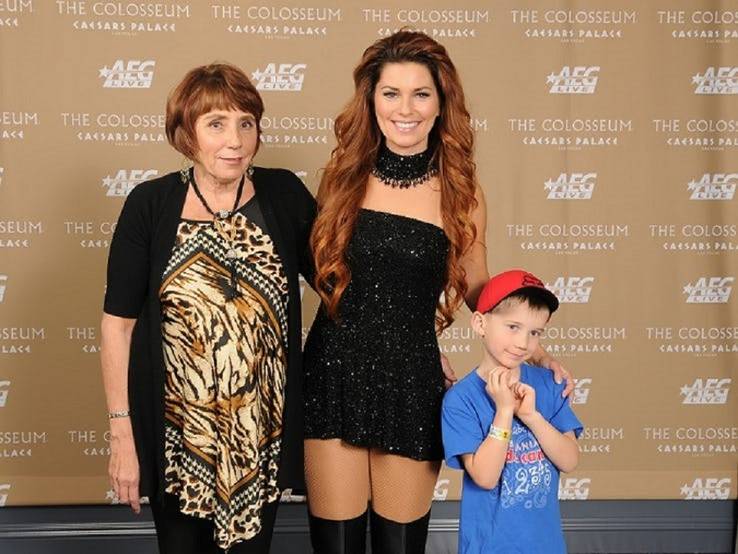 The country-pop queen Shania Twain can spin hay into gold in real life. Her story is interesting, and it's all about rags to riches transformation of a country girl. We all know her country-pop songs and love it. She can do it all: singing, dancing, and writes her music. She proved herself every time on shows with her mind-blowing performances. But mothers can do wonders. At the peak of the career when her son Eja took birth, Shania decided to leave Hollywood behind.
Twain and her hubby Robert Lange decided to relocate to Switzerland leaving behind Canada and USA to dedicate their full time to their son so they could focus fully on him. Shania's songs include greatest selling hits of all time but all she wanted was peace for her child and to grow him without any noise and haste.
The time when the child needed the mother most, Shania ardently supported that need by sacrificing her bright future. Now, that her boy has grown up, she can manage both the career and family, so no wonder she is set to blow up the music world once again. A woman can achieve a lot but a mother sometimes has to make a choice between what they want and what is good for her child. If you're Shania Twain of course, you can have both. (Source: Thetalko.com, Babygaga.com)
13 RHEA WAHLBERG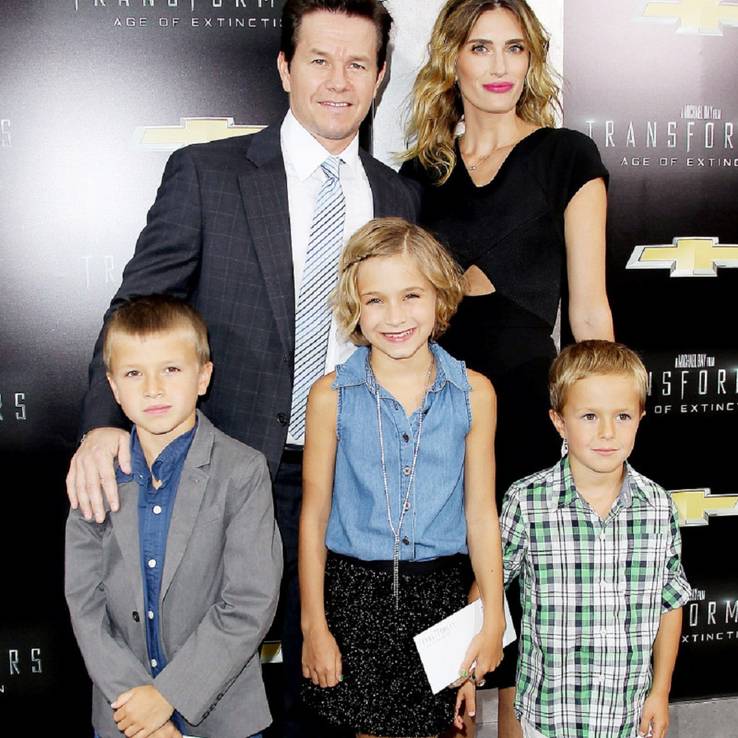 The American model Rhea Durham now Rhea Wahlberg appeared in most of the prestigious magazine covers like Elle, Marie Claire, and Vogue and ramp-walked in fashion shows like Victoria's Secret where the crowd used to be mesmerized with her style and look. Be it looks, boyfriend or career, she has it all. She was dating her then-boyfriend actor Mark Wahlberg for a decade and then decided to marry him. This pretty much tied together her perfect Hollywood life.
Rhea and Wahlberg have four children together Michael, Ella, Brendan, and Grace. Leaving her graceful modeling career, Rhea finally decided in 2006 to be a dedicated mom and stayed home to look after the children.
How she managed to look fantastic, raise four children and still keep herself together all the time is beyond us but we love it. Even after more than a decade she still enjoys being a mom and staying home supporting the children full time. Such is the pattern of mothers that they do not even hesitate to leave the hall of fame behind and consider their family everything. Rhea later made an appearance in the reality TV show of his husband 'Wahlburgers,' but their kids were already grown up by then by virtue of their mama's full care and support.  (Source: Thetalko.com)
12 JULIA ROBERTS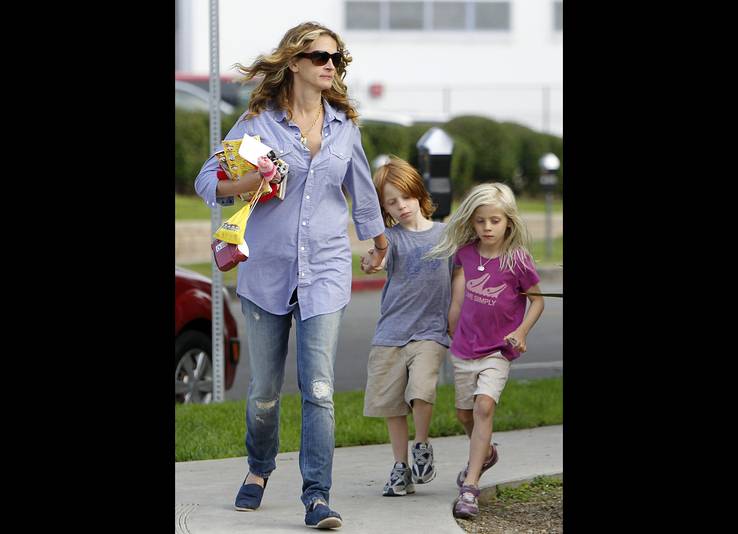 Julia Robert's Pretty Woman makes her a pretty face towards all after her superb award-winning performance in that film. She became an icon with her movies like Sleeping with the Enemy, Closer, Erin Brockovich, Something to Talk About, My Best Friend's Wedding, Notting Hill, Runaway Bride and others. But this lady who was leading a successful career suddenly decided to walk out of the busy celebrity life in Hollywood to play the role of a pretty mother. The Oscar winner Julia claimed to be a normal mom to her children despite being a famous actress in Hollywood industry.
Julia moved to New Mexico with her husband Danny Moder to raise her children Henry, Hazel, and Phinnaeus away from the spotlight, glamour, and glitz world. The couple admitted that they devoted most of their time to taking their kids to practice different sports events. Julia's acting career did not end entirely but she started to go for limited projects when she realized she had to take more time with her family in order to have a healthy family life. Obviously, Roberts has no regrets about the decisions she has made, but there are many celebs that might have regretted it. Luckily, she is not that kind of person. (Source: Thestir.cafemom.com, Thetalko.com)
11 BRUCE WILLIS & DEMI MOORE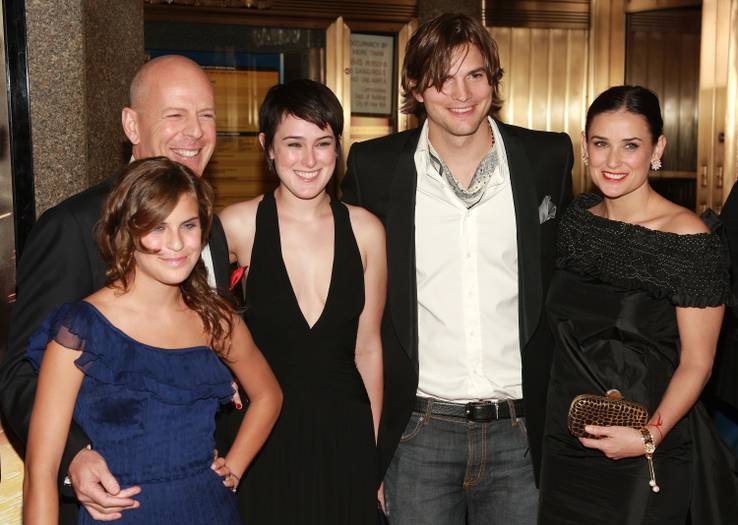 Is there anyone who doesn't know about this golden couple of the eighties and nineties? Bruce Willis & Demi Moore were just everywhere, be it hit movies, magazine covers, awards, or red carpet, they could be spotted anywhere. Demi Moore was so in demand, and her attitude towards work was one of a strong, independent woman. They were one of the best Hollywood couples.
1988 was the year when this leading star couple left Hollywood for a small town. They soon became the parents of three lovely daughters Rumer, Scout and Tallulah, and they made a move away from all the spotlight. Their daughters spent most of the time in this tinsel town, and as they grew up they learned that they would be able to lead a simple and normal life out of the spotlight and the over-busy schedule of stars. Both Bruce and Demi love the decision they made to choose the quiet country life that benefited their daughters immensely.
Demi, however, again got back to the industry when her daughters grew older as she could then maintain the balance between her work and family. (Source: Thestir.cafemom.com, Thetalko.com, Babygaga.com)
10 ELIZABETH HURLEY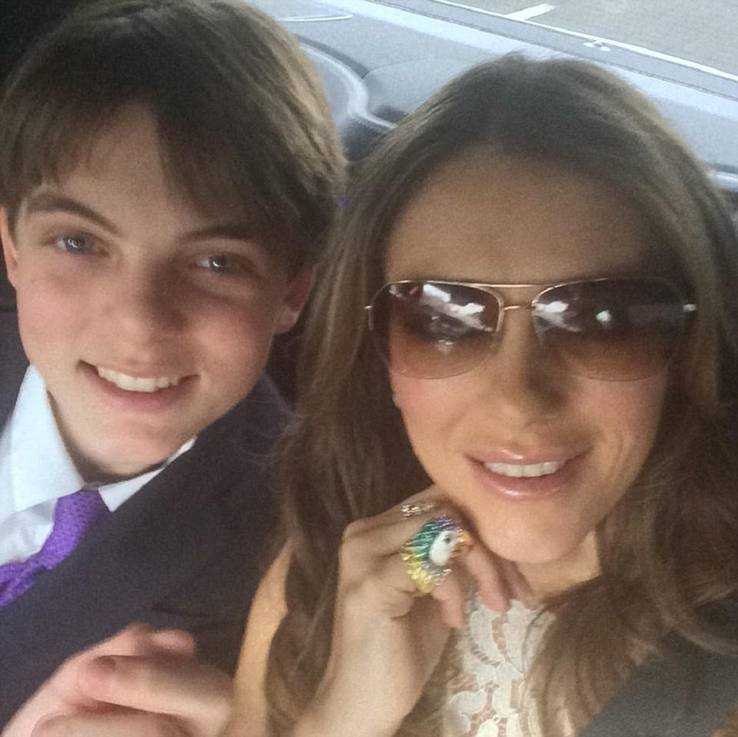 But after that, Liz took a break from her acting career to focus on raising her son, Damian Hurley on a farm in England. Elizabeth was more concerned about giving her son a stable life than bringing him up in the middle of busy schedules of movie sets and award functions. She devoted her full time solely to nurture her son's life out of industry's hassle and dazzling lights.
Until her son was grown up, she was a full-time mother but then in 2014, she officially picked up the drama series The Royals (fictional British Royal family drama) which was aired in 2015. (Source: Thestir.cafemom.com, Babygaga.com)
9 CANDACE CAMERON BURE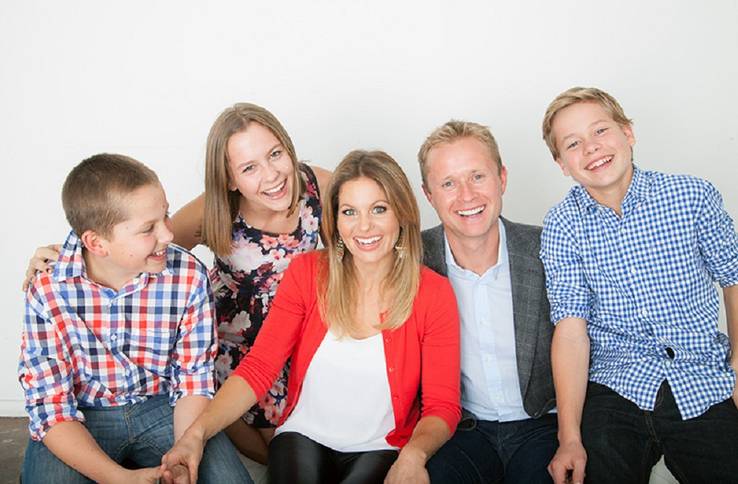 The American actress Candace Cameron is known for her role as D.J. Tanner in the Full House of the eighties. She is also an author, producer, and panelist in talk-shows. She starred in many shows like St. Elsewhere, Who's the Boss, Small Wonders, Growing Pain, and many more. Candace married Russian ValeriBure, an NHL hockey player. After being the mother, she opted to leave Hollywood to raise her children. Candace materializes her Full House in her own life with her three children Natasha, Lev, and Maksim. It was hard to leave the bright acting career behind, but she was enjoying her new role as a mother. It's really amazing how women do not regret this sacrifices when it comes to motherhood.
Candace was happily raising their children in Florida with Valeri, and she stated in public that she was happy with the submissive role of the wife. Cameron was surely settling all the problems in her own Full House gracefully. After ten years, Candace decided to reprise her role as D.J. Tanner in Fuller House when her children grew older as she could then strike a balance between her family life and her thriving acting career. Her children were also excited to see their mama on screen again. (Source: Thestir.cafemom.com, Thetalko.com, Babygaga.com)
Featured Today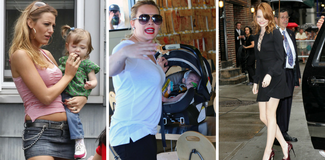 10 Has-Been Actresses With The Biggest Egos (And 10 Humble Sweethearts)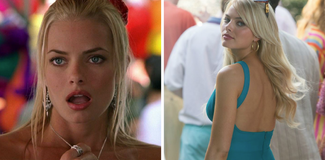 20 Female Celeb Lookalikes Who Made Us Look Twice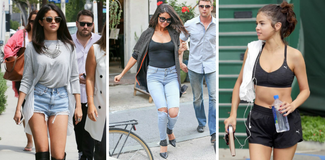 25 Paparazzi Photos Of Selena Gomez Everyone Needs To See

8 JOHN HUGHES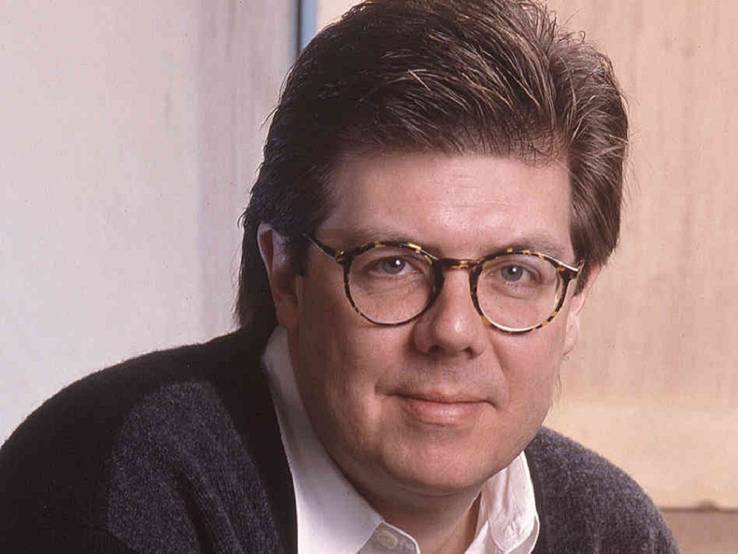 John Hughes was a very promising director-producer and screenwriter in Hollywood who's associated with the creation of classics like Sixteen Candles, Ferris Bueller's Day Off, Weird Science, The Breakfast Club, Pretty in Pink, Planes, Trains, and Automobiles. He also created notable films like Uncle Buck, Home Alone and its sequel-Home Alone 2: Lost in Newyork. His successful comedy teen films also helped to launch the career of many actors like Michael Keaton, Molly Ringwald, Bill Paxton, Anthony Michael Hall and many more. Then in 1994 he suddenly disappeared finishing off his immense potentiality as a director of the Hollywood film industry.
John's secret pen pal revealed about his high concern of the impact of his popularity on his young sons and family. He left Hollywood for the interest of their own good which turned out to be a great decision. People do return to pursue passion after settling down private matters, but John didn't, and he eventually passed in 2009. One can surely imagine his contribution to the Hollywood industry if he continued his great path and remained a part of Hollywood. It is tough to understand why great people leave everything behind after they worked so hard to earn it, but that is what parenthood is. Having a child prompts them to take such decisions. However, the huge impact of Hughes still remains in the film industry with substantial influence. (Source: Thestir.cafemom.com, Babygaga.com)
7 ROBIN WRIGHT
Robin Wright stole the limelight and became famous when she starred in the mega movie Forrest Gump opposite to Tom Hanks which gave her the nomination for the Golden Globe for outstanding performance and also not to forget the movies House of Cards, Wonder Woman, and The Princess Bride. But as she became a mother, she and Sean Penn, her former husband, packed up with family and settled in Northern California for the benefit of their children. Both of them tried to maintain a balance of their work and family life, and she remained distant from silver screen and camera as she stated that she didn't want to raise her children in that weird and sycophantic society.
Robin also stated that having celebrity parents is not the good recipe for children of any age. She does not regret her decision to devote her full time to raise her children, Dylan and Hopper, rather than keeping herself busy with celebrity life. This celeb mom is successful in instilling strong values in their children so that they also know how to balance the fame and the normal life, and what sacrifice for someone you love means. We hope the children will follow their parents when it is concerned about values. (Source: Thestir.cafemom.com, Thetalko.com, Babygaga.com)
6 DEBRA WINGER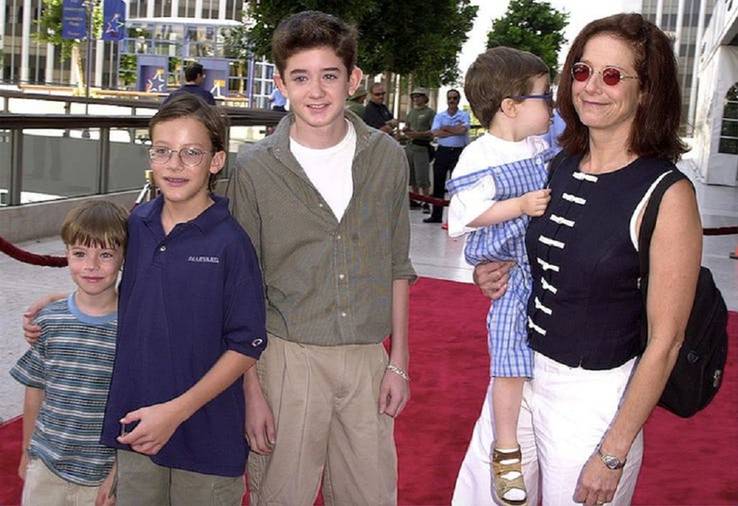 Debra Winger is known for her roles in the movies like An Officer and a Gentlemen, Terms of Endearment, Shadowlands, and A Dangerous Woman earning the nomination for the best actress for the Academy Awards and other awards. The list is long including Urban Cowboy, Legal Eagles Black Widow, etc. It was 1995 when Oscar winner Debra Winger left Hollywood's movie projects after finishing the movie Forget Paris. Three Oscar nominations weren't enough for Debra to stay in Hollywood. Instead, she chose to raise her sons Gideon and Noah.
Debra concentrated on family primarily by focussing on raising the kids with all the attention they needed and took up other projects, like teaching acting at Harvard, publishing her own book, and other occasional projects. The life was simple but best suited for her family outside Hollywood's glamour and fame.
Debra got back to the acting career after six years in 2001 when the kids were grown up, and she could maintain a comfortable, balanced life between her acting career and family. The sincere actress continued to master the screens and make sure that she still put her children first. (Source: Thetalko.com, Babygaga.com)
5 LEELEE SOBIESKI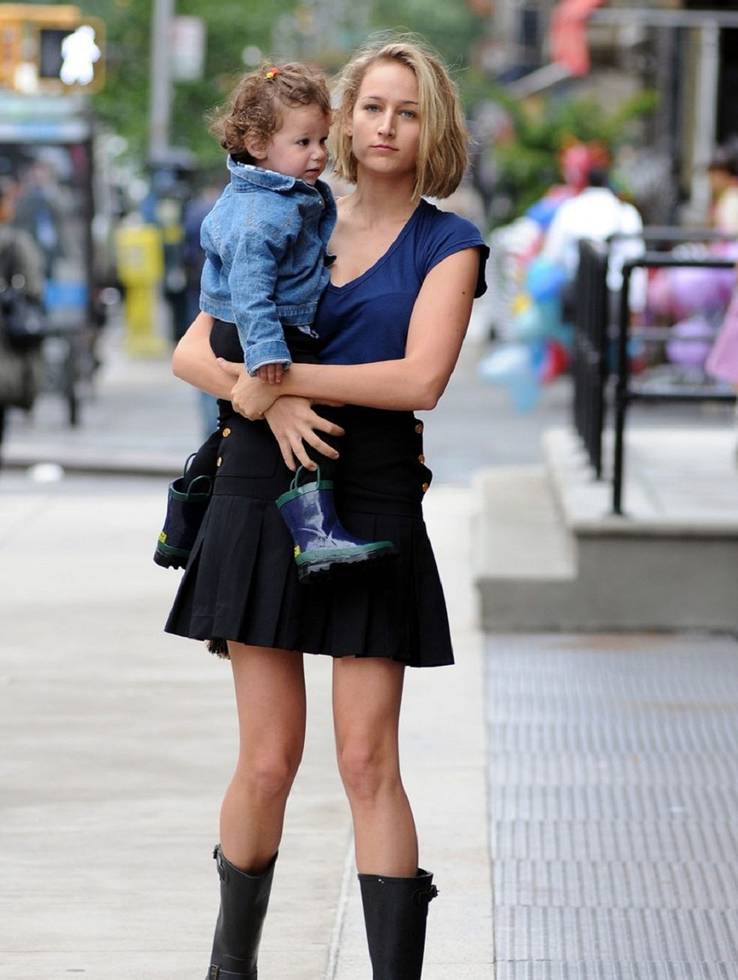 Leelee Sobieski, the charming first generation American actress, is better known for the role in Never Been Kissed. Her other notable movies are Deep Impact, Eyes Wide Shut, Joan of Arc, Uprising, A Soldier's Daughter Never Cries and many more. She was in the spotlight of the Hollywood since her teenage and readily grabbed the opportunity all that this creative industry had to offer her for a successful, bright career. She had a thriving career ahead in the Hollywood where she could prove herself.
But mothers do not care for success and always give priority to the young ones they are committed to. In 2012 Leelee, the loving mom left her acting career and took on retirement to raise her children Louisianna and Martin. She felt that as a mother she couldn't concentrate on her children properly due to the distraction caused by Hollywood and its attractions, and hence she decided to focus on the children only at that time. She spent those days with her husband Adam Kimmel raising her kids, and in her spare time she took up biking.
Leelee came back in 2016 for the film The Last Film Festival. After that, she chose to purely do the mom's role and began her art career as Leelee Kimmel. (Source:Thetalko.com)
4 PHOEBE CATES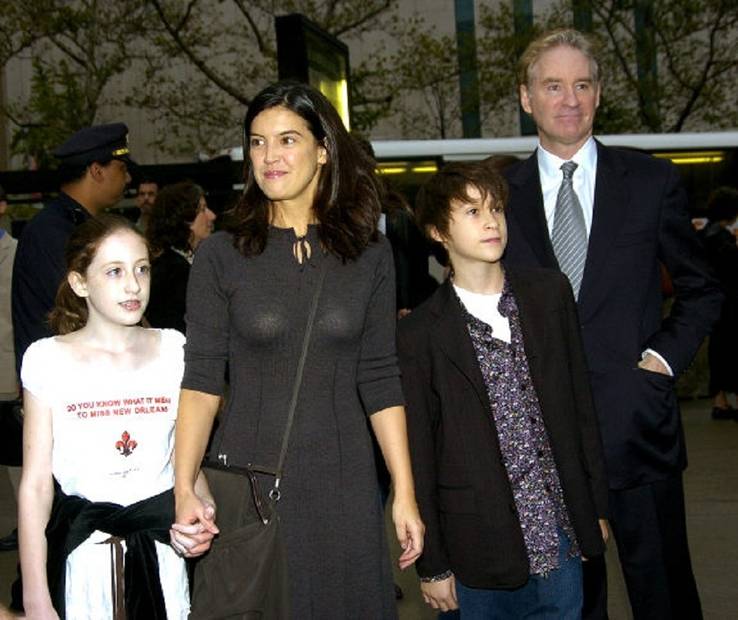 In the eighties, star actress and dreamgirl Phoebe Cates rocked Hollywood by playing the brilliant role in mega movies like Gremlins, Drop Dead Fred, and Fast Times at Ridgemont High. She also starred in other movies like Private School, Princess Caraboo and many more. Kate married actor Kevin Klein and became a mother to a son and then a daughter.
Cate and Kevin decided to alternate their working schedule after their kids were born so that one of them would be able to stay with the kids while the other would take up acting projects and be busy in work. But Cate was always reluctant to take up new acting projects whenever her turn to take up the projects came. Phoebe was a very talented actress, but still, she preferred to stay home and play the role of mother. It was 1994 when Cate retired from her acting career to take up the full-time position of a mother for raising her children. It not only suited her best but also became helpful for the growing needs of the family.
Cate came back in 2001 for the film The Anniversary Party as a favor to her best friend, Jennifer Jason Leigh. After that, Cate went back to playing the role of the mother, and as the kids grew up, she fulfilled her dream to be an entrepreneur by opening a boutique. (Source: Thestir.cafemom.com, Thetalko.com, Babygaga.com)
3 CARY GRANT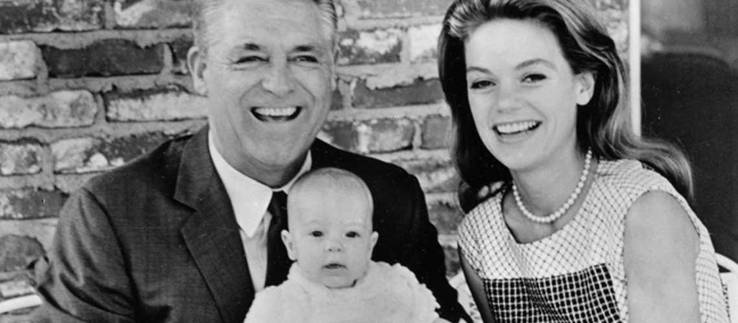 Cary Grant is remembered for his movies North by Northwest and To Catch a thief. This iconic actor was in the Hollywood industry for thirty-two years. The most significant role he played after wrapping up his acting career was that of a father. He retired from the limelight at the age of 62 and devoted his time to his adorable daughter Jennifer.
Cary Grant got married to Dyan, Jennifer's mother for some years but could not prove to be a great husband. But he can set an example of a loving dad. Jennifer was very close to him though she used to live with her mother.
When her mother used to be away from home for making films, Jennifer used to stay with her father. The first 20 years of her life she got to spend with her father was when she got even much more love and support from her father that one can rarely expect from any divorced parents. Cary loved her child blindly and archived all her belongings. He made fatherhood notable, showing that being a stay at home parent wasn't just for moms. He showed his child true love and support. (Source: Thestir.cafemom.com, Babygaga.com)
2 VERA FARMIGA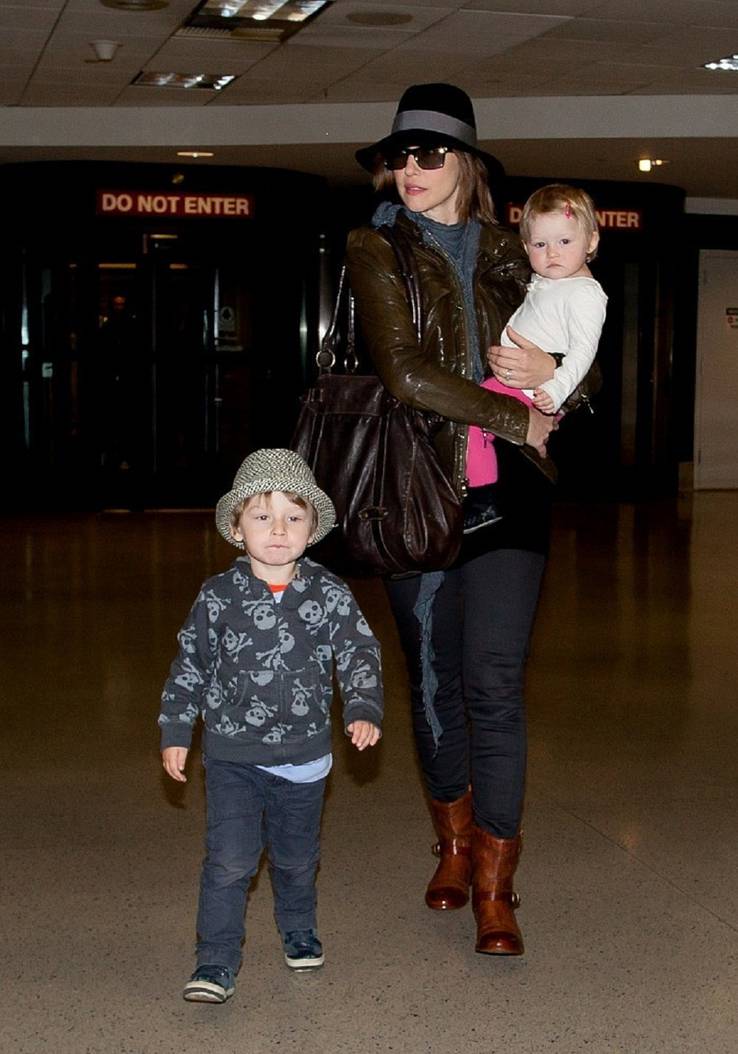 The American actress Vera Farmiga received the nomination for Best Supporting Role in Academy Awards for Up in the Air and also got nominated for Primetime Emmy Award for Outstanding Lead Actress in Bates Motel. Her acting talent was portrayed through different characters in Down to the Bone, The Manchurian Candidate, Running Scared, Breaking, The Boy in The Striped Pyjamas, The Departed, The Conjuring and its sequel The Conjuring 2. Her directorial debut in Higher Ground also received the nomination for Best Breakthrough Director in Gotham Award. Vera married musician Renn Hawkey, and they became parents to two children, son Fynn McDonnell and daughter Gytta Lubov Hawkey.
Vera gives priority to her children and their needs. She and her husband Renn Hawkey are raising their children on a farm in Upstate New York along with her pets Angora goats and other farm animals. Her primary goal is to make her children the best possible humans. Vera's devotion is more towards her motherhood than to her acting career. She is happy with the life she is leading than she ever was in the film industry and set an example that success cannot take mothers away from children. Considering her acting talents, Hollywood needs Vera more than she needs Hollywood. (Source: Thestir.cafemom.com, Babygaga.com, Imdb.com)
1 MICHAEL SCHOEFFLING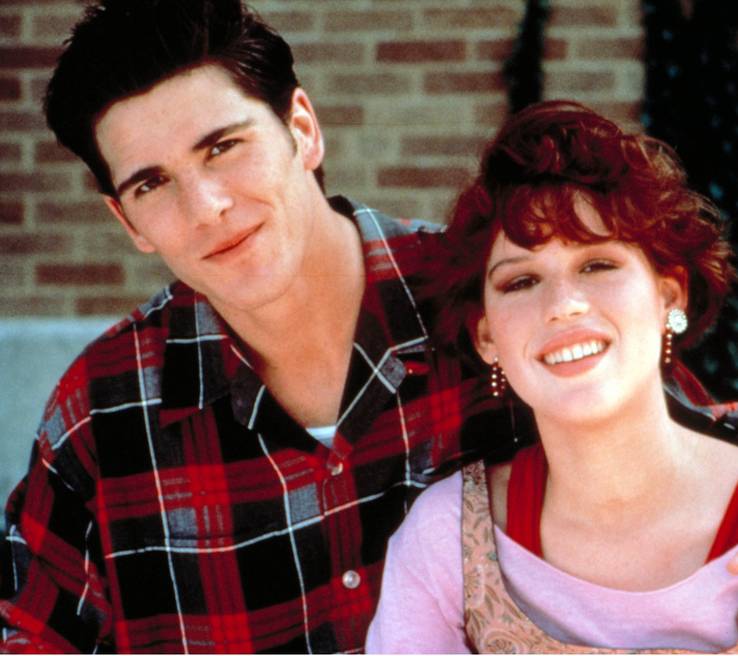 The former American actor and model Michael Schoeffling is well-known for his sweet role as Jake Ryan opposite Molly Ringwald in the mega-hit Sixteen Candles. This iconic teen heartthrob was mind-blowing on screen as a senior student of high school to win over the hearts of the women. After so much success in that role, he also played in Vision Quest as Kuch and as Joe Perretti in Mermaids, but those couldn't make an impression they were meant to.
Michael left his acting career at the age of just 31 in 1991, and that decision was taken for the good of his family. He wanted to raise his children Scarlet, and Zane out of the industry, and so he moved out east with ex-wife Valerie C. Robinson who used to be a model. He proved that not only mothers but fathers can also leave behind bright career for the sake of children without thinking of the name, fame, and fortune. Michael devoted himself full time to raise his kids and maintain his family life. He also started a woodworking shop for carpentry work and handcrafted furniture. He might have left all the name and fame behind, but Michael Schoeffling still has the impression of the hunky high school student in the minds of the people. (Source: Thestir.cafemom.com, Babygaga.com)
Source: Read Full Article