15 Surprising Rules The Duggar Ladies Pretend To Follow (But Don't Really)
The Duggar family is well-known for a very strict set of rules the whole family has to abide by, but not every member of the family has been able to follow all those rules 100% of the time. Let's back up for a moment for those of you who aren't all that familiar with the Duggars. If you haven't caught any of the 19 Kids and Counting episodes, you might not know that the Duggar family is a family of devout Baptists, who value modesty, purity, and faith in God above anything else. The show was eventually canceled in 2015 after 7 seasons because of the inappropriate behavior of one of the family members, the son of Jim Bob and Michelle Duggar, Josh. However, the show got its new spin-off, so the Duggars managed to stay in the public eye.
And while the Duggar family is pretty famous for their way of life, which most people would describe as unusual, to say the least, there have been instances when some of the family members couldn't help themselves but break some of the strict family rules. Without further ado, let's take a look at 15 rules the Duggar family ladies have already broken!
15 Giving Birth At The Hospital
The women of the Duggar family are supposed to give birth at home rather than having a baby in the hospital. The Duggars believe that childbirth should be completely natural, which means no medications, no painkillers, no doctors, no medical interventions, and it is supposed to happen in the comfort of their own home. The childbirth usually takes place either on the bed or on the couch. The future mother gets help from other members of her family and sometimes, a midwife. However, due to some complications, both Joy and Jill gave birth to their babies in the hospital.
In all fairness, even those two started their childbirth at home, but they had to be transported to the hospital eventually after they and the other family members noticed something was wrong. For instance, Joy's baby was in a breech position which can be very risky for both the mother and the child so she was taken to the hospital where she had a C-section. Jessa, on the other hand, gave birth to both of her kids at home, but she had to be taken to the hospital after Spurgeon was born because she suffered from an excessive blood loss.
14 Wearing Pants
All members of the Duggar family, and especially the girls, have to follow a certain dress code that represents modesty and purity. The women of the Duggar family aren't allowed to wear pants, for example, and instead, they have to wear dresses or skirts that are knee-length or longer. Michelle Duggar explained this rule in her own words on the show: "I've told my daughters that this has been a joyful journey for me to learn what my Lord has called me to. I really feel like the Lord is impressing upon me that I should be modest in what I wear. And also, that I really should be defining who I am as a woman by choosing to wear dresses and skirts."
However, Jinger Duggar has been spotted breaking this rule more than once, and she was pictured wearing pants, shorts, sleeveless tops, and other clothing items that the Duggar family finds totally inappropriate. She mostly wore pants while she was pregnant, which is pretty understandable since the long skirts probably aren't the most comfortable choice for a pregnant lady. However, she continued to break the dress code even after she gave birth and she was spotted wearing shorts, which no other woman of the Duggar family has done ever before, or at least, not publicly.
13 Pregnant Before Marriage?
Getting pregnant before you get married is probably one of the worst things you can do as a member of the Duggar family. The Duggars are strictly forbidden from almost any physical contact before tying a knot, including such things as holding hands or hugging from the front. So you can imagine how many rules would there be broken if a woman expected a baby out of wedlock. However, there have been some rumors that this is exactly what happened to Jill Duggar.
She and Derrick announced that they were expecting a baby right after they got married so many people found this timing a little bit suspicious. And while those speculations are nothing more but rumors, things got even more suspicious with Joy and Austin who spent some unsupervised time together before marriage, and then they moved up their wedding date by a couple of months. During Joy's pregnancy, the rumors of her getting pregnant before tying the knot spread all over the media like wildfire, and one of the articles even mentioned an insider admitting that the rumors were, in fact, true. As reported on BabyGaga: "A source close to the family stated that Joy-Anna thought she was pregnant before she and Austin were even engaged."
12 The Way They Court Before Marriage
No member of the Duggar family is allowed to hug their boyfriend or girlfriend from the front before they get married; they are allowed to hug them from the side but even that should not happen too often. However, several Duggar ladies have been spotted breaking this rule and hugging their boyfriends, even though this is a big no-no in the Duggar family. Both Jessa and Joy hugged their boyfriends right after they got engaged and even though some people might think that being engaged is enough for a few hugs to be allowed, that is actually not a case in this family.
What was even more surprising was the fact that Jill was the first Duggar girl to break this rule. Everybody who has been following the Duggar family probably remembers Jill as the most obedient of all Duggar children; a girl who almost never lost control or broke the strict family rules. However, right after she said "yes" to her future husband's proposal, she couldn't help herself but hug him. Another Duggar lady to break this rule in public was Jinger Duggar, whom her fans also had a chance to see hugging her then-husband-to-be, Jeremy Vuolo.
11 Unsupervised Conversations
While most people out there date other people, the Duggars don't believe in dating; they believe in courting, which is similar to dating as we know it, but it involves a lot more rules that the young Duggars have to follow. For example, there has to be a chaperone present during each of their dates, and the young couple is not allowed to have any private time or unsupervised conversations – including the phone calls, which have to be monitored by another family member.
However, Jessa Duggar and Ben Seewald used to have private phone conversations during courting which is a big no-no among the Duggar family members. In Growing Up Duggar, Jessa wrote: "The day Ben and I started courting, we began our tradition of calling each other on the phone every night! These were such special times. We would talk about everything from how our day went, to what we had been learning from our Bible reading, and then just anything else that we wanted to talk about. These calls were not chaperoned. They were private — just between the two of us." And while this might not seem like a big deal to most of us, in Duggar family, courting is taken very seriously and some major rules had been broken here.
10 The Question Of Pregnancy
Any kind and form of birth control is strictly forbidden in the Duggar family, which explains the title of their show, 19 Kids and Counting, doesn't it? This is, in fact, one of the most important rules the Duggar family members follow because of their religious beliefs and it is not to be broken no matter what. However, one of the Duggar daughters, Jill Duggar, broke this rule after all, although, she had a very good and rational reason. Back in 2016, Jill and her husband, Derick Dillard, traveled to El Salvador during the Zika virus outbreak when the Center for Disease Control and Prevention warned all women traveling to that area to stay away if pregnant because the virus was likely to cause certain birth defects.
To assure this won't happen, Jill Duggar broke the sacred family rule of no birth control. However, there have been some speculations about Jill using birth control prior to that because unlike her sisters, she didn't get pregnant right after getting married. However, there is absolutely no proof that any of those rumors were true so we are not taking them for granted. Currently, Jill and her husband share two sons, Israel David Dillard and Samuel Scott Dillard.
9 Amy Duggar Wore A Bikini
When Amy Duggar posed for a picture in a bikini, a number of the Duggar family rules had been broken. First of all, the Duggars are strictly forbidden from visiting the beach and Michelle Duggar explained why in a 2012 blog post for TLC: "In general, we don't do a lot of swimming events where swimsuits are worn because it's just too hard for guys to try to keep their eyes averted in those situations. We have some friends who allow us to use their swimming pools. Or we sometimes visit a creek or a lake that's private. And in those situations, the kids are always wearing modest clothes." After all, the Duggars have a strict dress code to follow at all times and it is hard to do so while enjoying themselves on the beach. The Duggar sisters explained how they felt about that in Growing Up Duggar: "We do not dress modestly because we are ashamed of the body God has given us; quite the contrary," they wrote. "We realize that our body is a special gift from God and that He intends for it to be shared only with our future husband… We avoid low-cut, cleavage-showing, gaping, or bare-shouldered tops; and when needed, we wear an undershirt."
Featured Today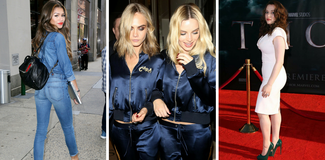 15 Female DC and MCU Cast Members Who Are Still Single And Available

20 Surprisingly Strict Rules Royals Have To Follow When They Travel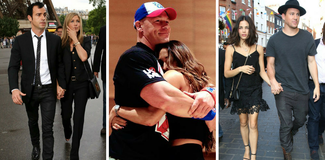 10 Celebs Who Dropped Their Partners This Year (And 10 Who Might Regret It)

8 A Tattooed Duggar Lady
As you might have already known or at least guessed, tattoos are a big no-no in the Duggar family. However, there is one member of the family who seems to be more keen to break the strict Duggar family rules than the rest of them. We are, of course, speaking of Amy Duggar, who is known for being more free-spirited than the rest of her family. She decided to break the family's no-tattoos policy and to get a matching tattoo with her husband, Dillon King. They both had the words "rest in the storm" tattooed on their left forearm and here is what Amy said about it to People: "Our tat is a reminder that even when our relationship and life, in general, may be going through a storm, there's always rest and peace in God through our walk in life." However, even considering the fact that Amy's tattoo was clearly inspired by her faith, it is pretty safe to assume that the rest of the family don't approve of this. In the past, we also had a chance to see Jill Duggar's Instagram post with a drawing stenciled in Henna ink on her hand but since that one was only temporary, it was only a partial rule-breaking.
7 Rebelous Before Marriage
During an interview with People magazine, Amy Duggar, who has been characterized as the rebel of the family, opened up about all kinds of family rules she has broken and about all the reasons behind her rebellious behavior. According to People, Amy always felt she was different from the rest of her family. She was born out of wedlock and that was something that always made her feel like she didn't really belong to the family. So when Amy started courting, she didn't really want to abide by all the rules her family has set for her, and she broke quite a lot of them.
She said to People: "I am a free bird. I don't feel guilty for being me. I think kissing before marriage should happen." Daily Mail reports: "Amy explained that she feels couples need more of a physical connection before getting married, one which she and her husband found by allowing kissing before marriage. She also explained that the couple has also made the decision to use birth control, in an attempt to make as much of their married life together as a couple as possible, before they have children— an ideology which could not be more different to that of the rest of the Duggar clan."
6 Putting A Limit On The Number Of Kids
In the Duggar family, one of the most important rules is, according to Michelle Duggar, to have as many kids as God will give you. So putting a limit on the number of kids is not something that the Duggar parents are supposed to do. For Michelle and Jim Bob, this rule has resulted in 19 kids and now those kids should follow their parents' footsteps and have as many children of their own as possible. However, not all Duggar mothers are ready to follow this rule for the rest of their lives. Jessa Duggar stated on camera that she wants 7 kids at most and that she will try not to have more than that. For some people, even 7 sounds like a whole lot, but you have to remember that the Duggar family looks at things from a slightly different point of view that most people. Jinger Duggar also didn't rush into having children as soon as she got married like some of her sisters, and she gave birth to her first child in 2018, even though she married Jeremy Vuolo in 2016. We will have to wait and see how many children each of the Duggars will end up having in the future, but we will probably still see some impressive numbers there.
5 Jill's Nose Stud
Since the Duggars are very particular about their dress code that represents modesty and purity, it is no surprise that the family is against tattoos and piercings of all kinds and forms. However, Jill Duggar decided to break this rule, and she got her nose pierced, and then she posted a picture of her new nose stud on Instagram. According to the Duggars, all piercings are bad, but facial piercings are the absolute worst kind and they ruin the body and make it impure.
When Jill's followers saw this selfie she posted on social media, most of them seemed to be pretty shocked by the fact that Jill got her nose pierced. People reports: "Fans of the devout Christian Duggar family quickly called out Dillard's apparent rebellion from her family's faith on Twitter, Instagram and Reddit — with some commenters giving the star tons of support and others still in complete shock. 'I'm shocked she got her nose pierced considering how conservative they are!', one Instagram user commented on her photo. Another gave her support saying: 'Awesome nose piercing love it I got mine done in May. A Mother's Day present to myself.'" However, whether you support it or not, there is no denying that Jill broke a major family rule here.
4 Finding Out The Gender Of The Baby
There is a whole set of rules that every pregnant Duggar girl has to follow; from giving birth at home to letting the show's crew filming the birth when the time comes. Since the Duggars are all about natural childbirth, no medical interventions involved etc., it is not surprising that finding out the gender of the baby before the baby is born is also against the rules. However, the Duggars realized at some point that not finding out the gender is actually quite bad for the show ratings.
And while some of the family members did wait until the moment they welcomed their children into this world to see the gender, there have also been those Duggar mothers who broke that rule and revealed the baby's gender on the show. Kendra and Joseph decided to let their fans know they were expecting a boy by launching a blue smoke bomb on the show, while Jill did a similar thing a few years back when she showed a pair of tiny blue booties during one of the show's episodes. However, their mother, Michelle Duggar, would never find out the gender of her kids ahead of the time and she waited all 19 times until the moment she gave birth.
3 Jana Duggar Is Still Single
Being the oldest of Michelle and Jim Bob Duggar's daughters, it is quite unusual that Jana Duggar still hasn't said her "I do" to anybody. A number of her younger sisters already tied the knot, but Jana, who is currently 28 years old, is still single. While in the modern world there is nothing weird about being 28 and single, in the Duggar world this is quite a strange phenomenon. There have been many rumors and speculations about why this is the case, from some people believing that Jana is gay (which would be a whole new level of breaking the Duggar family rules) to the other people believing that Jana is forced to stay single in order to take care of other Duggars' children.
Of course, none of those rumors have been confirmed, and the most likely explanation is still that Jana simply hasn't met the right partner for her yet. However, according to the Duggars, she is wasting her prime childbearing years. Her parents can't help themselves but publically show from time to time that this situation bothers them. For example, on the day of Jana's 28th birthday, instead of giving a celebratory speech, Jim Bob reminded the whole world that Jana is still single by saying: "Jana is 28 years old and still single, so she's still praying about finding The One."
2 They Watch TV After All
All Duggar children had a very limited use of the technology and media; they were forbidden from watching most TV channels, mainstream films, and most of the TV shows, and even if they were watching something they were allowed to watch, they still had to be closely monitored during the process to make sure that nobody switches the channel to some inappropriate content. However, Jessa posted a picture on Instagram that leads us to believe that the Duggar girls watch TV, after all, even those channels and shows that haven't been pre-approved by their parents.
In the picture we saw on social media, Jana and Jessa were posing at Chip and Joanna Gaines' Magnolia Market – which basically proves that they watch Fixer Upper. So the question is, is this really the only show they watch or is there more? However, if they watch HGTV, there is a reason to believe that they have broken the Duggars' no-TV rule more than once. However, considering the fact that Michelle and Jim Bob claimed they got rid of their TVs while back, it seems kind of strange that some of the Duggar girls still have their favorite TV shows.
1 Jessa's Honesty About Motherhood
Even though the Duggar ladies have spent most of their lives in front of the cameras with every aspect of their daily lives being filmed and broadcasted for everybody to see, talking openly about their issues and daily struggles never really was a specialty of theirs, especially when it comes to some matters that ought not to be questioned in the Duggar family. However, Jessa decided to break that pattern, and she posted an honest post on Instagram where she wrote about how things aren't always perfect in the parenting world – which came like a pretty big surprise for most Duggars' followers.
She wrote: "That's my boy! Yes, he's 22 months old. Yes, he drinks water from a sippy cup, and yes, he still prefers to drink much of his milk/kefir from his bottle— especially before nap/bedtime. (TBH, I wish he wouldn't have weaned himself early and would've bf till 2.) There, I said it. So there ya have it. If you are experiencing anxiety over this, please share all your wisdom and perfect parenting advice in the comments section below." Considering the fact how the Duggar ladies are often criticised for their every move, one must admit that it was pretty brave to admit that things aren't always perfect when you are a parent.
Source: Read Full Article