20 Embarrassing Photos Of Attractive Celebs Wearing Awkward High-Waisted Jeans
Have you ever tried on a pair of high waisted jeans? No? Let's all vow to keep it that way! Because that's exactly what some of these celebrities should have done before they walked outside of their house. These jeans are simply some of the most unflattering and dated looks we've seen the past few years. Of course, we know that people can wear whatever they want to, and honestly, most of these women really look fantastic, but these looks just aren't their top fashion accomplishments, compared to what they usually choose to wear.
Individuals— famous or not— should be able to wear what they want to without critics badgering them, but we do want to dive in a bit deeper to explore exactly what is going on with each of these iconic high waisted looks. And, not iconic in a good way, either. Regardless of whether or not these looks could be pulled off, they all have a few issues that we and the majority of fans have found.
These looks will go down in the history books because of how much they are a total disappointment, compared to the amazing fashion looks they've thrown together with ease in the past. Hopefully, with a little bit of constructive criticism, these celebs will get their act together in the future with the next iconic looks they put out there. We have hope that they can pull it together because they usually do, but we couldn't have some fashion fails as examples if these celebs didn't slip up a few times here and there.
20 Kendall Jenner Thinks She Is On The Runway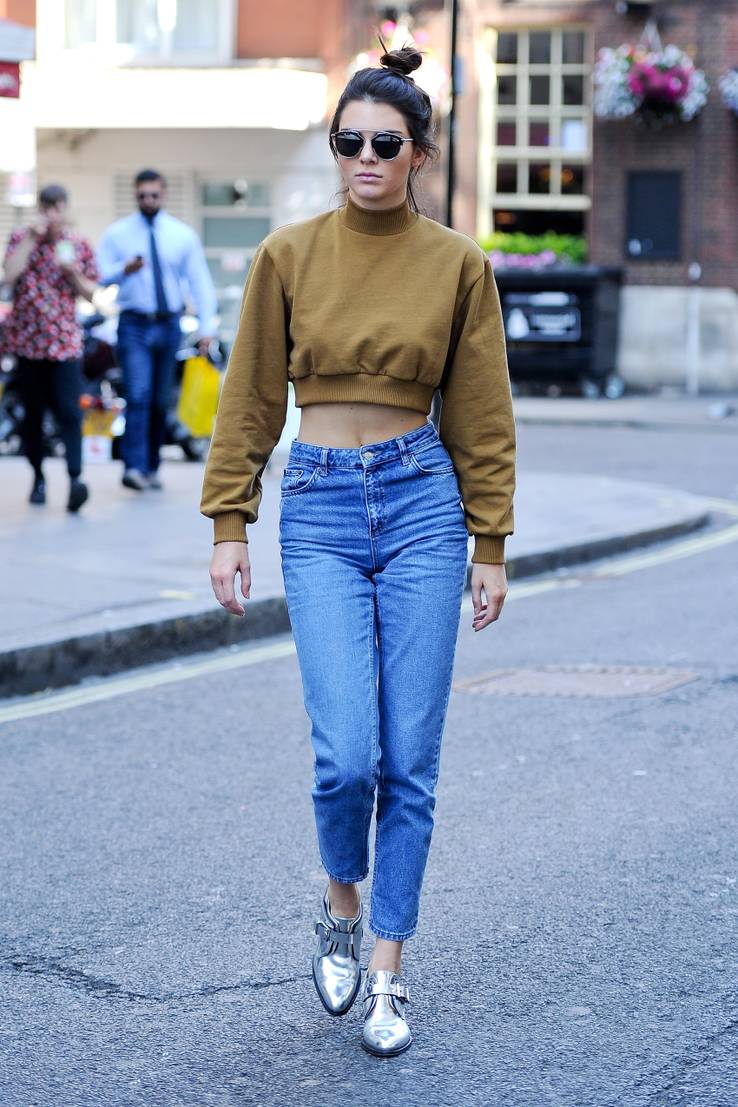 When it comes to fashion, Kendall Jenner is probably most known for her high waisted pants. Not only do they elongate her legs even more as a fashion model, they usually work quite well with her overall style and the way she generally chooses to dress. Typically Kendall Jenner pulls off this style quite well, but today, it's a different story.
While the overall look isn't horrible, it just doesn't seem to flatter her as much as her other outfits. Wearing a mustard-colored cropped sweatshirt and some high rise jeans that honestly look a bit too old for her.
It's not rare to see a Jenner rocking some high waisted jeans. It almost comes down to believing that this family made this style a trend in the first place, even though the low rise look is now making a comeback this year. She could have easily made this look work if she chose either a darker wash or just a lower rise jean in the first place, even if it was the same regular to light wash. While it's too late now to change this outfit, we do hope she maybe considers our styling points so she can strut herself next time she runs some errands out and about.
19 Amber Heard Hasn't Heard Ripped Mom Jeans Are Out Of Style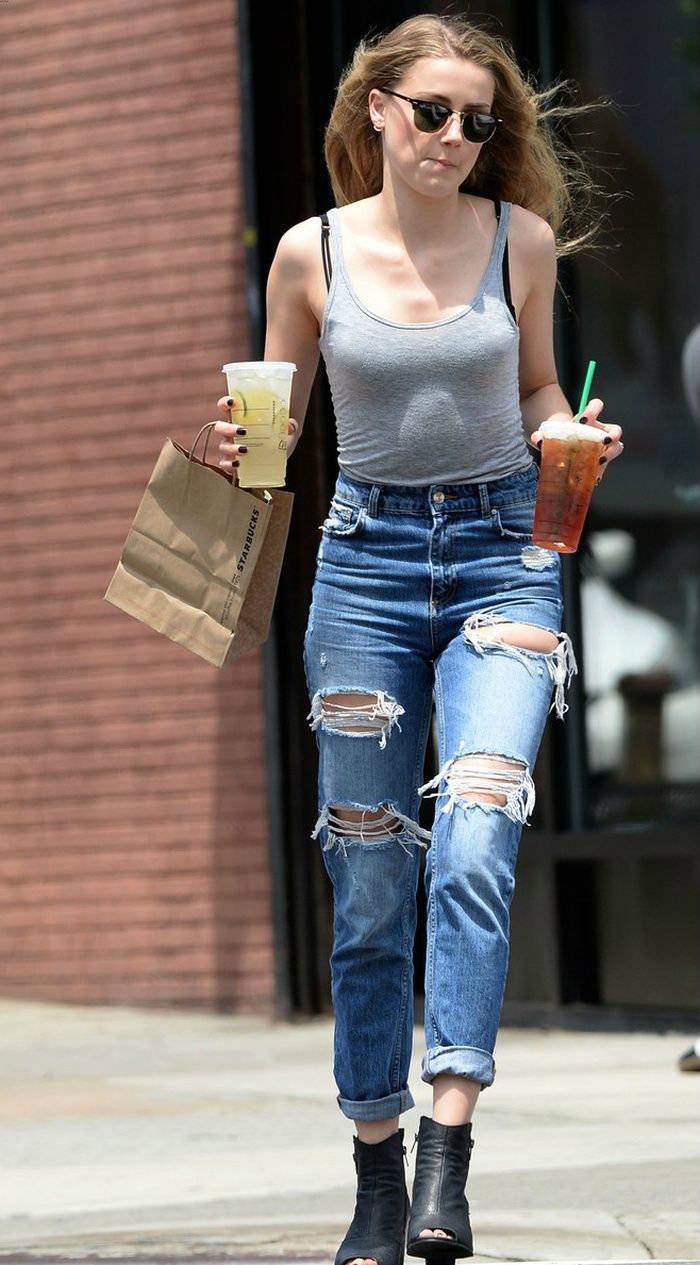 Amber Heard is honestly a style icon, but recently, it seems like she's been trying just a bit too hard to stay in style with the latest trends. While, of course, she could be wearing just want she wants to and that's perfectly fine, but with outfits like this, it makes you wonder exactly what she was thinking when putting together her outfit for the day.
It really seems like not only is Amber Heard in a complete rush with this look, but that she also doesn't really pay attention to popular fashion trends at the moment.
While these jeans would have been in style maybe two years ago, they seem a bit dated now, and we're not living for it. Not only does she look like she's running late with her Starbucks in each hand, but the way she styled this look doesn't really come across that well either. From the bold black strappy heels to the ripped jeans and the simple tank top, it just seems a bit old and not hip, by any means. If she threw on a fresh white t-shirt and some white sneakers, then she could have totally passed off this look as a sporty outfit of the day.
18 Selena Gomez, This Outfit Doesn't Make Sense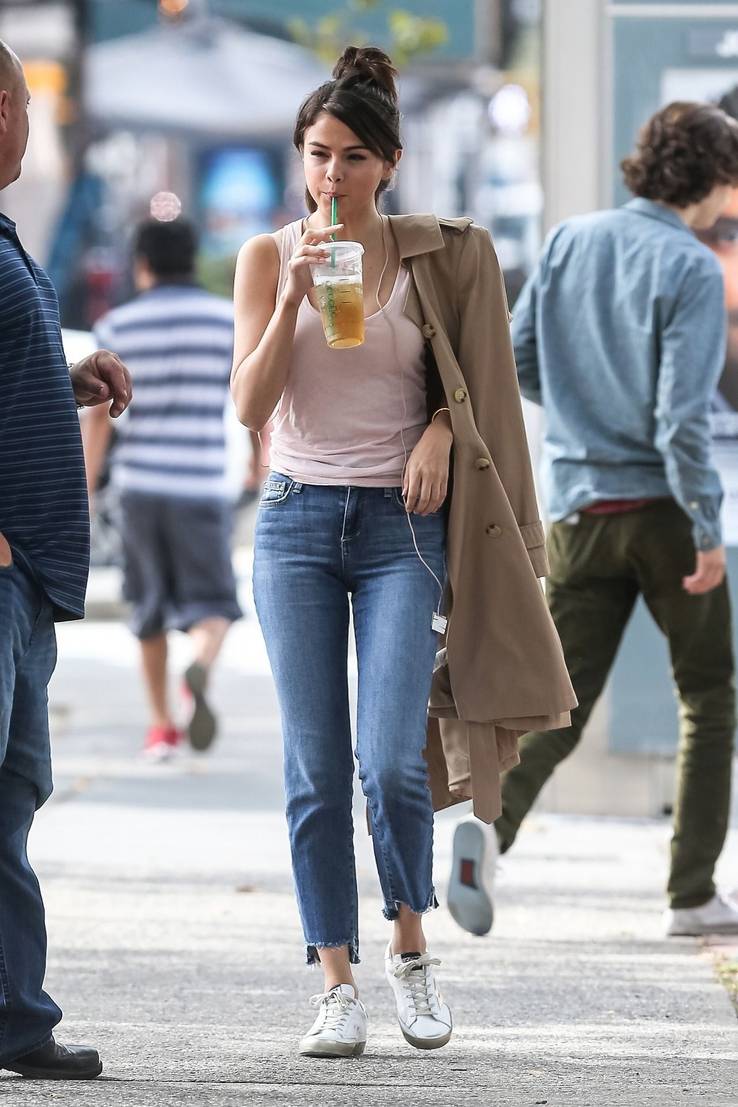 Selena Gomez usually brings the fashion impact even to her street style, but with this look, we hate to say it, but it's a bit disappointing how simple it is. Selena Gomez is typically an icon when it comes to her personal style, nothing is ever in question, but we've been let down by this look, to say the least.
If she added a more flowing blouse and some statement jewelry, she would have been able to easily upgrade this look in a snap without any problem.
She probably wouldn't even have to buy something new to upgrade this look in the first place. Selena Gomez has been known to be one of the most confident and fashionable individuals, which is why she's such a role model for young fans, but with this particular look, she seems to have completely missed the mark. Just like the other looks on this list, it's not the worst thing in the world, but compared to all the other outfits she rocks on a daily basis, it's hard to imagine this is her best. Maybe next time, Selena will be able to reach new fashion heights, but with this look, we really doubt that it's going to be the case this time.
17 Ciara In Double Denim? Really?!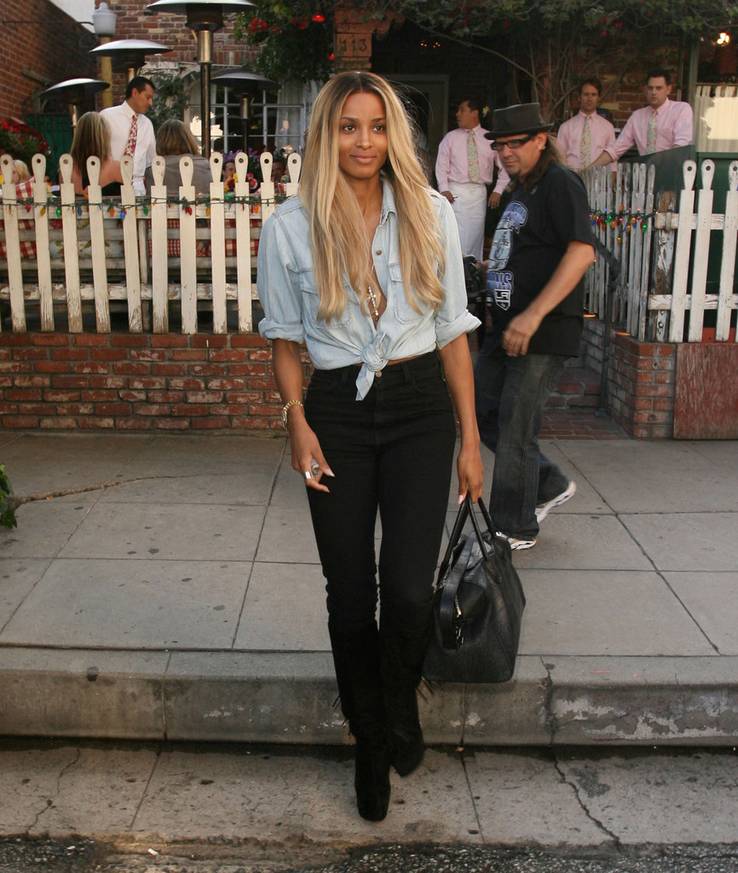 Overall, this look is just a bit too simple. Not only should you never try to pull off double denim, but you should also never try to make it an evening look either! Even though Ciara is trying to mix and match denim by using a black jean and then a button-down light wash denim shirt, it's still just a bit too much when it comes to style and trending fashion statements.
These jeans, in particular, don't really seem to fit her in the right ways. They almost seem a bit too big as well. Maybe this look could work if the jeans fit like they were supposed to, but we highly doubt that this was a look that she was very proud of.
Ciara is typically a bit more put together but the long blonde hair doesn't work that well in her favor if we're being honest. Double denim isn't ever a great choice, it should just be banned from being an option when people get dressed in the morning. Next time, Ciara, we believe you can pull off a better casual look!
16 Does Emily Ratajkowski Think We're In The '70s?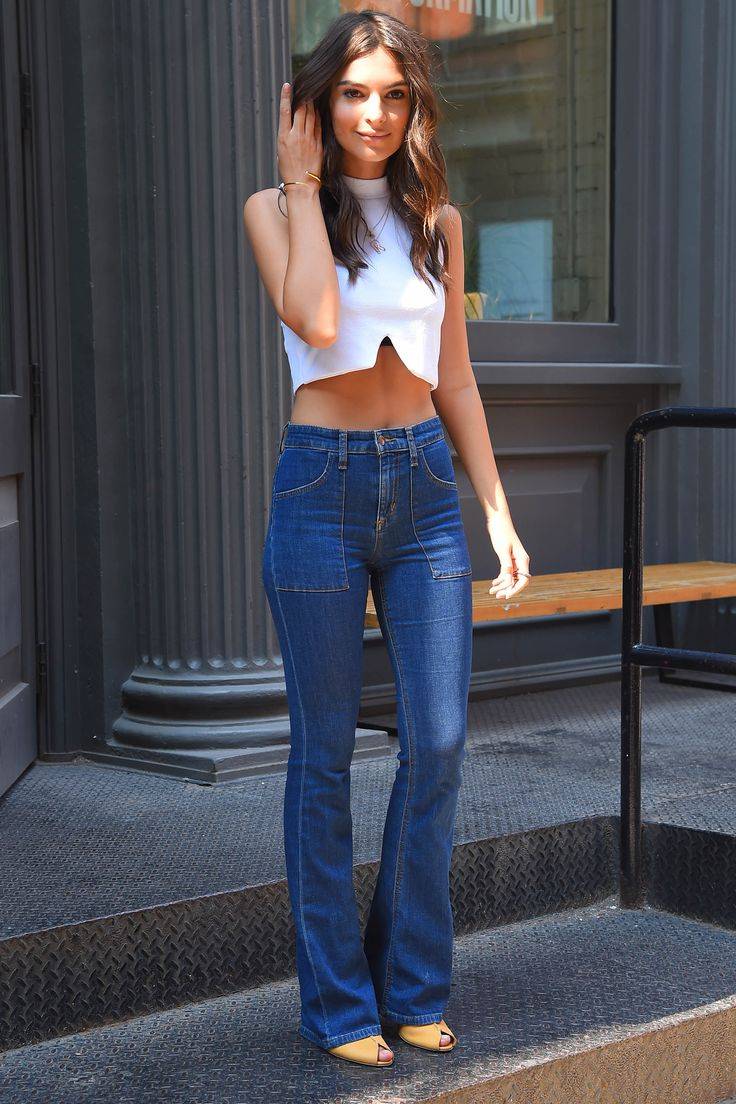 Emily Ratajkowski is typically in the most fashion-forward group of individuals in the celebrity world, but this look is not only is it particularly simple, but it's also very vintage looking. Of course, people can wear whatever they want, but this awkward high waisted jean really doesn't do much for her and her personal style. The '70s were cool in some ways— the styles, music, and culture, etc.— but bringing that look to the spotlight today isn't always the best fashion choice, especially when you're in the spotlight.
Sometimes with certain trends, there is a time and place. With a look like this, yes, it takes some guts to wear this with confidence, but overall, it's not one of the best looks we've seen Emily sport in recent years.
We do have to commend her for the fact that this '70s-inspired look is one of the more "out there" looks we've seen from Emily, so at least there's that! If she paired that cropped top with straight-legged jeans or even a skinny jean that's high waisted, it would probably be a lot less awkward for this #OOTD! Maybe she'll take our advice next time she leaves the house. We can only hope.
15 Gigi Hadid Is A Unique One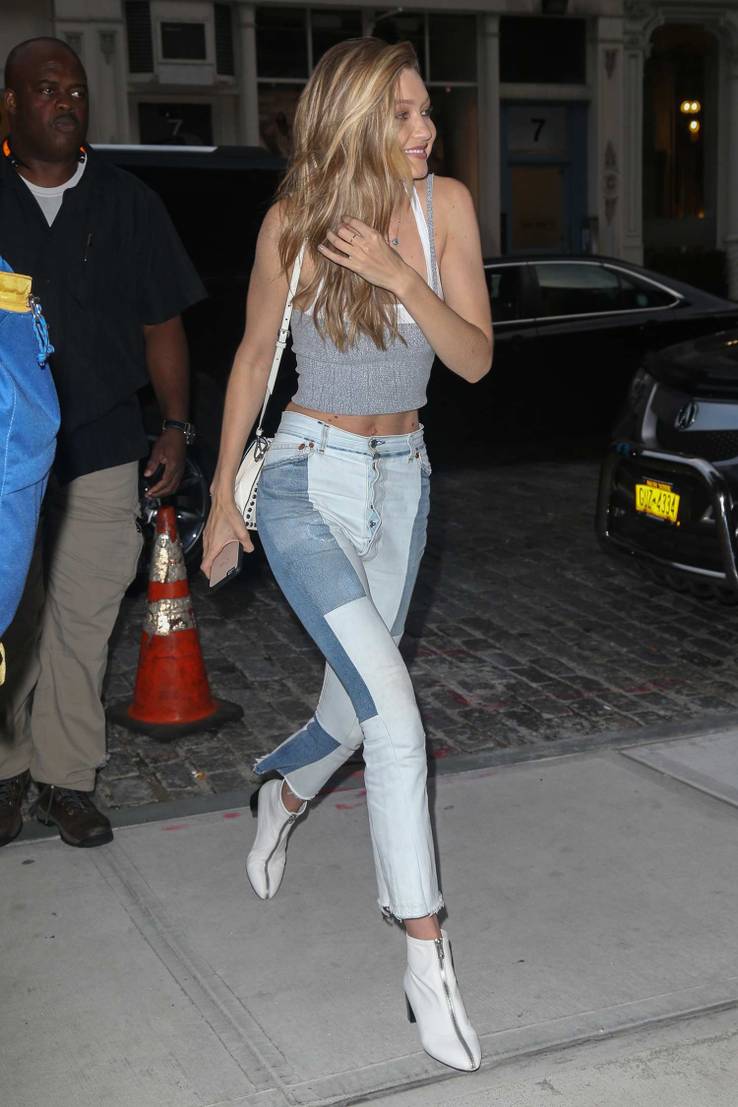 Gigi Hadid constantly shows herself off with her clothing, but this fashion twist is almost too much to handle. From the patchwork high waisted jeans to the tiny crop top, we don't really know exactly what is happening in this street style pic. But, of course, the biggest problem is with those jeans.
It looks as if she got dressed in the dark and she put her jeans on inside out, though that's not the case, sadly.
Gigi Hadid could be considered one of the most iconic individuals in the industry. Not only is she pursuing a career in fashion and modeling like her sister is, she is also one of the most fashion-forward individuals we know. Gigi Hadid constantly pushes out high fashion looks and because of that, something as simple as this really just doesn't impress us and makes it look just a bit awkward on her in all honesty. Maybe she will just wear what she wants and not care what people think or maybe she'll spice up her wardrobe in the near future and work on exploring more like she usually does. If she just stuck to boring and awkward looks like this, how would anyone else in the fashion industry be inspired?!
14 Selena Gomez Does It Again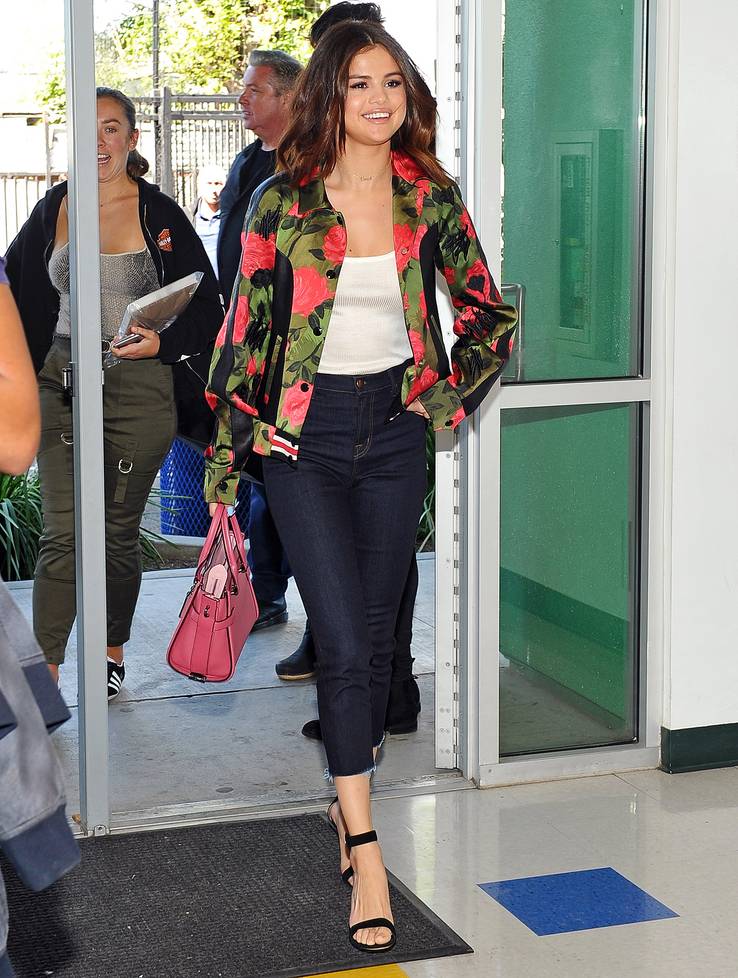 Selena Gomez constantly shows off in high waisted jeans, while this look could be cute, it just seems a bit off because the jeans don't fit her properly and also because the dark wash, the white tank, and floral blazer make her look so much older than she actually is. If she wore a regular or lighter wash jean without the blazer and a simple tank, it would be a very casual look that's fresh and keeps her looking her age.
The blazer is cute, but because it's a bit bigger than her. It kind of takes over her in the overall look.
We just had to include another Selena Gomez look on this list, for some reason she keeps putting out these high waisted fashion looks, and, while some people love it, others don't really understand why she keeps pushing this kind of look. She could have easily made this look so much better if she just brought her normal edgy style into the mix to really pull something simple together. Next time, if she just decided to pair some dark wash jeans that actually fit her and simple blouse that shows off her shape instead of covering her up so she looks dated, that would be fantastic.
Featured Today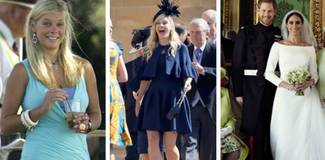 20 Surprising Facts About Prince Harry's Ex Chelsy Davy We Can't Ignore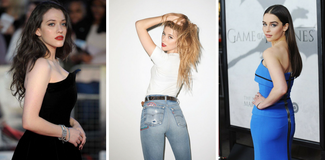 20 Female Celebs In Their 30s Who Are Single And Available

20 Surprising People The Cast Of Friends Has Dated

13 Taking After Her Sister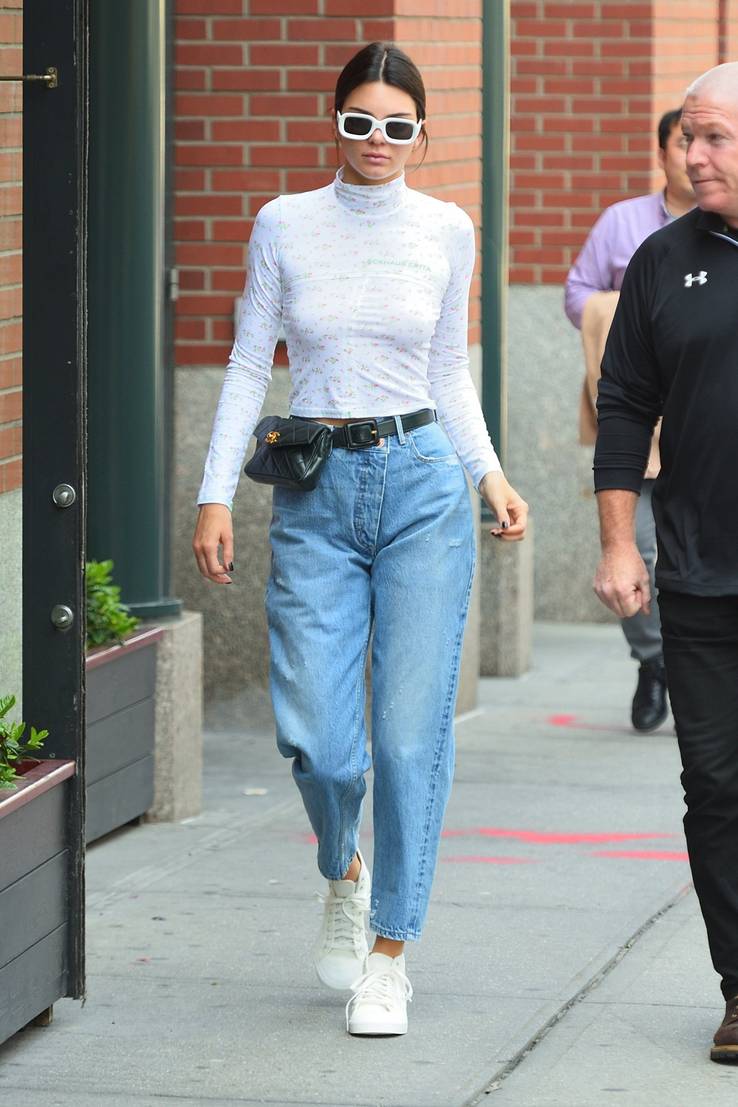 Kendall Jenner always brings the fashion with some serious style, but generally, her jeans aren't as baggy as these. While she does pull it off quite well, these "mom" jeans really rubbed people the wrong way when she was spotted wearing them. These are they some of the most unflattering jeans we've ever seen, but, at least, she has the guts to actually wear them out in public.
Kendall Jenner, like we've all already agreed upon, is one of the biggest trendsetters when it comes to fashion and out of the box ideas. But these mom jeans are just really embracing the Tumblr aesthetic from 2016, and we're not here for it.
It just looks dated and a bit too "teen dream" for most people.
She's supposed to be an icon, a high fashion model, and she's wearing something like this? We really have to wonder what has been going on with her fashion choices, especially since she influences so many people. If she just tried to rock some fitted medium rise jeans that would be the best choice for this look, maybe she will listen next time. Perhaps she should just stick to her more sporty looks because those always look stunning on her, more so than any other style.
12 Those Flares And Shoes? No Thanks, Diane Kruger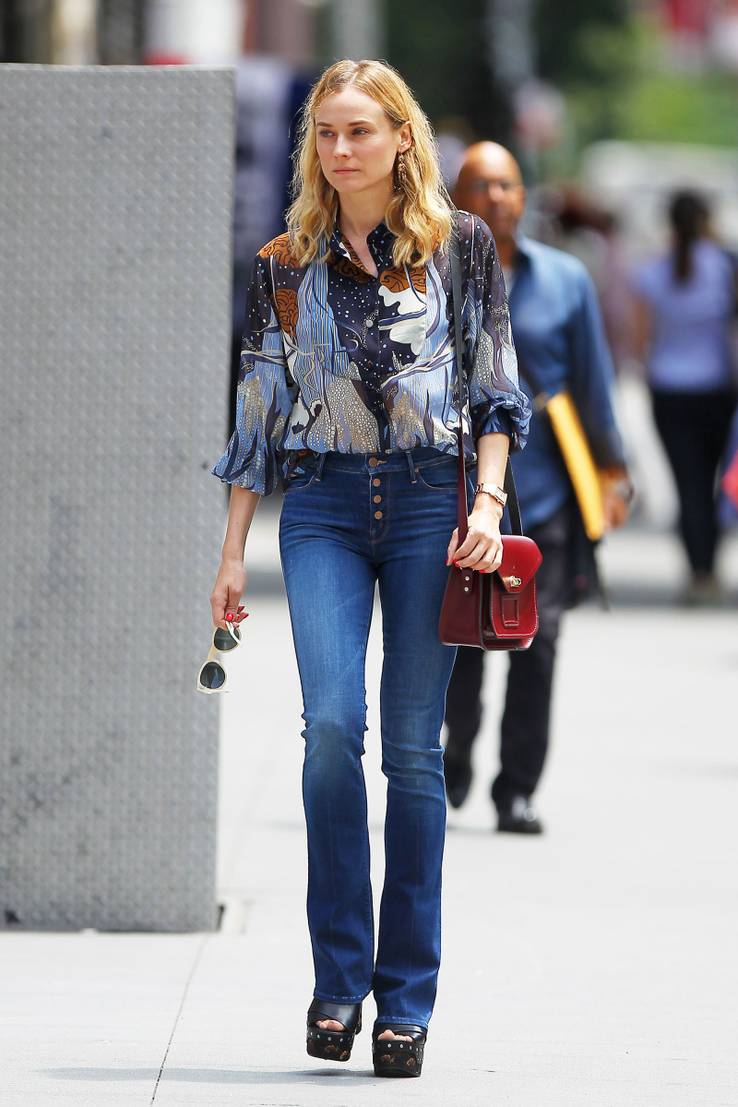 Diane Kruger is an older woman in Hollywood, which usually means that style evolves to fit the age at least. But if she wears something like these mid to high rise jeans with a nice blouse, it almost dates her too much in her age. It makes her look very matronly when she doesn't have to be! Again, people should be able to wear what they want, but this is almost taking it a bit too far. She could have done something that is still a bit mature while also showing off her body in a much more flattering way.
With this look, she's simply rocking those mom vibes, and they aren't really working for her. She just really needs to find a healthy balance when it comes to fashion and dressing your age.
She seems to always be hanging out on one side of the spectrum or the other, never really a balance between the two, which has made her seem a bit unfashionable at times. Maybe this has discouraged her from trying new things, but that's the last thing we want. We want people to feel comfortable with what they wear while also looking great! Better luck next time.
11 Where Are Your Feet, Victoria Beckham?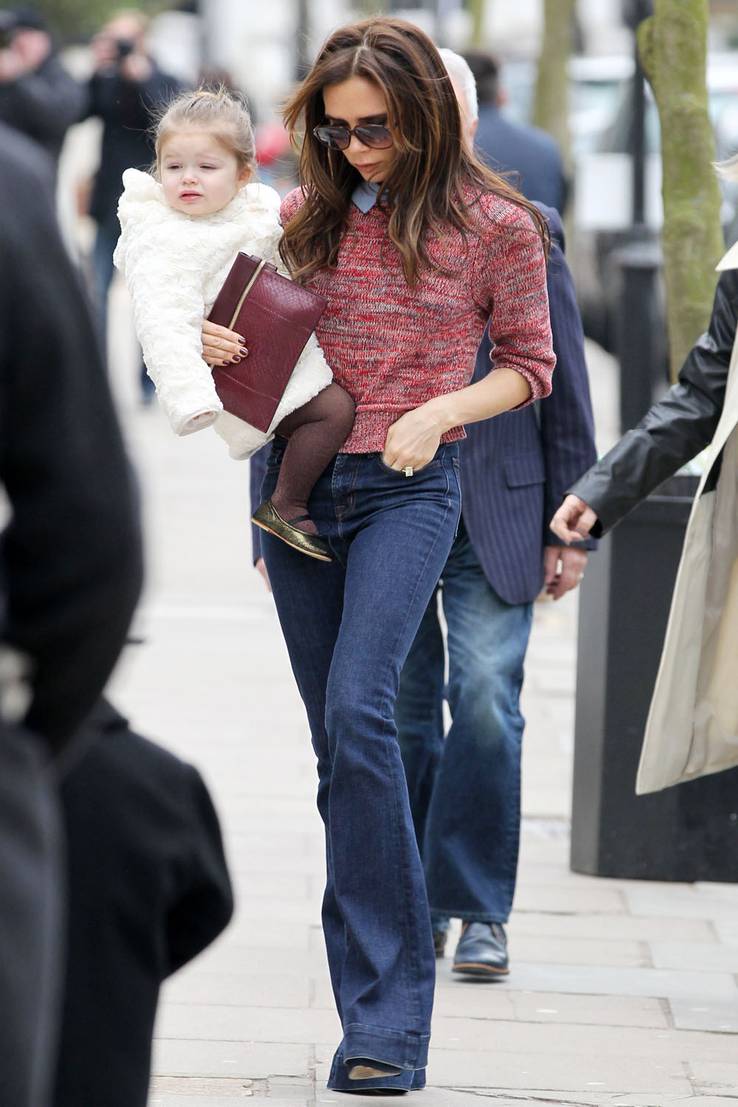 Victoria Beckham seems to have a love-hate relationship with fashion. But, of course, with a woman of her status, it seems like she might not even HAVE to care about what she looks like because it's not like anyone will say anything to her! Victoria Beckham is sporting some serious mom vibes with this look, so hopefully, next time she decides to wear some high waisted jeans, she can bring her personal and modern style to the mix.
Victoria Beckham is one of the most famous women in the world, yet here she is in one of the most boring looks we've seen from her yet.
We know she can do better, we've seen her do better, plus, she has the money to buy any item of clothing or accessory she could possibly want. She's a mother, so we get that some of the clothes she probably wears are just comfortable, but if you're going to bother wearing jeans and a collared shirt with a sweater, you might as well dress up entirely and just do it right from the start. She normally looks flawless when it comes to her fashion choices, but this just looks like it came right out of the '90s, which is not on trend right now!
10 Olivia Munn Loves The Flare (But She Shouldn't)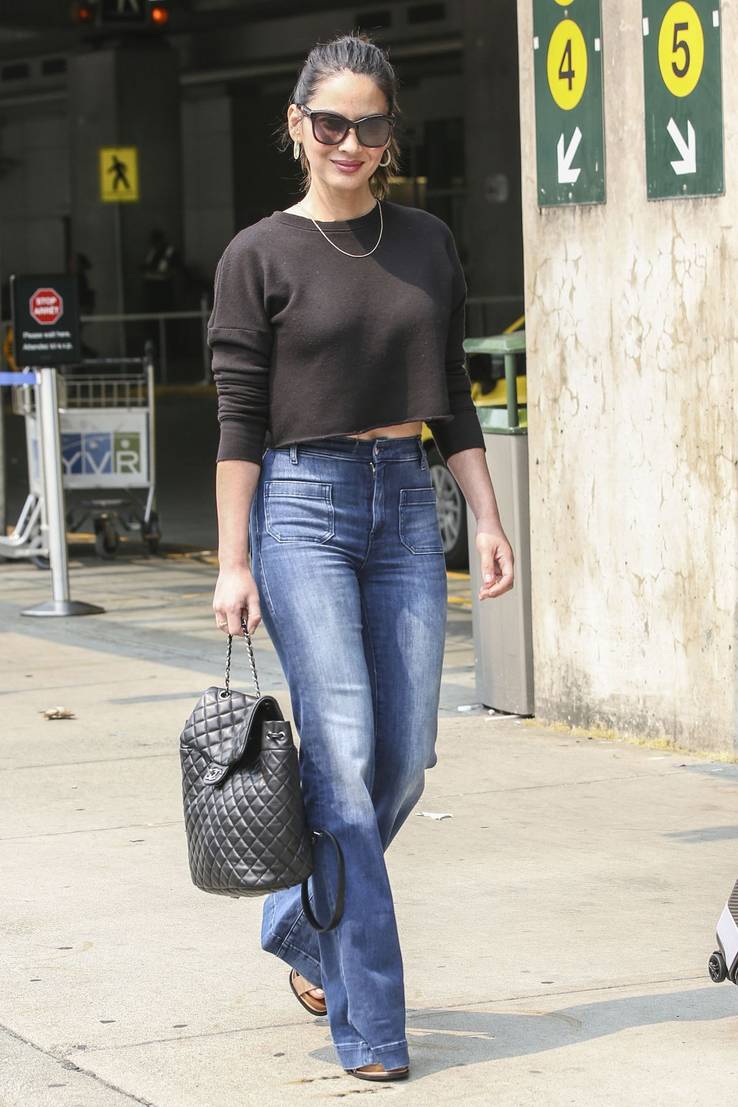 Olivia Munn constantly pulls off amazing and glam outfits we all love, until this one. Once again, we don't really understand exactly why someone would think that flared jeans are the 'in' thing to sport, but apparently, a few celebs on this list have concluded that flared jeans are the direction to head in for iconic looks, even though many people don't exactly see it that way.
Next time Olivia Munn decides to wear high waisted jeans, maybe then she'll decide to try some new trends that flatter her so much more.
Olivia Munn is sporting a simple black sweatshirt, a silver necklace, and some high waisted regular washed and faded jeans that literally don't do anything for her shape. These jeans not only elongate her body in a very awkward way because of the flare at the bottom of the pant, but they also make her look as if she has no curves whatsoever when it comes to her hips. This isn't the best outfit ever, but it's not a total eyesore, even though we believe she can do so much better than this. Can we all just agree that maybe we shouldn't be wearing flared jeans anymore no matter what trends come into the spotlight?
9 This Look Doesn't Make Any Sense, Bella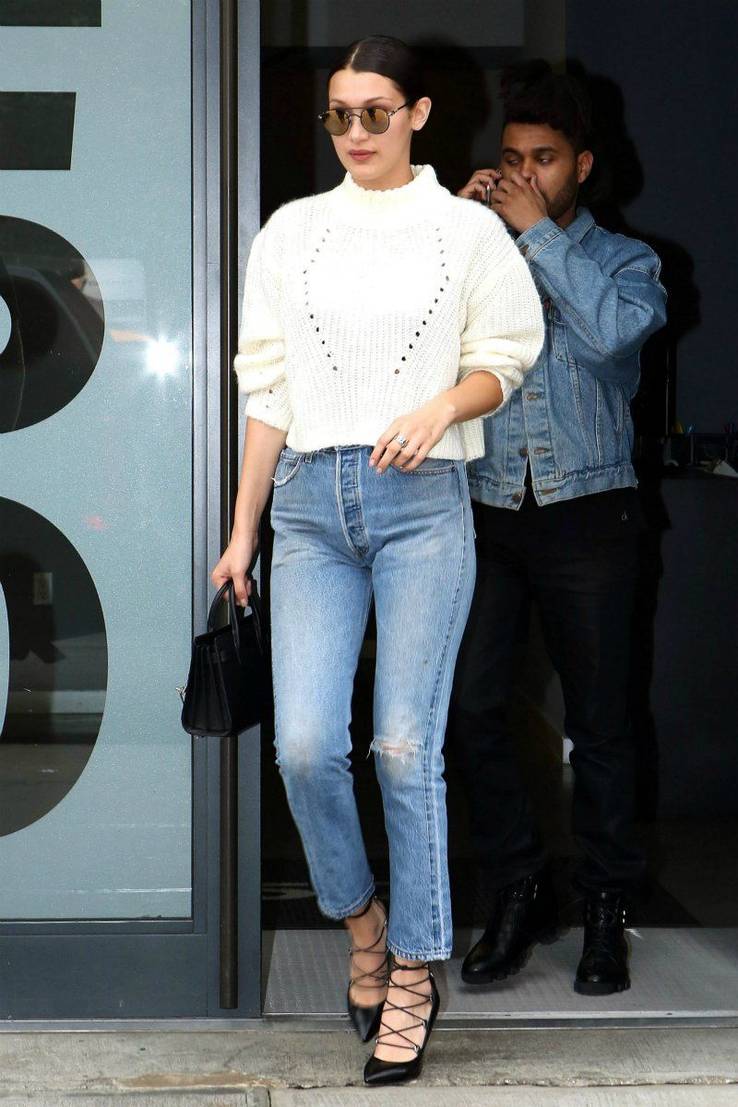 Bella Hadid, just like all of the other Hadid family members, loves to wear high waisted jeans whenever she can— high waisted everything! Bella Hadid has always gone out of her way to showcase her curves in high waisted jeans, but this particular outfit isn't exactly what we would picture if you told us she was a high fashion model. This look just seems way too plain and simple for this attractive celeb. She could have easily spiced up this look with some color or even some statement earrings or other jewelry to really pull this look together.
Everything about this look except those awkward fitting jeans looks fantastic! From her slicked back hair, the glossy sunglasses, the cream sweatshirt with rolled up sleeves, and even her bag.
But the mom jeans constantly making a comeback like we're living in a never-ending Tumblr blog is just really too much. We do like that the jeans aren't completely fitted around the ankle and they fit her well, especially paired with those strappy shoes, but overall, this is just not the look for us at the end of the day. The jeans just really break the whole flow of the outfit to a point where if she just paired a darker wash or black jeans with this look, it would look so much better!
8 Do Jean Shorts Count, Taylor?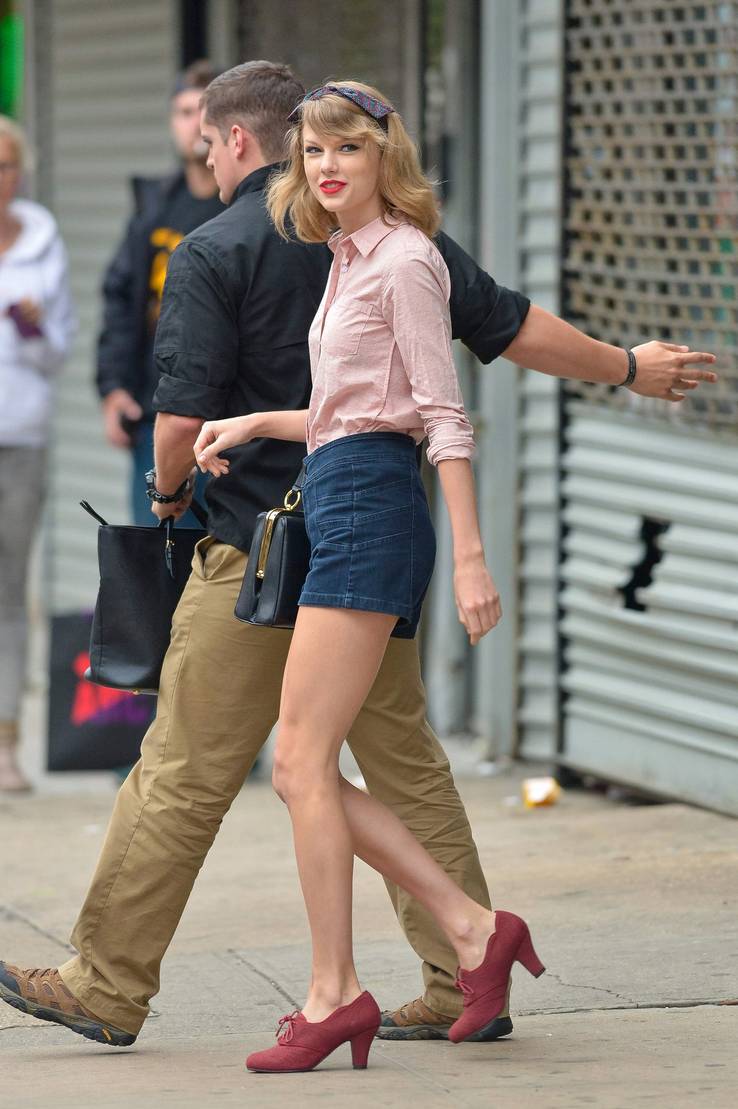 We bet you didn't think Taylor Swift would be on this list! While these are your typical high waisted jeans, these are high waisted jean shorts, and they honestly belong on this list because Taylor just looks so awkward in this outfit. We do know that Taylor Swift has owned up to being one of the most awkward celebs in the industry, but this outfit sure doesn't help, in all honesty.
We're not really sure how something as simple as high waisted shorts could be awkward, but somehow Taylor Swift has done it with ease. They don't really seem to fit her that well and the overall outfit makes her look a bit childish.
She's decided to wear a patterned headband, a blush pink blouse, navy high waisted jean shorts, and some very tall red heels, paired with a black bag. It's just a lot of different colors that don't go well together, as well as some lanky action going on that makes this outfit a total bust for us. If she decided to wear long jeans with this look it could probably be saved, but with all the individual elements and the jean shorts, it's just a bit overwhelming and doesn't really look like a totally cohesive outfit.
7 A Bit Too Tight, Kim K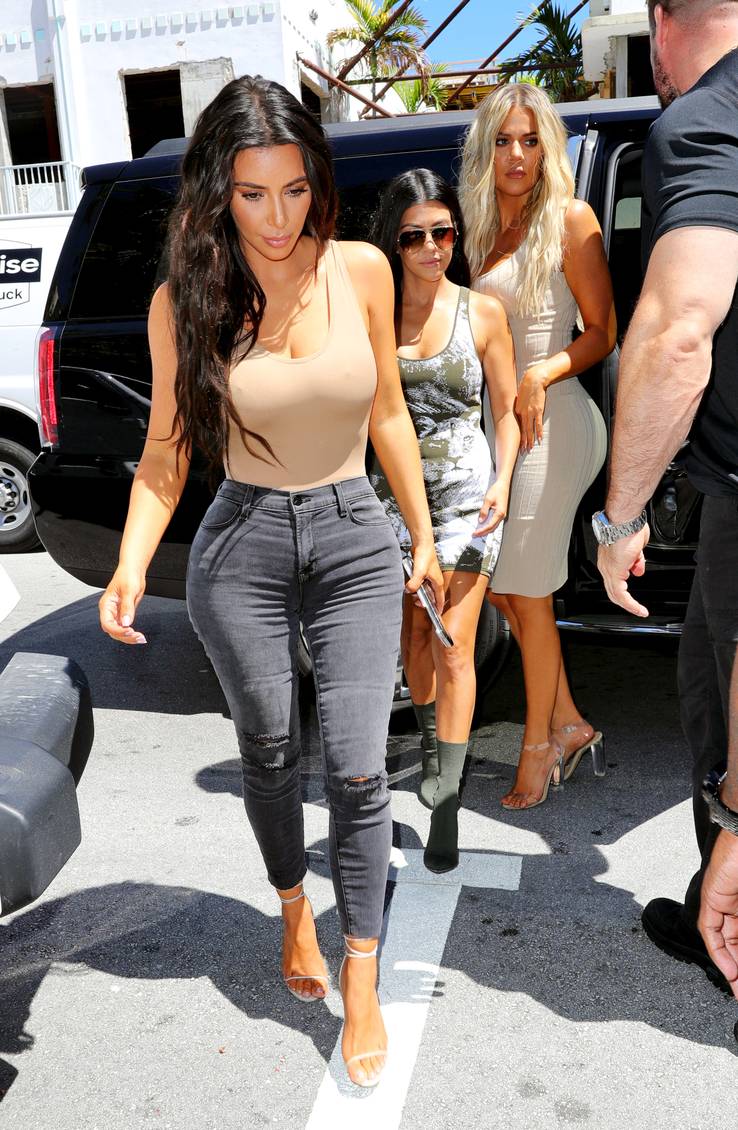 Kim Kardashian always shows us the best looks and influences the whole fashion industry. Kim Kardashian always ends up wearing some of the most trendsetting outfits in the whole world. Her style has influenced so many individuals around her, and she's done more for the fashion industry than most, without question. Whether you like her or hate her, you have to admit she has some major influence on the direction of trends at the moment and for the last few years. But with this outfit specifically, it's just a bit too much.
Kim Kardashian is known for wearing some super tight clothes, it's just what she does, but the tan body suit that's basically the same color as her skin, paired with the super tight grey washed jeans, that are super high waisted, makes her look a bit awkward with some very strange outlandish body proportions.
If she went with totally black washed jeans and a black bodysuit, it probably would have flattered her much more since it would have blended together to almost make a seamless look. But the weird grey wash, the body proportions, and the tan bodysuit that you can't even see just looks a bit strange. No thanks!
6 Margot Robbie, What Happened?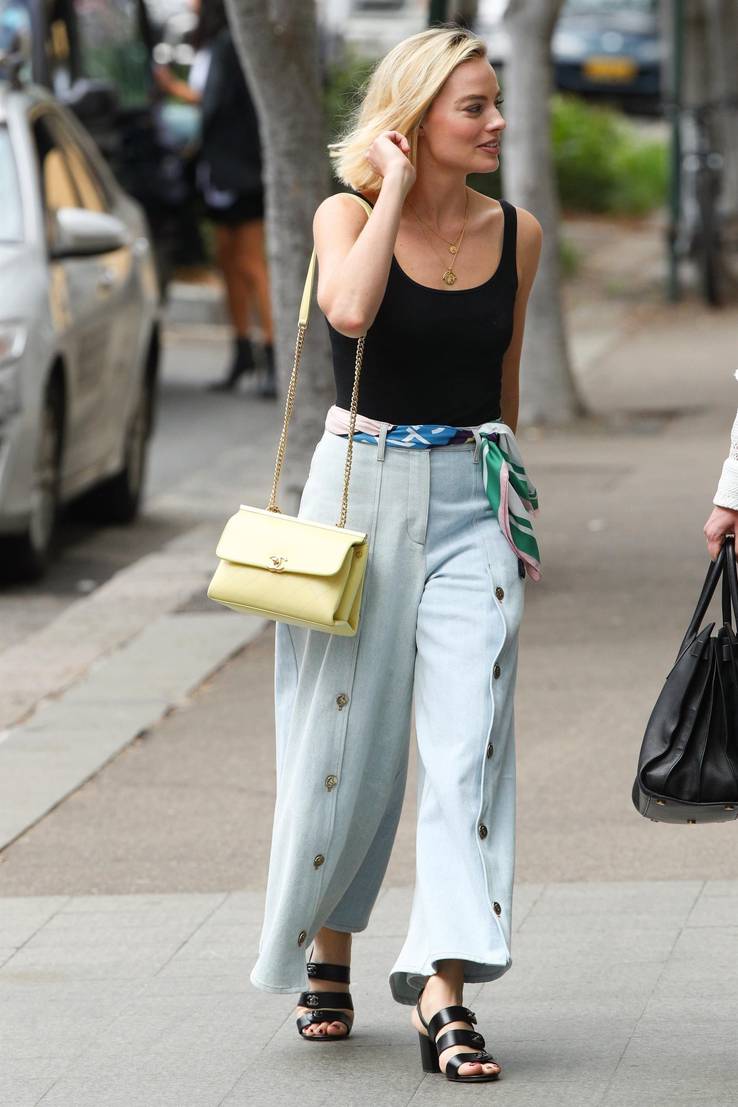 Margot Robbie never backs down when it comes to fashion. While she's not always in the spotlight unless she's acting in a major movie, Margot Robbie has shown us that she might not have the best style. We totally commend her for always wearing what she wants without caring about what other people think, but sometimes, when a specific outfit comes up, like this high waisted jean look, we have to seriously take a second look.
This effortless look is cool and collected from the top until you get to Margot Robbie's waist. She's wearing a black fitted tank top, and then tied around her waist, she decided to pair a very bright scarf as a belt with some ultra wide-legged pants with buttons down the middle.
These pants are probably the worst high waisted jeans on this list, they just have so much going on it's giving us a headache. From the super extra scarf that's not even needed, the buttons down each of the legs, the super wide style of the pant and even the very light wash that this denim is, these are some of the worst jeans we've ever seen. They would honestly look awkward on literally anyone.
5 Skinny Mom Jeans And Pumps Don't Work, Ari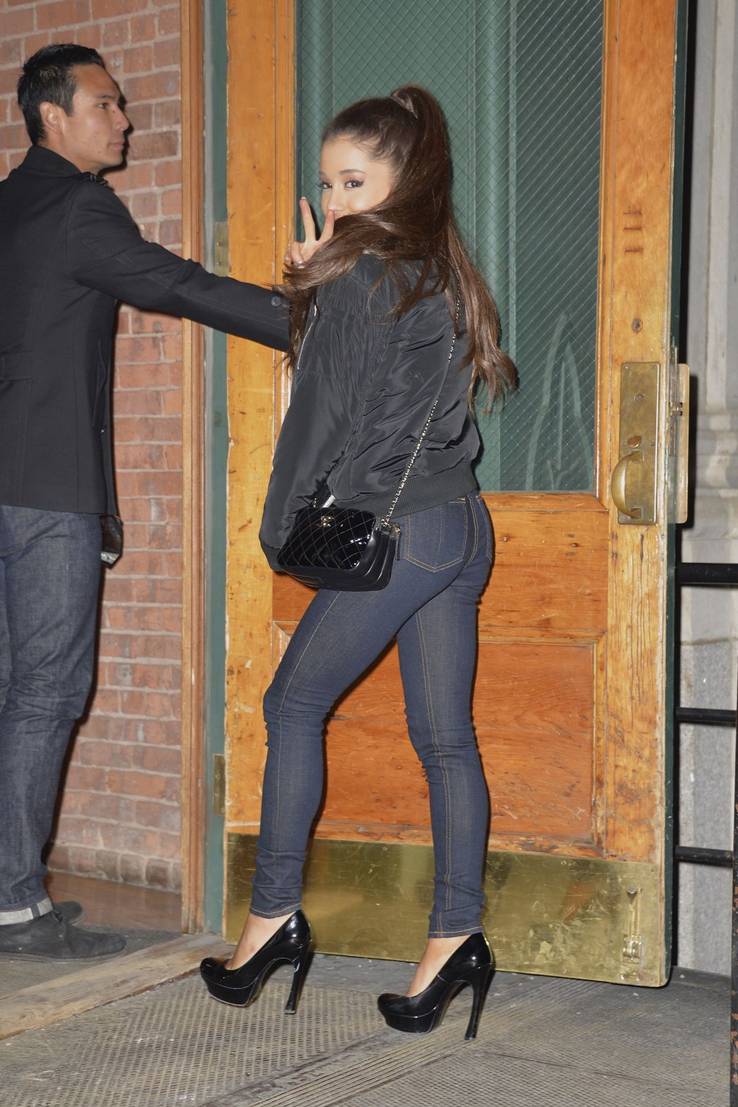 Grande and skinny jeans just go together like peanut butter and jelly, but with this look and those huge jeans, it looks like her legs go on forever in these high waisted pants. Maybe next time, she'll opt for a more toned down shoe that flatters her shape much better. Ariana Grande is known for sporting some super high waisted clothing, not just jeans, everything from dresses, skirts, shorts, trousers, and more. But with this particular look, she's wearing her signature high waisted jeans that are super fitted and skinny jeans.
Where the look goes totally wrong is the huge black heels and the black jacket that just makes this outfit so boring to look at.
This outfit looks super cheap and it's not that flattering on her, either. Maybe next time, she could try a less fitted jean that flatters her body more and something a little less awkward for a shoe choice. Generally, her clothing is always on point, but with this look it just makes us want to yawn. Even some simple and small changes could be made to this look for it to be a total upgrade. Adding some color would be a great start! She has such an outgoing personality, it would be great to see that in her clothing choices as well in the future.
4 This Is A Date Night Look, Kim?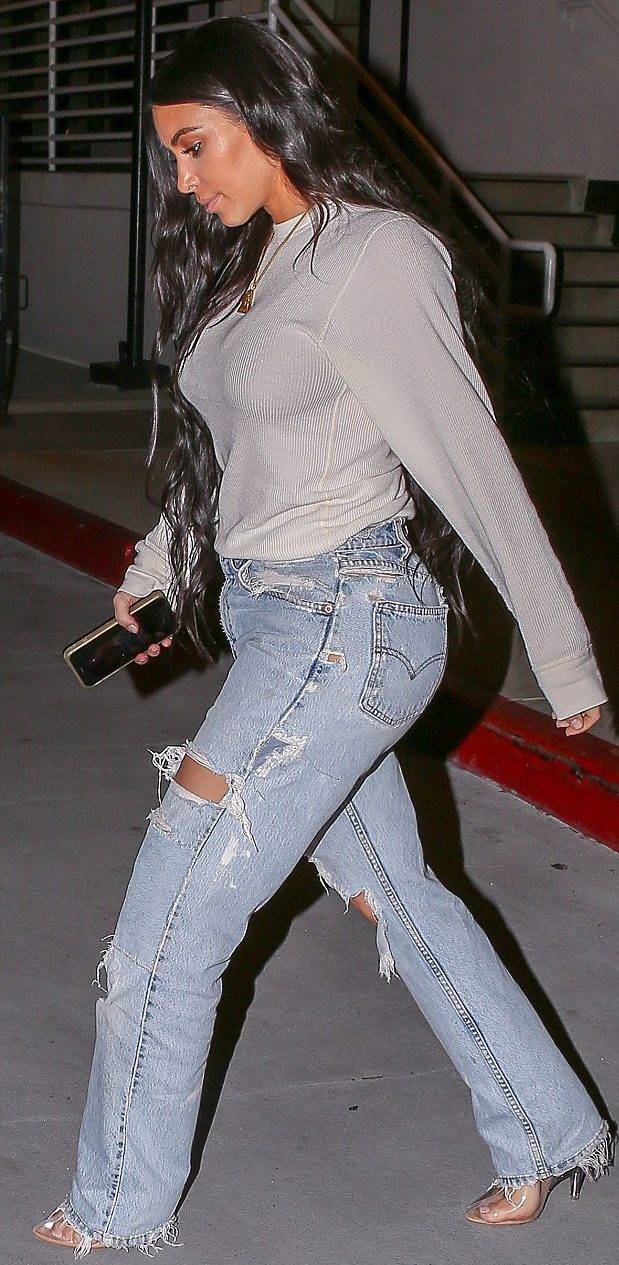 Kim Kardashian never let us down, until this look right here. There is no way on any planet that this look would be considered a date night look. First of all, this looks like she's mixing up summer and fall, while also mixing in some light washes for a date night. Unless it was a date night that is literally at her house, we don't see where she would be seen wearing this for a date night. No thanks!
This is one of the most disappointing looks from Kim Kardashian we've ever seen. It just washes her out and it looks like she was just running errands, we would have never guessed that this was supposed to be a date night look.
But don't get us wrong, Kim Kardashian can rock any type of look you throw her way, but she could have really spiced up this look with some earrings or maybe even some layered necklaces to dress up the top a bit more so it doesn't look like she just threw on a sweatshirt. We totally understand this could have been a really casual look but we really hope it was because if it wasn't, then I feel bad for how that date ended up turning out because it probably wasn't good!
3 Queen Bey Dresses Too Young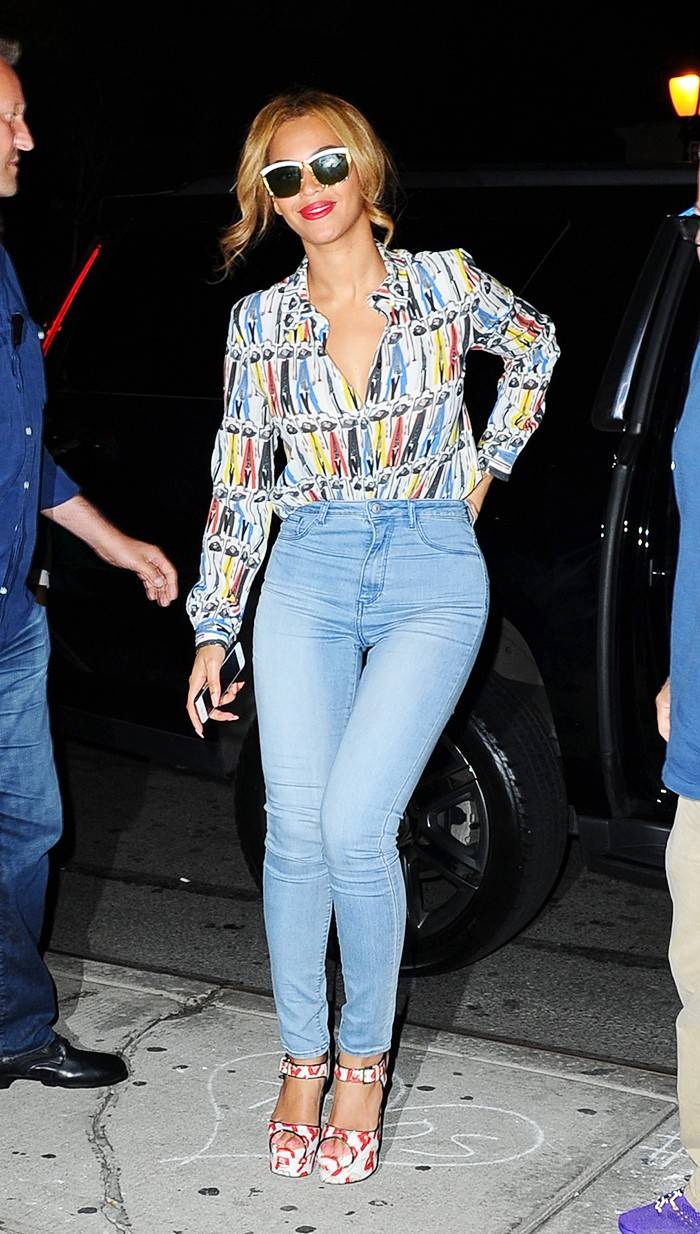 Beyonce constantly flaunts what she's got, and she can typically pull off anything she wants. Queen Bey in this picture, however, seems to be trying a new style we don't usually see her in. While some might say she's dressing too young since she's a mother, others are saying she's covering up too much! You can never please everyone, that's for sure!
Bey is wearing some vintage-looking sunglasses and a very low-cut button-down blouse with a bold pattern, tucked into some high waisted light wash jeans.
They flatter her well because of her hips, but it just seems too young for her, at the end of the day. Also the overall look just really isn't that exciting, especially after seeing some of her recent looks where she just goes all out to the max. We need to see more of that, Queen Bey! At least she seems to have strayed away from this look altogether, she never really wears stuff like this, not even anything similar to it. Let's all just be thankful now that she seems to have moved on completely!  It can't get much worse than this.
2 The Good Old Miley Cyrus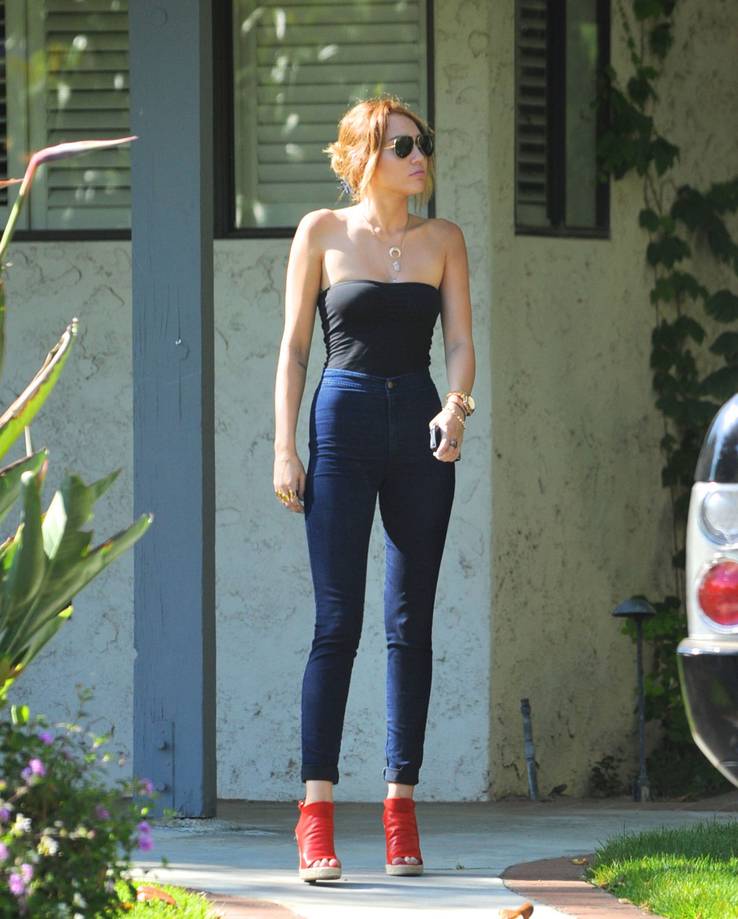 Miley Cyrus always pushes the limits, but this snap is from a few years ago before she really embraced who she is as a person. Miley Cyrus might not look like this now, but even with her strange choice of high waisted jeans, you can see the direction she was heading in with her more "edgy" clothing she seemed to latch onto later on throughout her career.
This look is relatively simple for Miley Cyrus, which is actually why it's on this list. Not only does it look a bit awkward because it looks like she's trying to cross over into a more edgy style, but also because it looks like she's trying to hold onto her country roots to some degree.
Miley Cyrus is wearing some dark shades with her hair up, a black tube top tucked into some very high waisted jeans that are very tight and slim cut. On her feet, she decided to spice up the look a bit with some very bold, red wedge shoes. Not exactly the combination of clothing we would put on her, but it's not the worst thing in the world, even though it isn't the best either. Although she flips her style so often now, at least she commits to the look rather than awkwardly shifting between two extremes in one look!
1 J-Lo Never Tones It Down With Double Denim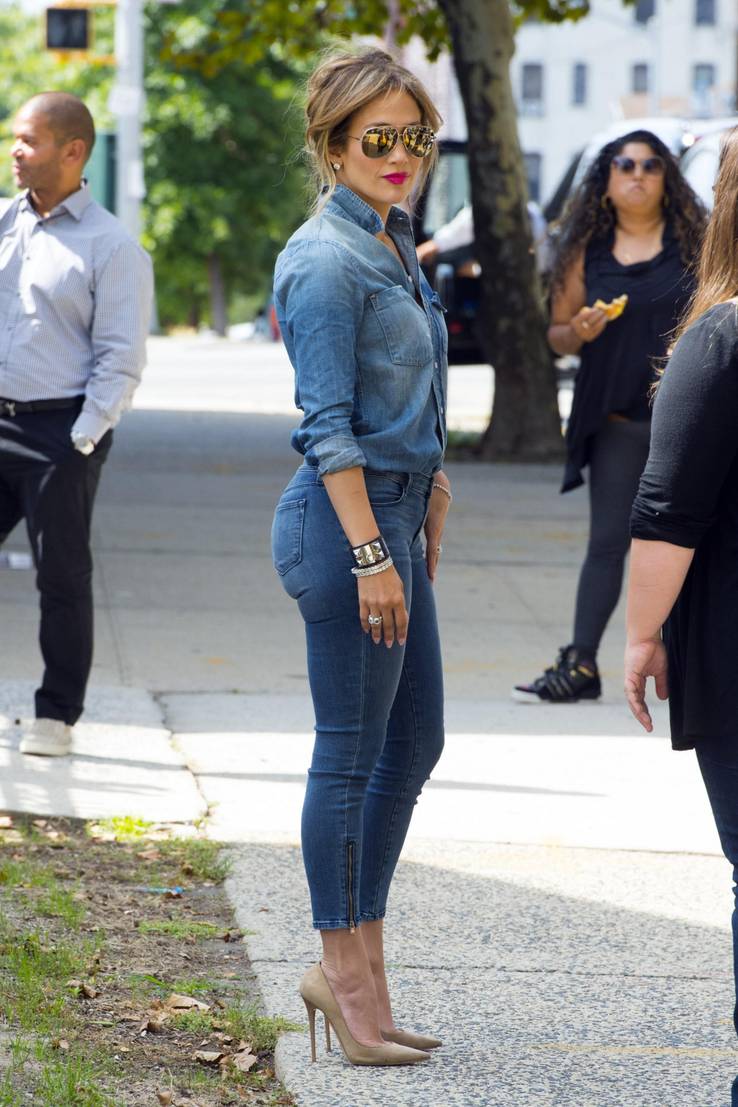 J-Lo is going above and beyond to flaunt some double denim style! We're honestly not a fan of double denim, it's just way too much and very dated. J-Lo doesn't care though because she's just rocking her style while flaunting her look in a double denim outfit that we'll never forget.
Of course, it's not the worst thing in the world, and honestly, we're being a bit petty with this look, but she could have put on so many different outfits that would have made a better impression.
How could we not include J-Lo on this list? She always seems to be doing the most whenever she leaves her house each day and this time it's no different. She has her hair pulled back in a messy bun, aviator sunglasses, a bold red lip, and a double denim outfit that just doesn't really do much in terms of iconic fashion looks. There is nothing exactly wrong with the outfit itself, but it just seems a bit awkward and she could totally do better with some of the clothes she owns. This just looks wrong on so many levels, not only because it's double denim, but because it's double denim of the same wash!
Source: Read Full Article