25 Questionable Things Celeb Moms Have Been Caught Doing In Front Of Their Kids
Being a parent is no easy feat for anyone. Being a celebrity parent is even more difficult because you have the eyes of the entire world waiting to watch you mess up—and when you do, rest assured, there will likely be paparazzi there to capture that moment for you and the rest of the public for all of eternity. Sounds fun, doesn't it? Some celebrity parents really deserve to be given the benefit of the doubt because maybe they were just caught on a bad day, it happens to the best of us. However, others have been caught doing things that are so questionable, it's hard to understand them.
There are those celebrities whose parenting methods you may question. For instance, certain celebrities are known for being pushovers, allowing their children to make the rules, while others have been criticized for their use of strict punishment.
Some celebrity moms have been slammed for encouraging their young children to do whatever they want, while other celebrity moms seem to be too busy partying to do any parenting themselves. With all that fame brings, it is no surprise that celebrity moms are often questioned about whether or not they have their children's best intentions at heart. Here are 25 questionable things these celeb moms have been caught doing in front of their kids.
25 Britney Spears Driving With Her Kid In Her Lap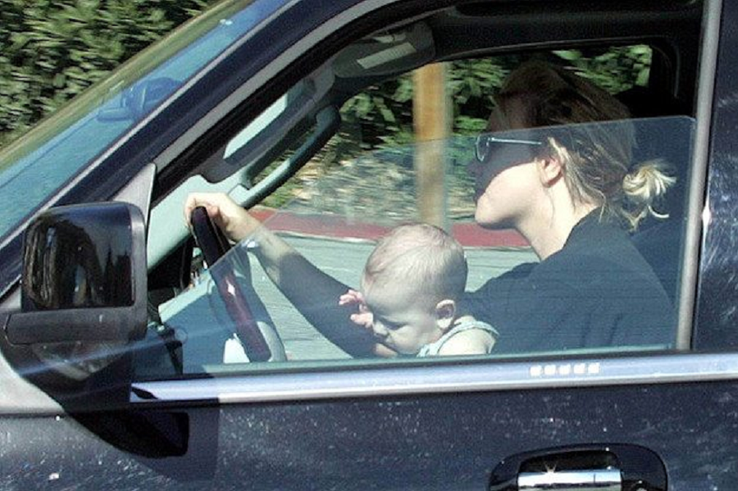 During what may be the most infamous celebrity parenting misstep ever, Britney Spears notoriously drove away from paparazzi with her five-month-old son, Sean Preston, in her lap. The "Oops! I Did It Again" singer claimed that the photographers were chasing her down, causing her to feel unsafe, which is what made her hop in the car for a prompt getaway, claiming, "I was terrified they would put us in danger. I instinctively took measures to get my baby and me out of harm's way," according to Daily Mail.
However, later reports claimed that the situation was not as bad as she described, meaning that there would be no reason for her to have sped off with her infant son on her lap. Spears was criticized for putting her child in a situation that is less than ideal and, clearly, people still recall the incident to this day.
24 Kris Jenner Becoming Famous Because Of Her Kids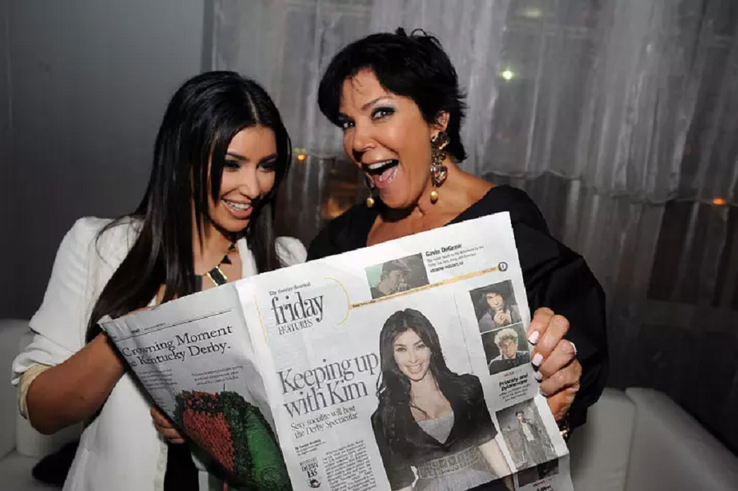 Kris Jenner is one of the most notorious celebrity moms in the entertainment industry. Although Kris Jenner is responsible for her daughters' successful careers, she is often criticized for exploiting her daughter, Kim, at the beginning of her "career."  It has been alleged that Jenner was, in fact, behind the leak of Kim's infamous private information, and was actually responsible for brokering a deal. Additionally, she has been seen on the family's show, Keeping Up With The Kardashians, convincing Kim to pose in magazines in revealing states, even though she seemed uncomfortable with it. Many people have accused Kris Jenner of caring more about the financial gain her family and that she will do anything to make sure that she and her famous daughters remain rich and relevant, according to NY Post.
23 North West Tripping Because Kim Kardashian Was Fixated On Her Phone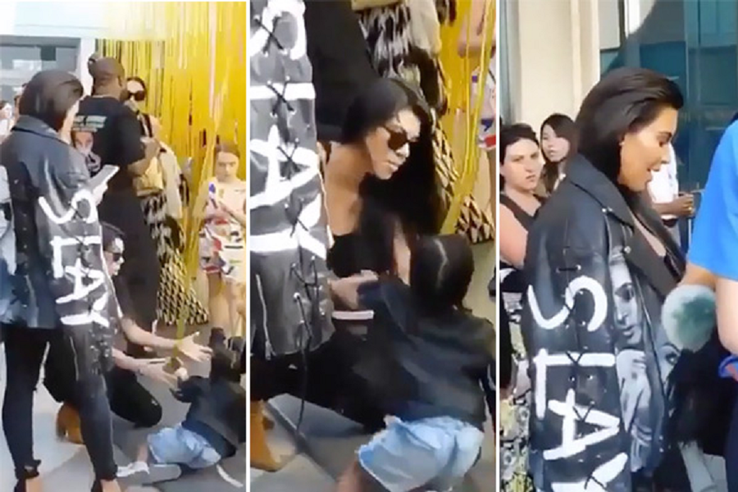 Speaking of the Kardashians, it would seem that Kim Kardashian is not quite as attentive of a mother as she claims to be. Kim has been caught multiple times by the paparazzi, oblivious to her daughter, North, when she had tripped and fallen because she was too busy with whatever was on her phone screen. In this particular instance in the photos above, North West fell on the ground and while Kim's older sister, Kourtney, immediately bent down to tend to the crying child, Kim simply remained standing and staring at her cell phone, Hollywood Life reported.
The Keeping Up With The Kardashians star was also accused of forgetting her daughter, North when she was leaving a hotel in the city. Kim was photographed walking out of the hotel and getting into the car, moments later, she walked back in and grabbed her daughter, Daily Mail reported. She later joked online that North was simply waiting to check out!
22 Kim Zolciak And Her Daughter Going Overboard On Changing Their Look Together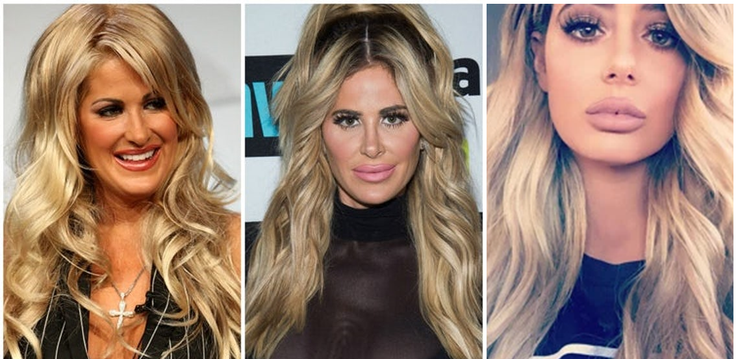 Kim Zolciak got her start on the Bravo show, The Real Housewives of Atlanta, where viewers got a kick out of her smoking cigarettes, drinking out of red solo cups, and bragging about her sugar daddy boyfriend. Years have gone by, and Kim has since gotten married to an NFL player named Kroy Biermann. They now have their own spin-off reality show, Don't Be Tardy, which features the couple and their children.
Kroy officially adopted Kim's daughters, Brielle and Ariana. Over the years, Kim's appearance has drastically changed, due to an excessive amount of enhancement. In addition, her daughter, Brielle's face is starting to look more and more like her mom's enhanced face, although, she denies making any alterations, according to People. Many have criticized Kim for being a less than ideal influence on her children, convincing them that altering their appearance to conform to society's desires is what is necessary to succeed.
21 Farrah Abraham Treats Her Toddler Like A Teenager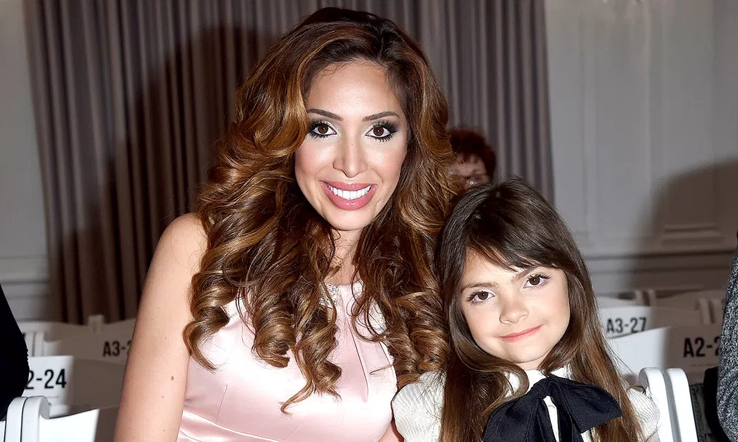 Farrah Abraham allowed MTV cameras to come in and document her teen pregnancy on 16 & Pregnant and then she continued to star on the spin-off series, Teen Mom. She soon became a reality star that many people loved to hate for a long list of reasons. One of the reasons being that she allows her young daughter to wear a full face of makeup, according to Us Weekly. In addition, she has been accused of waxing her daughter's eyebrows when she was just an infant. Now, she lets her nine-year-old wear platform shoes to school and whatever cosmetics she would like.
She has also been photographed wearing things that many would deem inappropriate for a child of that age. Many criticize Abraham but she continues to say that she is going to raise her daughter on her own terms.
20 Linda Hogan Dated Her Son's Friend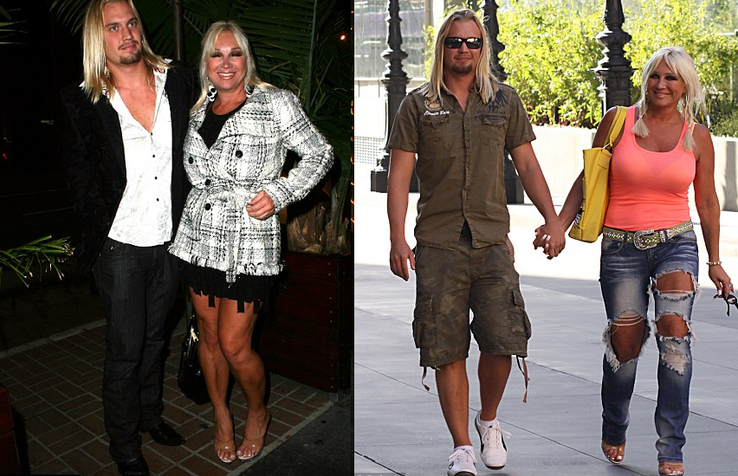 After her tumultuous divorce with Hulk Hogan, Linda decided to go out and get a rebound boyfriend, who just so happened to be her son's, 21-year-old friend, Charlie Hill, Daily Mail reported. The two even went as far as to get engaged but unsurprisingly, things did not work out. A few years later, Hill filed a lawsuit against Linda for $1.5 million dollars, claiming that it was what she owed him for his "menial labor," according to TMZ.
Hogan was widely criticized for not only jeopardizing her relationship with her own son but also for tarnishing the friendship her son had originally had with Charlie. As a mother, she should have known that she crossed the line.
19 Kate Holmes Bottle Fed Suri Until She Was 3 And Let Her Wear Makeup By 5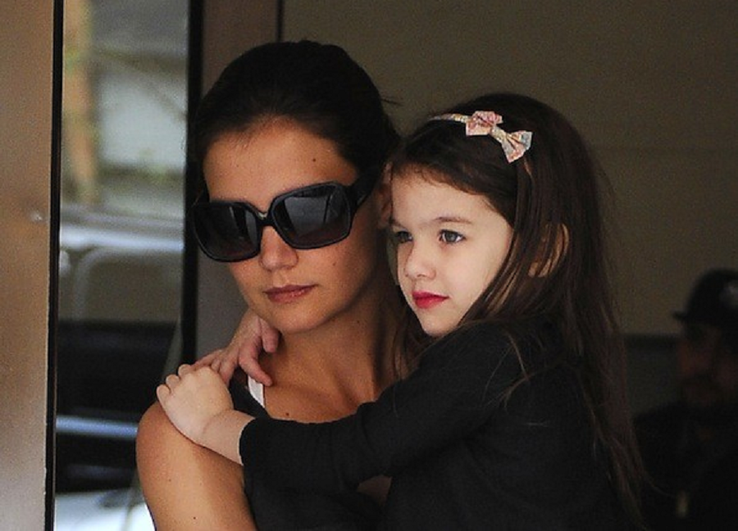 Suri Cruise is the infamous product of Tom Cruise and Katie Holmes' failed relationship. Now that Katie is officially free from the actor and Scientology, she is free to raise Suri as she pleases. Apparently, this included her bottle feeding her daughter until she was three years old, which is far beyond the recommended time, Baby Gaga reported. The Dawson's Creek actress never responded to the public outrage that was caused by the bottle feeding and allowed Suri to wean off whenever she felt like it.
Katie also allowed her daughter to start wearing makeup and high heels at the young age of five. She received some backlash in the media but, regardless, Suri still wears what she wants.
Featured Today
15 Secrets About Tom Cruise Only His Kids Can Tell Us

Jesse Williams Ex-Wife Wants More Child Support

Former First Lady Barbara Bush Critically Ill, Refuses Medical Treatment

18 Leah Messer Texting With Her Kids In The Car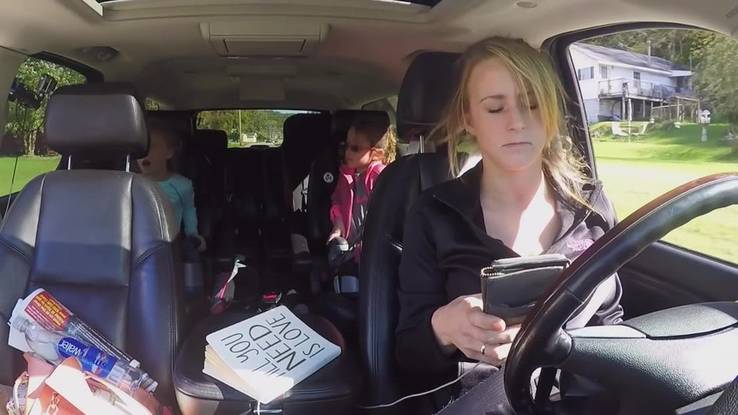 Leah Messer got a taste of fame when her teen pregnancy was glamorized on the MTV reality show, 16 & Pregnant. She continued to star on the series' spin-off, Teen Mom. Cameras followed her as she raised her twin daughters and ultimately ended up calling things quits with her husband. She had another child and another failed marriage with a man named Jeremy and the single mother-of-three found herself struggling to make ends meet and take care of the kids responsibly and it was all caught on camera.
According to Hollywood Life, Leah was seen on Teen Mom 2 texting and driving with her children in the backseat, which is not only against the law in most states in the United States but definitely not safe.
17 Gisele Bundchen Taking Her 1-Year-Old On An ATV Ride
The supermodel, Gisele Bundchen, and the NFL star, Tom Brady, have two beautiful babies—a daughter, Vivian Lake, and a son, Benjamin. The former Victoria's Secret Angel came under fire in 2014 when she was photographed riding an ATV, which can be dangerous enough for an adult to ride, with her one-year-old daughter strapped to her chest. Not only was Giselle not taking the necessary safety precautions for herself by wearing a helmet, she also decided not to put a helmet on her infant child's head.
Gisele's representative told ABC News at the time that she was "on a private beach driving very, very slowly." However, others argued that it did not matter because "accidents happen all the time," so she should have at least protected her daughter with a helmet.
16 Gwyneth Paltrow's Vespa Incident With Apple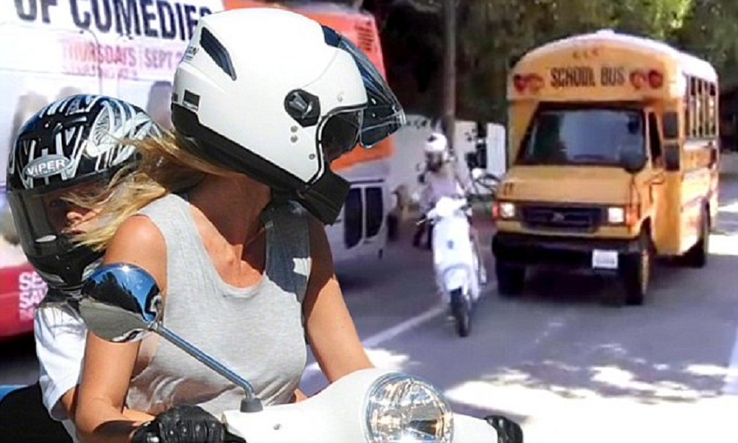 Speaking of dangerous means of transportation, a Vespa may look like a harmless little scooter but if you are riding it on the road with the rest of traffic, it can be quite risky, especially in the case of an accident. In case you missed it, back in 2013, Gwyneth was taking her daughter, Apple, to school via Vespa and the two just nearly escaped being hit by a school bus in the streets of Los Angeles!
Daily Mail reported the driver of the bus slammed on the brakes, missing the mother-daughter duo by just a few seconds. The Shallow Hal actress was 40 at the time and her daughter was 9. Her then-husband and the Coldplay frontman, Chris Martin, and their then-seven-year-old son, Moses, were riding close behind on another Vespa. Needless to say, the celebrity couple was criticized for transporting their kids to school using scooters on busy streets.
15 Jenny McCarthy Doesn't Allow Her Children To Get Vaccines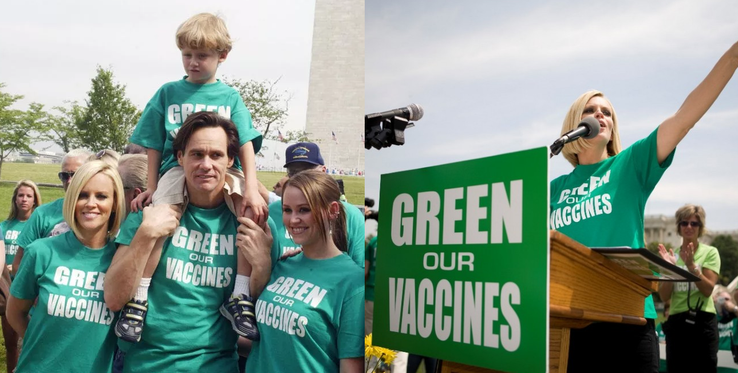 The actress, model, and television host, Jenny McCarthy, does not allow her children to get vaccines and feels so strongly about it, that she became an anti-vaccine activist. She has claimed that vaccines caused her son's autism and that it was cured, in part, by a gluten-free diet.
Although she likely means well, her methods and theories have been a bit questionable over the years and the anti-vaccine, or "anti-vax" crowd doesn't exactly have the best reputation around, according to a report by Time. Hopefully, her children's health will not suffer as a result. She has recently softened her stance to "not anti-vaccine but pro-safe vaccine."
14 Mama June Allowing A Questionable Person Near Her Kids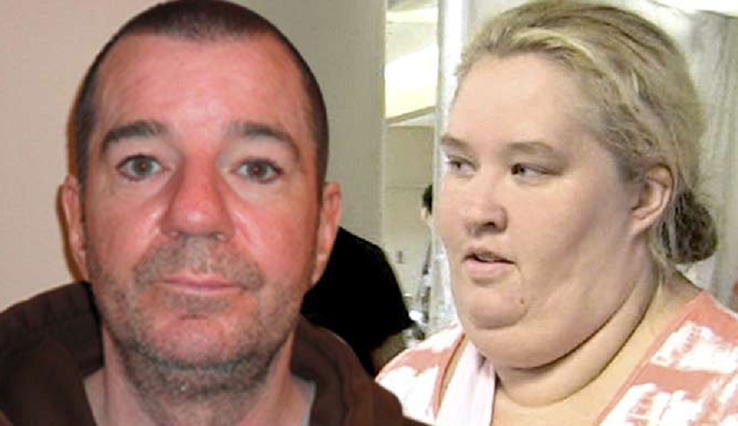 The infamous Mama June Shannon and her daughter, Alana Thompson, a.k.a. Honey Boo Boo, found fame on the reality show, Toddlers & Tiaras, and producers found them to be so outrageous that they gave them their own spin-off series, Here Comes Honey Boo Boo. For some odd reason or another, Americans tuned in to TLC to watch the redneck family misbehave and eat loads of food.
Their successes came to an abrupt halt when Mama June was caught hanging around a man named Mark McDaniel, who was convicted of doing something extremely morally wrong. NY Daily News reported When TLC caught wind of this, their show was immediately canceled and their spotlight has since been dramatically dimmed.
13 Kris Jenner Allowing Kylie To Date An Older Guy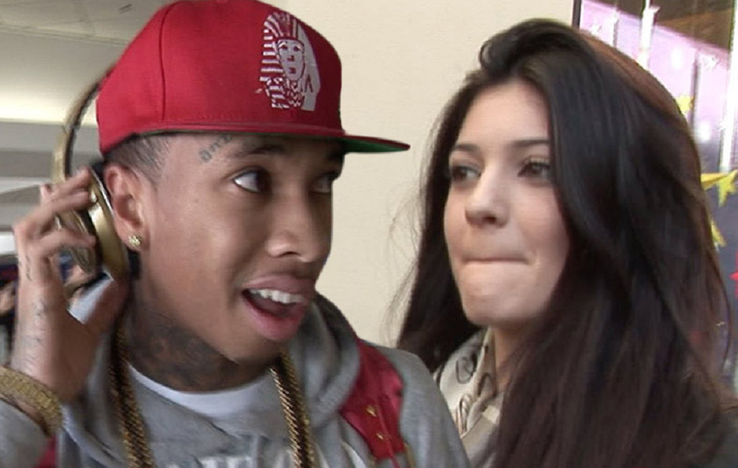 Kris Jenner has done some pretty questionable things as a parent but with her youngest daughter, Kylie, it seems that she let her do pretty much anything she wanted. When a teenage Kylie came to Kris to complain about her thin lips, which she was "so insecure" about, the matriarch had no problem with her daughter doing what it took to change them.
When her daughter began dating a rapper who was in his late twenties and had just had a baby with a music video girl that he had met on set, Kris was all about her daughter dating one of the biggest new rappers in town. She totally supported the relationship, according to People. This has caused many to question the motives behind some of Kris's parenting decisions.
12 Courtney Love Dealing With Personal Issues While Pregnant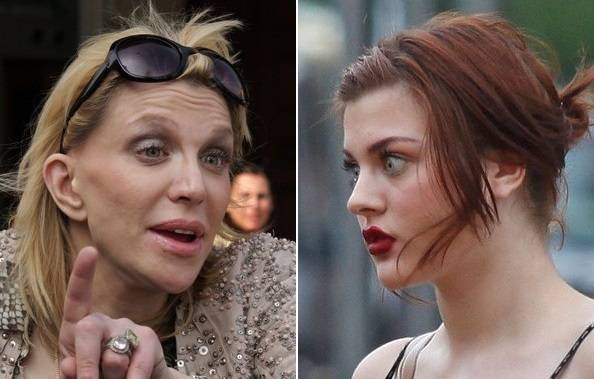 Kurt Cobain's wife, Courtney Love, and his daughter, Frances Bean, have a very tumultuous relationship, to say the least. You could also say that their troubles began from the time that Frances was still in Courtney's womb. In 2009, things got so bad that Frances sought out a restraining order against her mother. The court papers revealed that she had accused Love of being an unfit mother with personal problems.
In 2012, Frances claimed that her mother was negligent with her pets, according to Rolling Stone. It is highly believed that she had been in the midst of dealing with her famous personal issues while she was pregnant with her daughter, so to say that she has done some questionable parenting would be an understatement.
11 When Michelle Duggar Defended Josh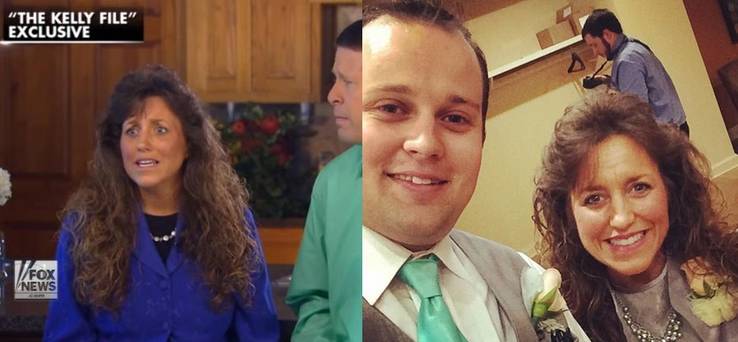 Michelle Duggar and her husband, Jim Bob, have a family that is bigger than anyone could imagine having, which is probably why they were so happy to have been given a reality television show, featuring the bigger than life family and all of the ups and downs. 19 And Counting was a hit on TLC for years until their eldest son, Josh, was exposed for having been inappropriate with his younger sisters.
The strict, religious family was completely shamed and their show was immediately canceled. Perhaps what was most shocking was the fact that Michelle Duggar chose to defend her son's actions during an interview with Megyn Kelly saying that her daughters "probably didn't even understand it was [improper]," according to Fox. Her words dismayed the nation and certainly did not gain her any more supporters.
10 Dina Lohan Encouraged Lindsay To Party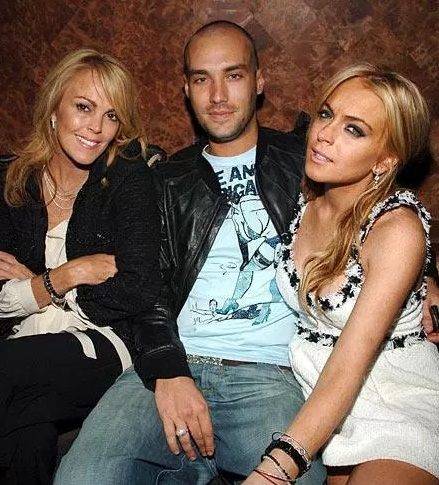 Dina Lohan is, of course Lindsay Lohan's estranged mother. How did she get such a bad reputation, you ask? Well, for starters, supporting your daughter's partying habit is probably not the best parenting decision but what made it even worse was that Dina has been caught joining in on her teenage daughter's "fun." The stage mom was known to party hard with her daughter before she turned 21, TMZ reported. However, when her daughter was forced to face the consequences of her actions, her mother took no responsibility.
She even went on Dr. Phil to "prove" that she was a good mother, which is hilarious in its own right, and, of course, she was harshly criticized. She has been accused of being thirsty for fame, without having her daughter's best intentions at heart.
9 Katie Price Gave Her Daughter A Sugary Drink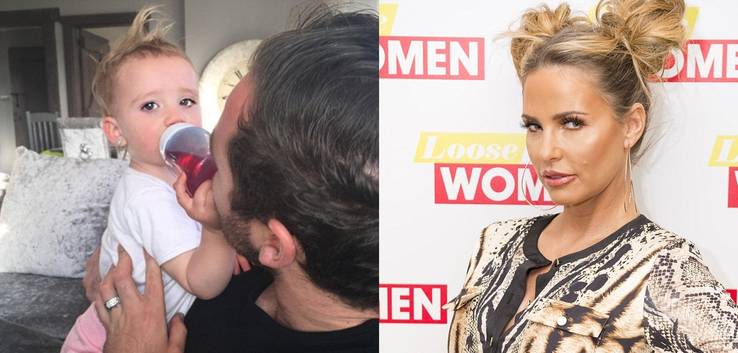 Katie Price is a British model and television personality who got criticized after posting a photo with her daughter, who was 20 months old at the time, drinking out of a bottle with what appeared to be juice in it. We all know that people love to criticize celebrities about their questionable parenting decisions but this one is actually backed with proof—it's a well-known fact that juice given in a bottle does encourage tooth decay.
Price was, of course, met with social media comments saying that she will damage her daughter's teeth and that her daughter should have been weaned off the bottle by the time she was one, according to Daily Mail. The reality star has also been slammed for straightening her older daughter's naturally curly hair at the young age of five.
8 Mayim Bialik Nursing Her Child On The Subway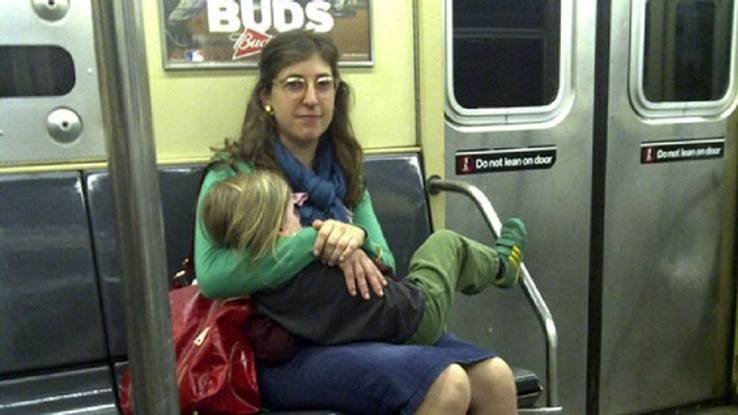 Mayim Bialik is, of course, known for her role on The Big Bang Theory, but she has also become pretty widely known for her unconventional parenting methods. The actress believes in using the attachment parenting method, which includes co-sleeping with your children, potty training without diapers, and nursing them until whatever age you feel is necessary, according to the Mirror.
I mean, maybe his age is a bit questionable, considering the fact that he looks to be at least four years old in the photo, but hey, to each their own. The most questionable part of this whole thing was her decision to nurse her child on the unsanitary subway but something tells me that she is not a mother that says no to her children very often, so if he was hungry, she was going to feed him no matter where they were.
7 Josie Cunningham Sold Tickets To Those Wanting To Watch Her Give Birth
Perhaps the most shocking part of the self-proclaimed wannabe glamour model selling tickets for people to watch her give birth is the fact that she sold out of tickets! Josie Cunningham sold four tickets to fans who wanted to watch her give birth and allowed those who paid extra to film the event.
I'm not exactly sure why anyone would pay that much money to watch someone, especially her, give birth, but she got what she asked for! This was obviously Josie's first questionable act as a parent. The fame-hungry woman had hoped that this attraction would increase her chances of being cast on Big Brother, according to the Mirror.
6 Brooke Mueller Brought Her Twins Out Partying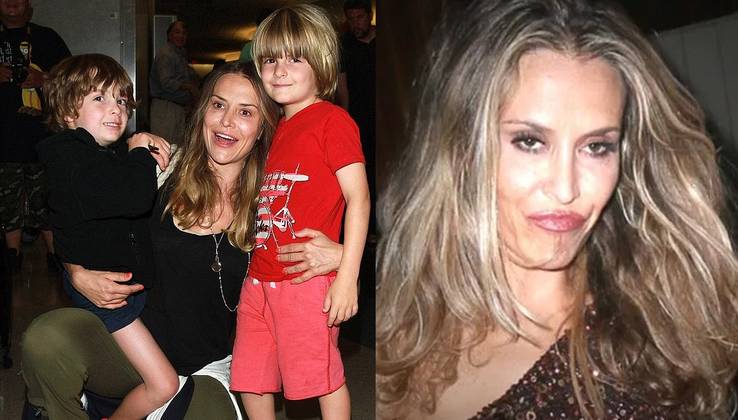 Any woman that would marry Charlie Sheen has got to have her priorities out of order, just in general. I mean, have you seen the guy? It turns out, the actress, Brooke Mueller, who was married to the Two and a Half men star from 2008 until 20011, had some serious personal issues, which was the cause of most of her questionable parenting decisions.
After bringing the couple's young, twin sons to a bar in Utah, and acting completely erratically, walking around with her shoes off, Mueller was forcibly checked into a center to get help. A source told NY Daily News at the time that the actress had "gone off her meds."
5 Shauna Sand Asking Her 9-Year-Old If She Wanted To Pose For A Magazine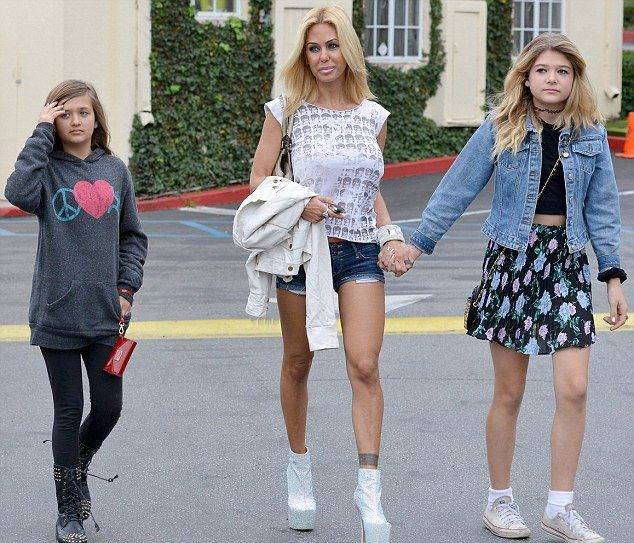 Shauna Sand is a model who is well-known for being married to and having children with the actor, Lorenzo Lamas. Shauna came under fire after she was caught on tape asking their nine-year-old daughter if she wanted to pose for a men's magazine. This was seen as extremely inappropriate, as the magazine is for adults and she was speaking to a child. A bitter custody battle between the couple ensued during their divorce, NY Daily News reported.
Sand has also been slammed for wearing questionable outfits in front of her young children, as well as not seeming to notice them when they are about, posing for the cameras and looking for attention.
4 Jaid Barrymore Taking Drew To Party At Studio 54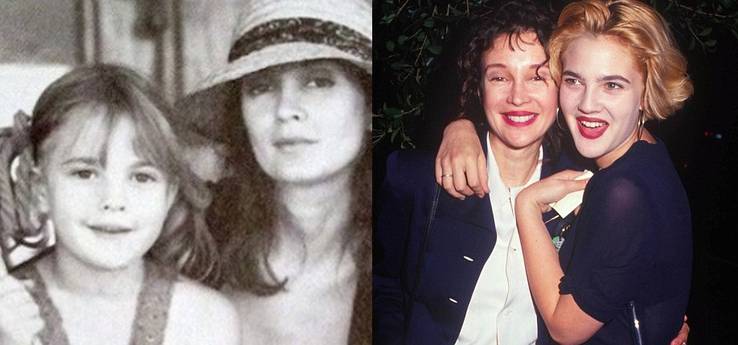 Jaid Barrymore may just have one of the worst reputations as a celebrity mother. Jaid was an actress back in the day, but she was never anywhere near as successful as her daughter, Drew, was and would become. Jaid would drag Drew to clubs, like the infamous Studio 54, when she was a child, according to Daily Mail. You can only imagine what kind of other things her irresponsible mother was introducing to her.
In spite of her mother, Drew Barrymore became the amazing actress, producer, and entrepreneur that she is today. She became emancipated from her mother at the age of 15 and never looked back. Now that she has children of her own, Drew is determined to set a much better example for them than her own mother was.
3 Kate Moss Is More Into Partying Than Parenting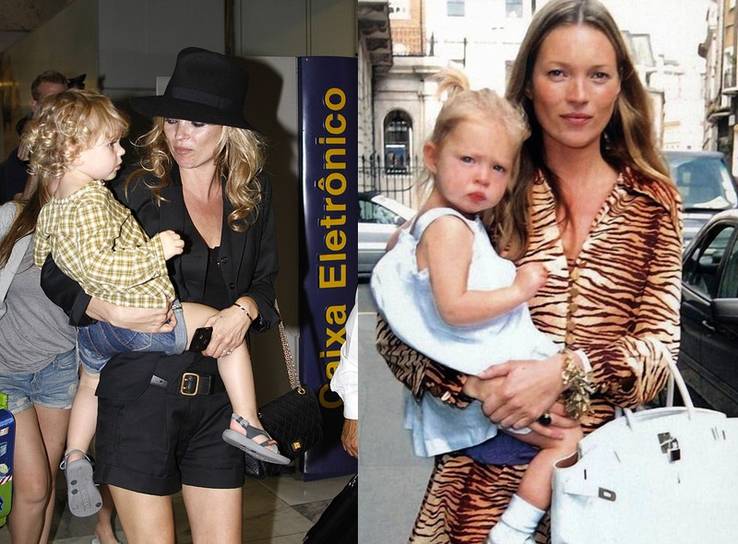 Kate Moss is not exactly getting praise for her parenting techniques. The supermodel is gorgeous and talented at what she does, we'll give her that, but maybe motherhood was more than she bargained for.
Kate has been known to be more into partying than parenting. It was even alleged that she just up and forgot her daughter's third birthday because she was too busy hanging around and partying with her then-boyfriend, Pete Doherty. She and her daughter, unfortunately, do not have the best relationship, Daily Mail reported, and it is pretty understandable as to why that is. Plus, all of that partying is starting to have a terrifying effect on her appearance.
2 Leah Remini's Daughter Made The Rules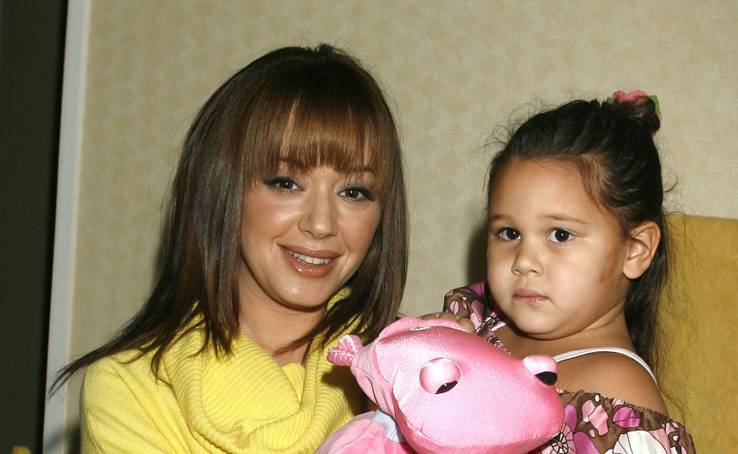 Leah Remini is now known for being the outspoken ex-Scientologist but back in the day, her claim to fame was on the sitcom, King of Queens. When she had her daughter, Leah admits that she was far too lenient with her. What started out as an attempt at the attachment parenting method turned into the actress basically letting her toddler run the household.
She was waking up in the middle of the night to feed her whenever her tummy growled, up to six or eight bottles a night, which resulted in her becoming overweight. Leah's friend and cooking show host, Rachael Ray, eventually had to step in and tell her to speak with a doctor. Luckily, the actress listened and eventually changed her parenting ways.
1 Candace Cameron Bure's Strict Discipline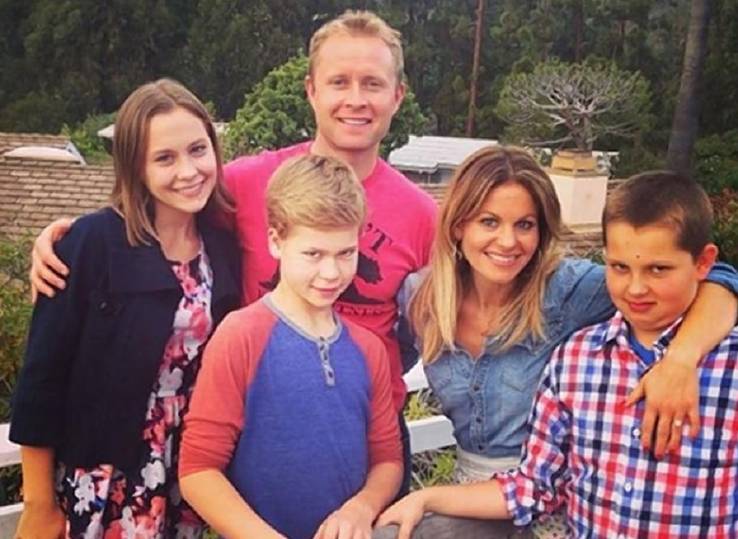 The Full House and Fuller House star, Candance Cameron Bure, has no problem incorporating her strict, conservative, Christian beliefs into her family rules, even if that means that she is subject to criticism from her more liberal colleagues in the entertainment industry.  The actress has been widely criticised for the questionable way that she punishes her children, according to She Knows.
Candance has admitted to using the controversial "Pearl" parenting method, which includes using physical punishment in order to "train" your children to be obedient. These punishments include anything from tapping the kids with rulers, to making them to take ice cold baths and withholding meals if they misbehave. So far, she has been unapologetic to the public about her parenting methods and doesn't seem to be planning on changing them anytime soon.
Source: Read Full Article