25 Things People Need To Know About The Ruling Families Of The UAE
Everyone always found themselves fascinated by power, the ruling families of the United Arab Emirates are no exception. They've been in the spotlight for their charitable donations and ability to make people feel like they actually care about world issues. The families of the UAE have been known for their power and dedication to their countries as well as for their policies. They're essentially royals to onlookers from the outside world, they've held control over the UAE for a long time and have managed to ensure that education is a tool used by their citizens and even made sure the economy did decently.
From almost entire families being quite fascinating to the outside world they have been able to shed some positive light in a region that doesn't get much positive press these days. The leaders also know how to dress and that's an important aspect of their jobs being leaders. They know how to invest their cash and even have a good time in an area of the world that's often criticized for not doing so.
The ruling families of the UAE have some interesting parts to each of them but some families seem to stand out more than the others. This also goes for certain areas of the country. However, that doesn't mean the overall families aren't a fascinating bunch of people who know how to keep themselves liked by the population as a while. Essentially this is an informative post about the ruling families of the UAE and some of their history and habits.
25 The President is quite the philanthropist
Khalifa Bin Zayed Al Nahyan who's the president of the UAE has been loved by many because he donated around $460 Million of his own personal fortune. These donations have gone to helping rebuild stuff in Pakistan after the terrible floods that have happened and he's supposedly even built homes in the Gaza Strip.
This showed the people is that he cares, even in a time where so many people in politics just jumped on that boat because they're in it for the cash. When he does humanitarian aid projects like these, it really explores how he wants to help people, not only in his country but around the world. Even in the Gaza Strip, he didn't take a direct side but rather just helped out people who needed homes to live in. This is just one person who is part of the well known Al Nahyan family, he gives them a good name by doing these charitable donations and by being the President. (Source: ReliefWeb)
24 Abu Dhabi is ruled by the Al Nahyan Family
What this basically means is that certain parts of the emirates are ruled by certain families. You can technically call it turf. There seems to be jurisdiction and in this particular case, the Al Nahyan family holds Abu Dhabi. They have very well organized cities, and this is a direct result of the rule of the Al Nahyan family. They obviously care about how their city is planned out. Planning is a hugely important aspect of being a leader.
The Al Nahyan family is clearly a bunch of well-defined leaders acting together within the UAE to ensure that their area is well run. This family rules in a particular way, it's not an openly dictatorial style but rather a suggestive and informative format. This enables people to be happy with the way things are done instead of having themselves squashed by things that don't matter in most places. (Source: Telegraph)
23 Khalifa bin Zayed Al Nahyan's net worth is $1.65B
Truly a whopping amount of cash. He must know how to make some cash since he's pretty rich and all. It's quite obvious that he and his family live a luxurious life. It's also clear that investing is nothing new to him, he's likely to have investments all around the world.
The family itself is well known for its investments. There's even an investment group about it, literally with the family name in it. It's actually quite the brand when you think about it. If someone trusts the name, they'll trust the product. It's a solid business plan, as long as nothing bad happens to the name or the products being sold. (Source: Forbes)
22 The President's wife, Shamsa bint Suhail Al Mazrouei has created hope for women
The Middle East is not well known for the rights of women and many countries within the Middle East are publicly criticized over that fact. However, in the UAE, there is hope thanks to Suhail Al Mazrouei. She helped battle unemployment among women in Al Ain, which is a city in the UAE. She did this by helping create a center where women could get training.
This was a move that was incredibly good, it showed initiative in a region where it's much needed and by a powerful country within the region. (Source: TheNational)
21 The families are pretty old
At least one family, the Al Maktoum have been around since the 1830s! That's a long time to be holding onto power and effectively managing a region. Having been around for such a long time, they must know all the little nooks and crannies of managing their region.
It's not easy keeping people happy, but being able to keep control over people for over 100 years is truly skillful. The ruling families, in general, have been around for a very long time and have a long history or keeping control over the region and expanding its economic interests as such with oil in Dubai. (Source: Dubai.Ae)
20 The Crown Prince of Dubai is social media famous
Sheikh Hamdan Bin Mohammed Bin Rashid Al Maktoum who is well known on Instagram as Fazza seems to enjoy everything a rich kid would. From helicopters to kissing animals, he's a poster child for good media attention.
His Instagram photos showcase him doing everything interesting in his life, especially hanging around with animals, he seems to really like animals. Anyone that looks at his photos knows that he's someone to keep track of, his bio even says "everything has a story." This means that he's got so much fun stuff going down that we can all take a lesson of carpe diem from him!
19 The Al Maktoum family remains popular to this day
They are consistently popular with residents of Dubai because of two reasons: the first being their ability to manage a strong standing on social media and second being their public presence.
They're always making appearances in places like restaurants. This makes people aware of how their leaders are likely extroverts. It's clear that the residents don't mind having them do this as it makes Dubai look fantastic. They've remained humble and cause people to wonder what they'll do next. (Source: TheCultureTrip)
Featured Today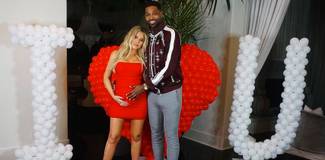 Khloe Kardashian Gives Birth To Baby Girl

10 Celebs Who Cut Their Kids Off Financially (5 Who Spoil Them Constantly)

Former First Lady Barbara Bush Critically Ill, Refuses Medical Treatment

18 Sheikh Mohammed bin Rashid Al Maktoum was educated in the United Kingdom
It's said that he went to Sandhurst, a difficult military school in the United Kingdom that's known for its ability to test would be members of the armed forces.
They test both physical and mental strength. Mohammed Bin Rashid Al Maktoum is said to be a graduate of the school. This means that he's not only physically fit but also mentally, it shows us that he's got the knowledge and ability to successfully lead people, pretty much anywhere. (Source: TheNational)
17 Apparently, the princess of Dubai, Sheikha Latifa, ran away
According to the Daily Mail, a woman who identified herself as Sheikha Latifa, who's the princess of Dubai ran away. She was seen in a video explaining that she was imprisoned and that many limitations that were put on her. Some of which include having a curfew, not being allowed to drive and needing permission to travel.
This is certainly chilling information to find out about such an interesting place in the world. There's always something bad going on, no matter where it is in the world. In this case, it seems to be clear that Latifa doesn't enjoy where she is right now and wants to leave. (Source: News.com)
16 The Al-Qasimi family own two of the seven emirates
Now this family owns both the emirate of Sharjah and the emirate of Ras Al Khaimah. It's unusual for a family to own more than one emirate but it's obviously not impossible. This is, of course, likely due to a long history of power and influence within those two regions of the UAE.
This has easily been the source of their wealth, alongside the usual investments of anyone who is part of the ruling families. The family does have separate rulers for the two regions. The Emir Sheikh Saud bin Saqr al Qasimi is said to be the ruler of Ras al-Khaimah. While The Emir Sheikh Sultan bin Muhammad Al-Qasimi is the ruler of Ruler of Sharjah. (Source: TheNational)
15 Sultan bin Mohammad Al-Qasimi has several published books
He's got a book about his early life, history and even one about the myth of Arab Piracy in the Gulf. This shows people that he must enjoy writing, at least a little. Although it doesn't seem like the books are best-sellers internationally, it does show his commitment to writing and informing people on the topics he's passionate about.
Writing a book also allows the citizens of the controlled region to learn more about someone who they're not talking to every single day of their lives. Producing a book like that isn't easy, it takes a lot of time and it looks like he was able to find that time for what mattered to him, deep inside, on an emotional level. (Source: Sheikhdrsultan)
14 The Al Nuaim family is based on a tribe
Like many ruling families of the UAE, they're based off a tribe. This family, in particular, is supposedly based on the Arab Bedouin tribe, which has been connected to many places such as Qatar, Eastern Saudi Arabia and more.
It's actually quite interesting. The family itself is kind of like a strain of the overall tribe that went it's own way and found great power and fortune in the UAE. Based off their decision in the past, they now control the region in the UAE known as Ajman, which is a city. (Source: Revolvy)
13 Some ruling family members are former soldiers
It's not uncommon for high ranking people in society to get involved with the military. That's the case for Zayed Bin Hamdan Bin Zayed. Support for him and his military career has been exceptionally great, many people find him brave and an outstanding individual. Most recently he was supposedly injured in a helicopter crash in Yemen, but he came home to a warm welcome from his ruling family.
In the past, it was possible the members of the ruling family could have served in the British military. This is a possibility because of the fact that the British did have a form of control in the region due to their earlier efforts of colonization through the Middle East and the general world. (Source: TheNational)
12 Humaid bin Rashid Al Nuaimi is dedicated to his job in the Federal Supreme Council
It's hard to argue against someone being dedicated to their position in government when they're at the age of 87! He's dedicated, especially since most people in the world stop working at age 60-65. It shows everyone that looks at him that he's someone who actually cares about people and what he's doing for both the UAE and his region. The guy's been part of the Federal Supreme Council of the UAE since 1981.
However, while this does show dedication it also shows that it wouldn't be too bad for a change in leadership. Yes, he's a member but sometimes it's good to add new members to ensure that only the best option is being chosen. Even a little suggestions box could be a good choice instead of replacing members of the council. (Source: Uecabinet)
11 Sheikh Mohammed is quite the racehorse extraordinaire
If anyone is well known for racehorses it's him. According to The National, he said: "The horse came from here, from the Arabian Peninsula. And just as much as I and the people of Dubai belong to the horse, the horse belongs to us."
What that means is he really wanted to bring the culture and enjoyment of horses back to the UAE because it's possibly not been as enjoyable since. Sheikh Mohammed is without a doubt someone who loves horses, like a lot. (Source: AmericasBestRacing)
10 They've attended weddings of other ruling families
Considering how many people consider the ruling families royals, it should be an interesting surprise to find out that they sometimes attend weddings of other ruling family members.
In 2013, it was reported that ruling family members from all seven emirates attended two wedding of ruling members. This shows both compassion and cooperation between all emirates, which is needed to properly run a country. This is also a show of support for what some would call royal families. If one shows support for the marriage by showing up for a wedding, it might allow for better relations between the Emirates and their rulers later down the line. (Source: TheNational)
9 The ruling families are called "ruling" for a reason
It must be understood that the UAE is not an electoral democracy. It's actually something that a lot of people hate, generally people around the world, who live in democracies. Most people like having freedom of choice for their leaders rather than having someone who's basically a pick of the draw on how good they are, let's face it, not every ruling member is as effective in their efforts as the last.
It really depends on who you ask, some people feel that having a ruling family is better and wastes less time, others feel that it's not good. Whatever the case may be, in the UAE there are no traditional style elections like in the west. (Source: TheCultureTrip)
8 The Al Sharqi family is not as well known to the outside world
The Al Sharqi ruling family is quite unknown to the outside world. They don't have a heavy social media presence when compared to the borderline gurus of Dubai's ruling family. They're still active online but just don't seem to grab the attention of people outside of the UAE itself.
This is a hard fact, the family is in control of a less populated and generally less popular area of the UAE, especially when compared to Dubai and Abu Dhabi. It's not a bad thing either, when having a lower social media presence, theirs more room for experimentation and style change. (Source: Bloomberg)
7 One of the family members took part in the Olympics
Maitha Mohammed Bin Rashid Al Maktoum is an athlete who practices the art of taekwondo and karate. These two activities on their own require tirelessly putting in work to get some decent end results. Some people just manage to get good enough to partake in the highly anticipated Olympics.
The Olympics require these athletes to take a lot of time to train and remain skillful in their chosen activity. This individual clearly put a lot of time into themselves and ensured that they could represent the UAE. In 2006 she did exactly that and actually won a silver medal at the Asian Games. (Source: GulfNews)
6 Traveling is something they all seem to enjoy
They like many wealthy people own private jets. This allows them to travel pretty much anywhere they want too. Traveling is both important to expand the positive knowledge of a country through showing talents and doing some good old-fashioned diplomatic stuff, like creating trade agreements. Traveling is without a doubt something that happens.
It's impossible to avoid, most people enjoy it, especially ruling families. While their travels aren't always shown, it's certain that it goes on. In fact, the Dubai Royal Air Wing is supposedly used by the ruling families, as well as government officials.
5 They know how to invest their money properly
Investing is not unknown. Everyone knows someone or a company that knows how to invest their money. That's not any different in the UAE. There are several websites that actually have the ruling families names in them. This could be an intentional move or not.
One thing is for sure, wherever there's money, and the ruling families have money, there's investment. While not every single investment is known to everyone around the world, it's possible that the families have invested their money into oil and other lucrative opportunities. (Source: TheCultureTrip)
4 Some of them know how to have a good time
In one case which would have most people needing a change of pants, Sheikh Abdullah Bin Zayed, took a selfie not too far from an erupting volcano. It sounds like something an adrenaline junky would do but it happened. It's even on Instagram.
There are also several other photos of ruling family members enjoying themselves. Having a good time doesn't need to be partying hard and waking up with a pain the next day. These ruling families know that and are examples of how to party, properly. They instead occupy themselves with much more fascinating things like flying and occasionally, diving, get it, skydiving!
3 There's a sense of humor in Shaikh Mohammed bin Rashid Al Maktoum
An Instagram video went viral. In the video, you can see the ruler giving his iconic three finger salute to someone who was doing a selfie style video. Well, she did, in fact, get his attention with it and in return, the internet went insane.
This leader, in particular, has a good standing with the people because of social media. People love good press like this, it shows that the people in power aren't robots and actually know how to have fun with their citizens.
2 their favorite social media
You've probably noticed that some of the other well known social media websites aren't so popular among the ruling families. Although most of them do have a Twitter account. Their Instagrams seem to be a grabbing point for the media as it's mentioned quite often.
In fact, some leaders that have their names googled occasionally have Instagram after their name. This means that people are searching for these rulers' Instagrams. This is also another good thing, they're keeping in touch with the youth via social media.
1 They know how to dress
Dressing to impress is important, no matter who you are. While the leaders of the Emirates all maintain a good fashion sense that comes off as traditional but still youthful.
You can see them wearing their traditional looking robes and what not in most pictures, in others you can see them dressed in regular clothing. When you see them in regular clothing, it's as if they're custom made. Well fitted, well worn and of course the most important, professional. This ensures that while they're still having fun they can be sure they're doing it in style.
Source: Read Full Article