These 'American Idol' Stars Made History For The Sweetest Reason
The announcement of the nation's newest American Idol was only one of the many emotional surprises revealed during the season's finale. The two-hour special was packed with appearances from a mixture of Idol stars, past and present — Katy Perry kept her promise to top seven contestant Catie Turner and they swept viewers off their feet with a stripped-down version of Perry's "Part of Me," Season 6 finalist Sanjaya Malakar did a comedy bit with Jimmy Kimmel, and although he didn't win the grand prize of $250,000, thanks to Idol, contestant Noah Davis was still awarded the Alpaca of his dreams (and he named it Laurel, as opposed to Yanny). As if all of that wasn't enough, after it was revealed they would be the top two finalists, American Idol stars Maddie and Caleb announced that they're dating. Let all of that sink in.
"Maddie's like, my best pal, and I've known her since the beginning of Hollywood week," Caleb said to host Ryan Seacrest on stage. "And you know, she actually happens to be my girlfriend." Maddie was beaming from ear to ear, and a shaky and lovestruck couple proceeded to sing an adorably nervous duet version of "Somewhere Over the Rainbow," which ended with the two of them holding hands and staring into each other's eyes. Needless to say, the internet went wild for them.
In Idol's 16 seasons, there truly hasn't been a finale like this one. It was obvious that the two were going to be on cloud nine regardless of who won — and to top it all off, Idol surprised them with a Disney-sponsored joint trip to Hawaii — all before the winner was announced.
Surely Maddie and Caleb were equally as shaken and in awe as viewers back home as they clutched one another in anticipation of the final results, and the moment culminated with the announcement that 20-year-old Maddie from Clarksville, Iowa is indeed, the next American Idol. Emotion overcame her, and before she could process what was happening, a stage hand was hanging a guitar around her neck, prompting her to participate in the Idol tradition of a final performance from the winner. Tears streaked her face as she attempted to sing her recently debuted single "Going Going Gone," and her verses were choked by overwhelming joy — that's when she was joined (and assisted) by her elated fellow Idol cast members (and boyfriend!) to half-sing-half-cry the rest of the song before the credits rolled. The moment was too sweet.
A now Disney-owned Idol ended like a fairytale would, but it appears that some people were onto Maddie and Caleb's secret before their big announcement, including their mentor on the show, Bobby Bones.
If you follow either of them on social media, they have always made it very clear that they spend a lot of time together, consistently documenting their daily shenanigans with Instagram stories. However, knowing that this year's Idol crew was so close knit, it really didn't strike as something romantic — not until Maddie posted a particular story a few hours before the finale aired, that is.
Maddie is known for her tendency to film her friends interview-style in her IG stories, and in this particular clip, she jokingly asked Caleb how it feels to be the next American Idol. He responded with, "I don't know Maddie, how does it feel to be the next American Idol? Ya'll watch back in a few hours, it's gonna be Maddie. But look at her — show yourself — look at that!" Caleb exclaimed, referring to how great Maddie looks. "Ay, calliente!" Caleb also shared a gushy "best friend" post to honor Maddie a couple days prior to the finale. So maybe viewers shouldn't have been so shocked to hear that they're seeing each other. However, it's unclear how long it's been since they made it official.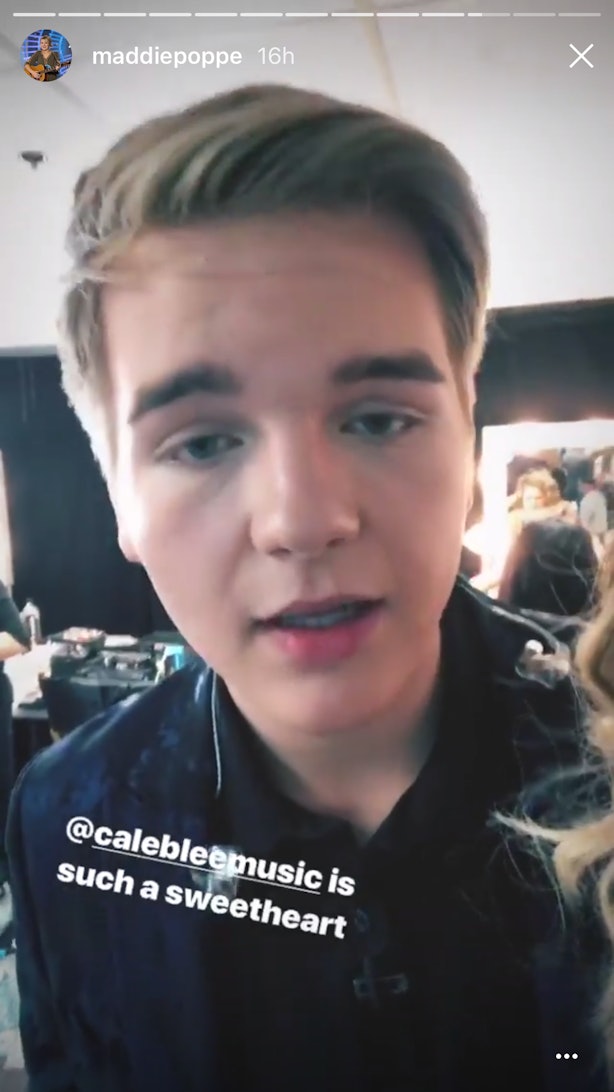 As Caleb said on the show, the two met during Hollywood week, which was taped long before the first episode aired in March. But, who knows when they actually mustered up the courage to confess their feelings for each other. Regardless, they made Idol history, and they make an adorable couple.
Source: Read Full Article