Anne-Marie Is Not Afraid to Speak Her Mind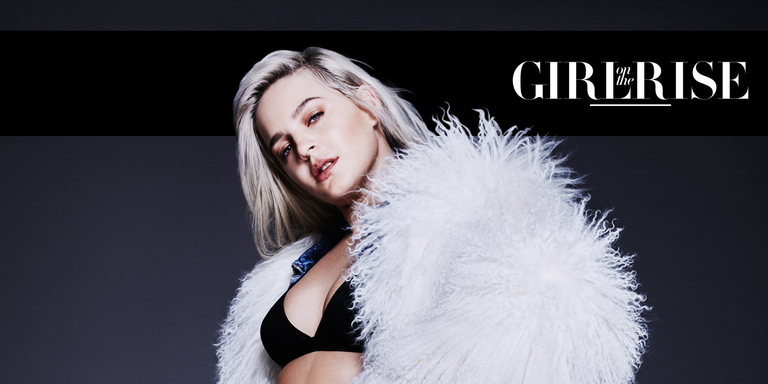 The year 2002 was a big one for Anne-Marie. The British pop singer dedicated a whole nostalgic, bittersweet track to the year, where she reminisces about a tweenage romance and the hits that soundtracked it, from Britney Spears' "Oops!…I Did It Again" to JAY-Z's "99 Problems." But she completely skips over one of her biggest inspirations, which was also released that year: Stripped by Christina Aguilera.
"I used to listen to it on repeat every day," the 27-year-old singer recalls to BAZAAR.com. "I think that all of that album made you feel really good. You could listen to it and just feel so empowered after every song. I love that she'd done that." She felt the same way about Alanis Morissette and Lauryn Hill, too.
Anne-Marie Nicholson (who goes professionally by her first name) wants to create that same effect with her debut album, Speak Your Mind, out now. "I hope and wish that people would do that with my album," she says. "I think that would just be the best thing in the world."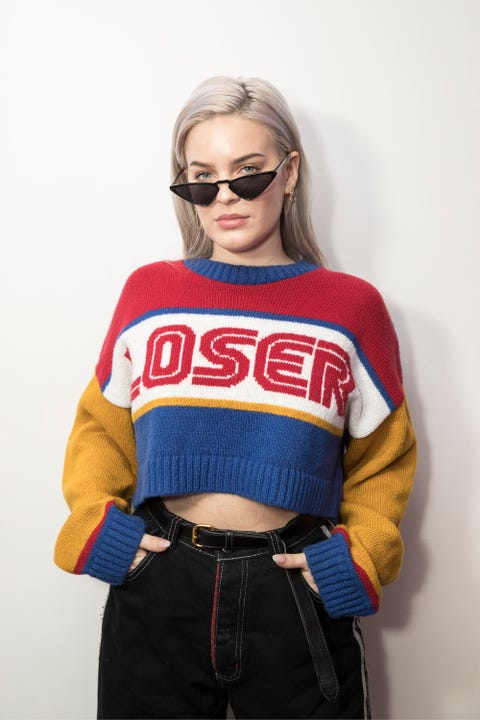 Like her music idols, Anne-Marie is unabashedly herself on her record, which boasts upbeat pop anthems over dance-based production, hints of hip-hop and dancehall, and lovably blunt lyrics. She tells off a lover for sneaking around with someone else, she warns an admirer to stay in the friend zone and she professes self-love. It's all autobiographical. "All of that stuff you hear on my album is true to my life," she says.
In the spirit of honesty, the singer recently opened up about her sexuality, noting she's attracted to both men and women. "I've never felt the need to tell anyone that I'm bisexual. I don't feel like I am. I just feel like I'm attracted to who I like," she told The Line of Best Fit. She also mentions it in her song, "Perfect," with the line: "I love who I want to love 'cause this love is gender free."
Anne-Marie's studio debut has been a long time coming. ("Literally as soon as I started writing music I was aiming toward the album.") She released an EP, Karate, in 2015, and followed up with "Alarm," her first single from the album, the following year.
But her true breakthrough came with "Rockabye," a collab with British electronic group Clean Bandit and Sean Paul that climbed charts in early 2017 and is now multi-platinum. Over a year and five singles after that, the full-length album arrived.
Speak Your Mind is just another jumping off point for Anne-Marie's music career. Up next, she's touring with Ed Sheeran, her friend for over 10 years. "He's just a really supportive person and I just think that he must like my music," she explains.
When asked what her future entails, Anne-Marie gets candid once again: "I think just honestly making music forever. That's what I'm gonna do."
Below, Anne-Marie opens up to BAZAAR.com about her debut record and being herself.
The title, Speak Your Mind, reflects her outspoken lyrics about her life experiences.
"Most of my singles are about heartbreak and bad boyfriends and I just want to say a little bit more than that. I feel like the thing that I try to do is be completely honest and open with people. That's what I do when I go into the writing sessions. I just literally tell everyone my problems. It's like a therapy session. I'm not scared to write about anything just because I know that somewhere along the line it will help other people like music helped me when I was younger and I just wanted to be that voice for someone."
Music helped Anne-Marie through her insecurities in her teenage years.
"I was kind of shy. I wanted to be really skinny. You know, just being a teenager. I was quite an angry teenager and I think music was just there whenever I needed something. I've really had that connection with music. It's important for me to help other people like that. Hopefully I do that in this album."
Her song "Perfect" is a testament of her moving on from those insecurities to loving every imperfect part of herself, which she does in a very relatable way.
"I didn't have anything to write about that day and I've always wanted to write a song like that but never really known how to write it. Because, I didn't really want to come across preachy. I literally was on the way to the session, I was watching YouTube. Just women talking on YouTube about, like, body confidence and feeling good about yourself.
" I don't know if I could sing about something I haven't truly experienced."
"I remember getting to the session and the lady that was writing with Jenn Decilveo, who I wrote 'Ciao Adios' with, she was like listen just tell me all of your insecurities and what weird stuff you do and you don't think anyone else does the same thing. I just literally told her everything like that and she wrote it down on a piece of paper and it just became that song.
"It's cool because like you know you do these things, you do little weird things and you think you're the only one or oh my God am I the only one with this on my belly or you know stuff like that and you feel really alone. Then when I sing that song I feel, like, proud and people are like oh I do that as well I thought I was the only one. I just feel like it really helped people. I just don't want people to be embarrassed of anything. They should just feel good."
Her lyrics, no matter how tough, are from the heart.
"I really always write about experiences that I'm going through at the time because I just find that so much more easier to write about. I just don't know how to make things up. Especially when you're performing live. I don't know if I could sing about something I haven't truly experienced.
"So all of that stuff you hear on my album is true to my life. 'Ciao Adios' sounds like a really angry song and I'm like saying bye to him but really, it's about your boyfriend finally doing all of the things that you used to do together but with someone else and it being really sad. I try and put a really strong meaning behind every song. Even if I do sound like I'm telling my boyfriend to fuck off."
Her latest hit, "FRIENDS," features rising star DJ Marshmello. The two started working together two years ago.
"He remixed my song 'Alarm' in 2016. I remember loving it so much. I actually perform it live in my set now because I just love it so much. But I'd never met him, never spoke to him and he was in London in December of last year. This was when my album was already done. It was this thing that had been written out. Basically, I was supposed to just say hello and thank you for the remix and it just became a writing session.
"We wrote and recorded the song in like three hours. Then my label was like this has to go on your album and it also has to be your first single of 2018. So it was very quick. Yeah, he's amazing."
The track is a cheeky tell-off to a suitor who won't take a hint. ("F-R-I-E-N-D-S / That's how you f****** spell 'friends'" she spells out in the bridge.) The situation, though awkward, is extremely relatable.
"I think it's quite a funny subject. It might be a bit awkward for some people who are actually being put in the friend zone. I just try and write songs that I haven't really heard a lot. I haven't really heard that many songs about that kind of subject. To be honest, I've kind of just told people that if they need to give anyone more of a hint, then just send them this song now."
Her affinity to electronic artists began in her childhood.
"When I was younger, I really loved that type of music. I used to listen to Dubstep quite a lot. I really loved that electronic sound. I feel like I'm really not against working with any type of music. I think, if the song speaks to me and we have a good connection and a good writing session, I'm not scared to do anything else that might sound a little different to the song before, you know?
"I want a song to have its own space and its own sound. Like with 'Rockabye,' that really was down to what the song was about and the meaning behind the song. I don't think I've ever heard a song about a single parent caring for their child before and I just fully loved that that was going to be out in the world. It really just depends on what the message is and how the song makes me feel. I'm not scared to try anything, any genre."
Anne-Marie takes a darker, pensive turn on her closing song, "Machine," where she wishes she couldn't feel pain. After the personal issues referenced in her earlier tracks, she widens the lens on this one, even hinting at the current political climate: "If I was a machine / I wouldn't be affected / By violence on the television screen."
"I wrote that in L.A. actually. As a person, I get really affected by everything that I see. When I see bad things on the news or online, I get really affected by it. I just wished for one moment that I could be a machine and that stuff just wouldn't go in and I could feel fine the whole time.
"I honestly get really down all the time when I see that stuff. It really gets to me knowing that I probably can't change anything, which is like the worst thing. To be honest, I just need to stop looking at the news I think."
On "Bad Girlfriend," she gets self-aware, pointing out her shortcomings as a significant other, from forgetting birthdays to kissing other women.
"I think the thing was that I was writing a lot about the boy being the bad one in the relationship and I just thought it'd be funny to flip it for once and be the bad one. I honestly have so much fun singing that, I'm serious. After just singing 'Alarm' and 'Ciao Adios' and being really sad, then I just sing this song and I feel really, really good.
"You think, when a boy cheats on you, you just get up and leave and you raise your head and you say bye. I wasn't really like that when I was younger. When they cheated on me, I just cheated on them back. Kind of give them their karma. I think that's what I was going back to that experience that I was writing about. I'm definitely different now. If someone cheated on me now, I just be like, 'See ya later.'"
Speak Your Mind is out now.
This interview was edited and condensed for clarity.
Source: Read Full Article