Ashley Iaconetti's 'The Bachelor' Season 25, Episode 6 Recap
Because she's been there and done that, literally, former Bachelor contestant/tear fountain Ashley Iaconetti is recapping this season of The Bachelor for Cosmopolitan. With insider insight as well as a clear eye for what's going down both in front of and behind the cameras, she's got a whole lot to say…and you're gonna wanna hear it.
This post contains spoilers for last night's (2/8/2021) episode of The Bachelor.
I felt like there were a lot of storyline flaws in this episode. First of all, I didn't feel myself invested in the showdown between Jessenia and MJ because I wasn't really sure what the root cause of the argument was. Did this conflict begin because the two girls don't like each other and Jessenia name-dropped MJ? Was it because MJ didn't acknowledge the tension in the house when Matt asked last week? Was it because MJ was a leader in the bullying of the new arrivals? It was a bickering back and forth that I just dazed out during because I've had enough of these kinds of conversations. It felt as if Matt was more into MJ than Jessenia. My Almost Famous podcast co-host, Ben Higgins, even said that producers called MJ a frontrunner while he was taping his guest appearance (which aired two weeks ago). I respect that Matt eliminated MJ, as she, in my opinion, was much more of an antagonizer, but we didn't hear from Matt about why he made the choice he did. We didn't see Matt explain his decision in an ITM (in-the-moment) interview and we didn't see the moment he gave Jessenia the rose. I'm craving to see connection and these scenes could have satisfied that desire a bit.
Plot development just seemed so off, and another perfect example of this issue was during the group date this week. The girls go bowling with Matt and are divided into two groups: the pink team and the blue team. Whichever team bowls better will be granted time with Matt during the evening. The pink team wins and the blue team goes home, but only for a short time, as Chris Harrison then comes to the house to invite the girls to the afterparty. Matt apologizes to the pink team, but says he wants time with everyone…but then the show proceeds to only show the girls on the pink team have time with him. I was so weirded out by this, I hit rewind to make sure I didn't miss anything. In reality, these girls most likely had one-on-one time with Matt, but I think it was bizarre that they'd go with this storyline and then not show any of the conversations he had with them. Like, even if Abigail had an uneventful chat with Matt during this time, I would want to see it just to better understand the trajectory of their relationship.
Looking at the girls who are still around and who have roses in their hands, I'm afraid that sweet Abigail is going to go home at the next rose ceremony. If that indeed does happen, that will continue this trend of girls who have their storylines start strong and then disappear. She got the first impression rose and since night one we've only seen her and Matt have two or three conversations! If the initial spark has faded, let me witness it so I'm not left puzzled by why she's sent home. Brittany's departure at the rose ceremony this week threw me off. She's had a lot of air time over the past two weeks and then poof! She's gone. I felt similarly when Lauren left last week and Khaylah left the week before.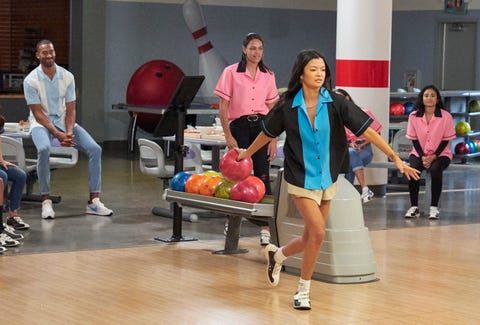 How about we dedicate a few minutes to these fizzles rather than suck up at least six minutes of airtime with pointless drama between Katie and Serena C.? Serena complains that Katie is starting drama and that Matt's addressing of the drama is taking away precious time from the ten remaining girls. Serena claims that Katie isn't interested in dating Matt. Katie says that Serena doesn't know what goes on between her and Matt. Their whole argument is hot air. I would understand the reasoning behind airing this fight if it contributed to Katie's departure at the end of the episode, but it doesn't.
Katie did get to partake in one of the best dates of the season when she and Matt got to secretly instruct Tyler Cameron's masseuse into giving him the worst massage ever. This "Impractical Jokers" themed date not only had me laughing out loud, but I actually think it was a great date activity. It contributes to the discovering of each other's sense of humor and provides an environment for good, flirty banter. Unfortunately, in this case, the date couldn't help Matt feel that zazazu (as Carrie Bradshaw would say) with Katie.
The episode ends with Heather Martin from Colton's season walking into the cocktail party and interrupting Matt's time with Pieper. He legit belly laughs when he sees Heather. I found Matt's reaction to be appropriate, as her extremely late arrival feels like a joke.
Let me be clear: I don't think that Heather is a joke, or that her wanting to date Matt is silly. It's the situation that she's been put in that is so extra. Heather is the sweetest girl. I've met her multiple times and she's so pure. Apparently, Matt and Heather had met prior to the filming of Matt's season and her good friend Hannah Brown encouraged her to go after him.
I wish that she wouldn't have gone along with this stunt. I wish she would have told producers that if she was going to have to enter this late in the season, she wouldn't do it. I don't know why they'd even bother pretending that she drove up in a minivan unannounced or act as if Harrison had to ask producers if Heather could come in and quarantine to meet Matt, as if she was truly showing up uninvited. I'm sure that minivan scene was shot after Heather quarantined at Nemacolin. I can't believe they showed her driving a minivan to crash the cocktail party. (Good thing she looked smokin' hot upon her entrance.) Seriously, it was all worthy of Matt's disbelieving chuckles.
The other women, though, aren't laughing at all. The scenes from the next episode make it look as if Heather gets treated very similarly to the other bunch of girls when they arrived late.
Source: Read Full Article