The Best Songs to Listen to in July 2018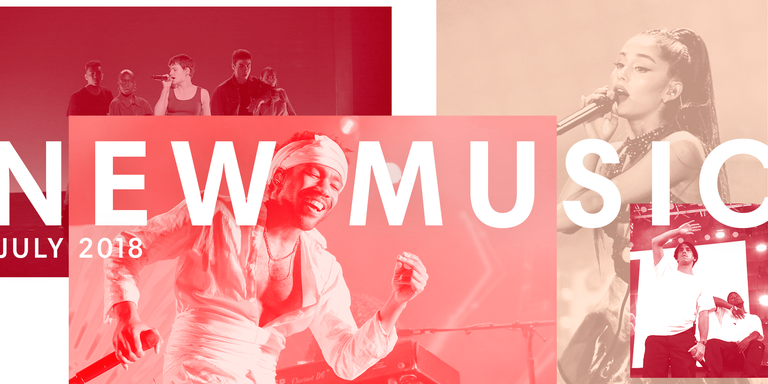 At the peak of the summer, the new releases are just as hot as the weather. Check out our favorite new tracks below, and check back in throughout the month for new additions.
"Boo'd Up (Remix)" by T-Pain
Following "Panda" and "Bartier Cardi," Ella Mai's breakout track is the latest hit to get blessed with T-Pain's genius. Nicki Minaj and Quavo might've teamed up for a remix that same week, but this one takes the cake—and every last crumb.
"Doesn't Matter" by Christine and the Queens
Frontwoman Héloïse Letissier told Zayn Lowe that the song was bold, exposed, and confessional. "There is a sense of despair also in this record but it's strangely empowering at the same time," she said, per Spin. The track, a sharp and clean spin on '80s pop, is the second single from her upcoming album, Chris.
"Feels Like Summer" by Childish Gambino
In the middle of July, Donald Glover hit us with two cool new summer jams to counter the summer heat; "Feels Like Summer" is the more ambient of the pair. They're both co-produced by Ludwig Goransson, whom he worked with on the poignant "This Is America," which just goes to show the kind of range we can expect from Gambino's upcoming album.
"1999 Wildfire" by BROCKHAMPTON
The hip-hop crew is a prodigious new favorite that proved over a series of EPs that no sound is outside of their comfort zone. With "1999 Wildfire," BROCKHAMPTON adopts a smooth retro R&B vibe—at times channeling old-school Outkast—for the first supposed single from their next album. Though they dropped one member after a sexual misconduct controversy, the group's momentum is unstoppable.
"Better" by SG Lewis feat. Clairo
Indie-pop up-and-comer Clairo nabbed a crossover hit just over a month after releasing her debut EP. Her languid vocals plus SG Lewis' disco-inspired production results in danceable a banger with that too-cool-for-you vibe. The pairing was unexpected but Clairo assured in a statement that was a "match made in heaven."
"God is a woman" by Ariana Grande
After her first two Sweetener singles, "No Tears Left to Cry" and "The Light Is Coming," this is probably Grande's biggest one yet. It's reminiscent of the pure pop mastery of Dangerous Woman, while taking a jab at the patriarchy. (Oh, and the last 30 seconds are pure choral bliss.) "To my fellow goddesses who work their asses off every day to 'break the glass ceiling,' this is for you," the star wrote.
"Endless" by Garren Sean
The Bay Area producer, who's previously worked with Chance the Rapper, brings hints of Coloring Book (and some Francis and the Lights influences) to the opening track of his new Sundrip EP. Sean brings elements like soulful guitar licks, an ethereal R&B vibe, and trap hi-hats together for a chill gem.
"Wildin'" by berhana
The singer-songwriter and Atlanta native finds himself evaluating his success on the first single off his next project. It's "about losing sight of yourself, about getting swept up in the moment and forgetting about what you came here to do," he said in a statement.
Listen to all of our picks below and follow Harper's BAZAAR on Spotify. FOLLOW
Source: Read Full Article