Big Brother Blowout: Cirie and Jared Scramble as One HG Figures Out Relationship, First HOH
Within an hour of the premiere, one Houseguest immediately figures out that Jared is Cirie's son; can the Survivor legend do damage control? — plus, the season's first Head of Household removes two from the Block.
After a Big Brother 25 premiere twist that saw four Houseguests nominated for eviction before we even had a Head of Household, things settled into normalcy by the end of this second episode after two of them were moved.
Rather than nominate anyone for eviction, the new HOH was tasked with removing two HGs from the Block, leaving the traditional two nominees ahead of the Power of Veto competition. In other words, the two they pulled off could still be in danger, depending what happens with the Veto.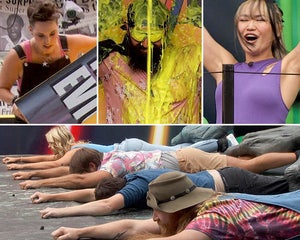 Big Brother Premiere Blowout: Surprise Reality TV Legend Joins Cast, First Nominations Revealed
As always, there was a lot of chaos in the House with 17 Houseguests trying to figure out who was who and how hard to play right from the jump. We already have our first named alliance, and almost immediate betrayal — though we're not sure it was unearned.
In other words, these HGs came to play and play hard. It remains to be seen if that will be a good strategy.
Each episode, we'll break down the night's action, the competitions, the alliances, the backstabbing and the lies. Then we'll grade each contestant to see how they're doing in the game so far and how far we think they're going to go.
Introductions and Recognition
We still can't take this name seriously, but it is what it is. Cory didn't stay gone for too long after getting pulled into the Nether Region during the Night 1 competitions. After an hour, he returned to the house, just in time for introductions.
But Cory also came with news that despite him only being taken for one hour, next week's Scary-verse loser pulled into the Nether Region "won't be so lucky."
We noticed during the round table intros that Cirie tweaked the names of her boys, to throw suspicions off of her and Jared. They also played off not knowing one another when the HGs first returned into the house after the Night 1 comp, but it didn't matter.
Unable to render YouTube Video.
As soon as Izzy saw Cirie, she figured it out immediately. Any Survivor superfan might figure it out as Jared came out for a Loved Ones Visit during one of her four seasons. but Izzy figured it out because, as she put it, she "stalks" Cirie's social media.
She immediately called out Jared for it, who pulled her into the bathroom hallway to try and do some damage control. He wanted her assurance she wouldn't say anything, which she was all to happy to give.
Later, when he told Cirie that Izzy knew all about their relationship, Izzy reiterated that they were good. If she stays true to that, this is a pretty tight alliance of three to at least get the game going. At the same time, Izzy admitted in a confessional that she's fully aware of the leverage this gives her over both of them.
The reality, though, is that Cirie also knows this as nothing gets past the queen of the social and strategic game. She might use Izzy for now to further her and Jared's games, but she will also cut her loose the moment she sniffs anything, and her sniffer is always pretty strong.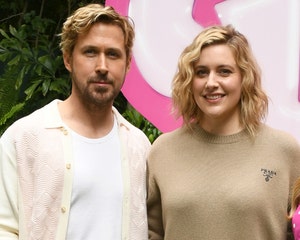 Ryan Gosling Surprises Greta Gerwig with a Barbie Flash Mob For Her Birthday
Professor Cirie
We quickly got a hint of just how many layers deep Cirie is already playing this game with a very brief exchange she had with Jared. She simply told him that she overheard him telling Kirsten they'd talk later, warning him to "clean that up," but it's such a masterful little thing.
Information is power, as Cirie knows all too well. Her own skills at this are nearly unmatched, and now she's going to be training up her son in real time. This is an incredibly dangerous duo, assuming Jared can take the note.
We will say that we weren't all that impressed with him later when he told the new HOH that if they had his back, he could promise not only his support but also the support of Felicia and Cirie. If there's one thing worse than telling about conversations, it's possible alliances.
And he certainly doesn't want people to be associating him with Cirie any more than they might already be doing. They do have similar features. How long can they keep this a secret?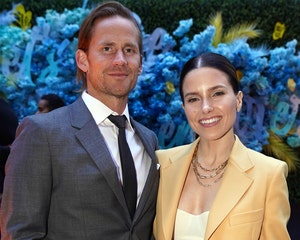 Sophia Bush Files For Divorce From Grant Hughes, Changes Name on Instagram
Playing Too Hard?
Unable to render YouTube Video.
The other player who got the most air time in this second episode for strategic talk was Kirsten, but that's because she was doing the most strategizing. Not only did she jump into the season's first named alliance, she also tried to build something with Felicia and Cirie.
The Phalanx 5 formed almost by accident in the gym as a group of five (Kirsten, Reilly, Luke, Jared, Matthew) started off just talking about being workout buddies in the morning. Suddenly, it was about solidifying an actual strategic alliance, which Luke proudly named.
But this was also Night 1, so no one was really buying that this was a real thing. It's unclear what Kirsten thought of the P5, but it is clear that she wasn't satisfied with just that fivesome. As she was on the Block, she was trying to build alliances and relationships everywhere to protect her game.
Also on the Block were Jared, Felicia, and Cory. None of them were scrambling with that same level of desperation. Making matters worse for Kirsten, she had no idea that Jared and Cirie are already the house's tightest alliance.
When they compared notes, Jared quickly filled Cirie in on the fact that Kirsten had already formed something with him before she approached Cirie and Felicia. That set of alarm bells everywhere that she could not be trusted.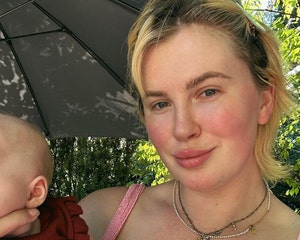 Ireland Baldwin 'Takes Pride' Breastfeeding Daughter Holland with 'These Milk Jugs'
First HOH Crowned
Finally, it was time to crown the first Head of Household of the season, and it was the classic balance beam competition, with the added danger of swinging onomatopoeia signs to knock competitors off of them.
It was about an even split of HGs who even wanted to win this first one, so we suppose we're happy that it went to someone who actually seemed to want it. Only Hisam and Reilly even seemed to put up competitive numbers, with Reilly landing the fastest score by sticking to the longest route (and thickest beams).
She was tasked with removing two of the four nominees off the Block, which made it time for everyone to start lobbying her for safety. Felicia, Cirie, and Jared were quick to fill her in on Kirsten's gameplay, which seemed to be enough to convince her to target Kirsten.
Cory, who is a renowned persuasive speaker, had no interest in being a pawn, so he lobbied hard to save himself. After a rough start in the house, losing an hour to the Nether Region, he had Reilly talking about how unfair his game start was. That's how you do it!
On the other end, you had Cirie lobbying hard, but with more subtlety, about taking Jared off. Between her and her son, whatever they fed Reilly clearly worked as both guys came off the Block, leaving Felicia as a pawn next to Kirsten.
After Kirsten had said she hated seeing older players go first, we're about to see her change that tune real fast, if she can't get herself saved with the POV. The powers that be also have to lobby enough of the house to target Kirsten, who really is a bigger overall threat than Felicia — assuming the nominees don't change. We'll find that out Wednesday.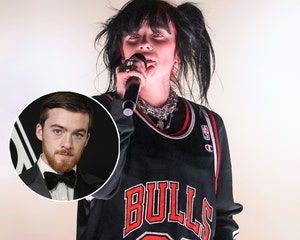 Billie Eilish Pays Tribute to Angus Cloud During Lollapalooza Set
Houseguest Report Cards
Cory Wurtenberger (21, college student) proved that his persuasive speaking crown isn't just hyperbole, getting himself removed from the Block. He also has his sights set on Cirie already. He seems to be someone who is really studying the game. And yet, no one has yet picked up on just how savvy his early game has been thus far. He could be a surprise threat as the game progresses, using his powers of persuasion and strategy to convince others to do his bidding. [Grade: B+]
Reilly Smedley (24, bartender) actually wanted to win that first HOH and we applaud her for her willingness to get dirty in this game and start playing. First HOH is a mixed bag, but it does always tend to create stronger early bonds as everyone wants to talk to the HOH. She's already got two people grateful to her, and everyone talking strategy with her, which will only continue post-POV. Plus, no one seems to begrudge her this early victory. [Grade: B+]
Cirie Fields (53, nurse) came into the house with a huge target on her back and it seems that no one is really thinking about taking a shot at her — except we know that Cory has his eye on her. Izzy is another potential threat, but we're already impressed with how fast she is able to build these tight bonds with people who will be able to protect her (and Jared) moving forward. [Grade: B]
Izzy Gleicher (32, professional flutist) has leverage over both Cirie and Jared, but she's also very wisely keeping that intel to herself for the time being. With them already a duo, it benefits her game to get in bed with the devil she knows for now to see if it can carry her deeper into the game. The test will be if she can figure out when and how to cut the heads off of this particular snake. [Grade: B]
Hisam Goueli (45, geriatric physician) hasn't done much strategically yet, but he's proving himself consistently in challenges as someone to watch this season (coming in second tonight). He's also doing a good job of getting the house enamored with him, as they love his burlesque night life. He's someone who might be a little under the radar, but a bigger threat than people realize. [Grade: B]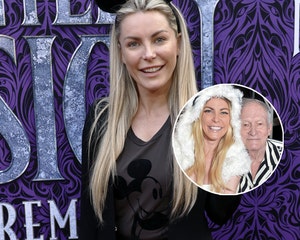 Crystal Hefner Recalls Life in Playboy Mansion, Reaction to Holly Madison's Book While Teasing Memoir
Jared Fields (25, exterminator) is worrying us a little bit with his loose lips, but he's also getting real-time lessons from a master of this type of gameplay. If they can keep Izzy quiet and on their side, he could be safe for a while. If he and Cirie are outed, he might actually be targeted first as a bigger competition threat. [Grade: B-]
Red Utley (37, sales) & Cameron Hardin (34, stay-at-home dad) are two peas in a pod and they are charming the hell out of the house with their Southern charm. They have silly sayings and represent a lifestyle so different, we think it's helping them engender some great goodwill this early in the game — while also leaving them both underestimated, which can pay off later. [Grade: B-]
Jag Bains (25, truck company owner) seems to be someone everyone enjoys interacting with. He's so outgoing and engaging, he's doing a great job of starting with interpersonal relationships. At this stage of the game, those types of bonds will make for stronger alliances later on. [Grade: C+]
Matthew Klotz (27, deaflympics gold medalist) is someone the house is impressed with. It also helps that he's a pretty damned handsome dude. No one wants to be the one to target the deaf gold medalist early on, so we suspect he's in a good spot for now. He just needs to capitalize on it as best he can, which can be a challenge as he struggles to follow all the conversations happening in the house. [Grade: C+]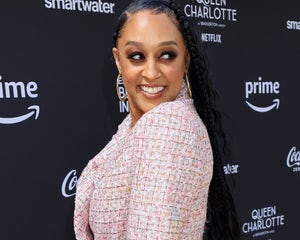 Tia Mowry 'Terrified' of Dating Three Months After Divorce: 'I Feel So Inexperienced'
Blue Kim (25, brand strategist) is gregarious, fun-loving and full of energy. She's otherwise not drawing any attention to herself, so she's doing exactly the right thing. Her quirkiness could prove to her benefit as relationships tighten. [Grade: C]
Felicia Cannon (63, real estate agent) may be on the Block, but it feels like she's done a lot of good relationship work in the House. We also know Kirsten is not the only one who doesn't want to see an older person go home first. Felicia is no threat to anyone, so we would be surprised to see her go home. But she is nevertheless in danger. [Grade: C]
America Lopez (27, medical receptionist) & Bowie Jane Ball (45, barrister/DJ) & Luke Valentine (30, illustrator) & Mecole Hayes (30, political consultant) are fading into the background a bit, at least according to what we've seen on TV, which isn't a bad strategy this early on. They are proving themselves likable and getting along in the house, so just keep the target small. [Grade: C]
Kirsten Elwin (25, molecular biologist) is doing the exact opposite, playing a very big and dangerous game. She's made herself this week's target, though she doesn't yet know it, but strategizing with too many people and not expecting that bonds are not yet strong enough they won't compare notes. If she doesn't win Veto, or find someone to fight for her, she may have just strategized herself out of the game. [Grade: D]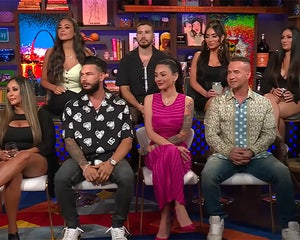 Jersey Shore Cast Talks Rude Celebs, Who Has the Most Money, and Sammi Disses Ronnie
House Chatter
"I'm Jared, how you doing? Nice to meet you." –Jared (to his mom, Cirie)
"Nice to meet you." –Cirie
"I know that face. That's Cirie from Survivor. Why's she standing here in the Big Brother house on Day 1?" –Felicia
"I'm in the Big Brother house, bitches!" –Cirie (in confessional)
"Is that Cirie? Okay, come here, Jared. I knew it. You're Cirie Fields' son, aren't you?" –Izzy (immediately)
"I love peanut butter. That's my dog's middle name, too!" –Reilly (after Jag asks her to name fun facts about herself)
"That's a fun fact?!" –Jag
"I find the more you find out about who you ain't, the more you discover about who you are." –Red (about his travels)
"Now my number one goal is making Izzy one hundred percent trust me." –Cirie (after finding out she knows)
"I am just shaking seeing her and seeing him. I fully have power of him and Cirie now because I truly think that I'm the only person in the house that knows." –Izzy
"You got me, you got him, I got you on everything I love." –Cirie (to Izzy)
"He's gonna get carded for a long time. He might even get the additional 2-pack crayons and a coloring sheet when he goes out to restaurants." –Cameron (about Cory)
"Even though I'm 99% all about those ladies, for Matt, there's a point-zero-something." –Izzy
"I'm a big fan of Survivor and I know the Cirie fields playbook. She makes you feel like you're her number one ally and then she gets to the end instead of you. I'm starstruck but no amount of star-striking will stop me from wanting to win this game. I'm gonna beat Cirie if it's the last thing I do." –Cory
"It's Hisam. You said hymen, that's what breaks when you lose your virginity." –Cirie (to Jared)
"Oh, you know what I wanted to tell you, too? When I came out, I heard you say to, um, Kirsten, yeah, we'll talk later. Clean that up a little bit. Everybody don't gotta know who you're talking to later. I shouldn't be hearing that when I walk out the room." –Cirie (to Jared)
"My mom's definitely a legend in the game. It really puts a lot of stress on you to not be the one that goes first." –Jared
"You guys are people that we want to protect, because I feel like in the show, historically, I've seen people try to vote out, you know, some of the older contestants ASAP and I don't think it's fair." –Kirsten (to Cirie)
"My main goal is to stay in the house another day. So if you got an offer, I'm open to listen to it." –Cirie (aware of the size of her target)
"She is looking for an opportunity to pull herself down." –Jared (warning Cirie about Kirsten)
"If you got me in your corner, I can guarantee you got Felicia and Cirie." –Jared (to Reilly after she wins HOH)
"Eviction night, they will not say, 'Bye, Felicia.'" –Felicia (after nominations)
"Big Brother" settles into its usual time slots of Sundays and Wednesdays at 8pm ET, and Thursdays at 9pm ET on CBS.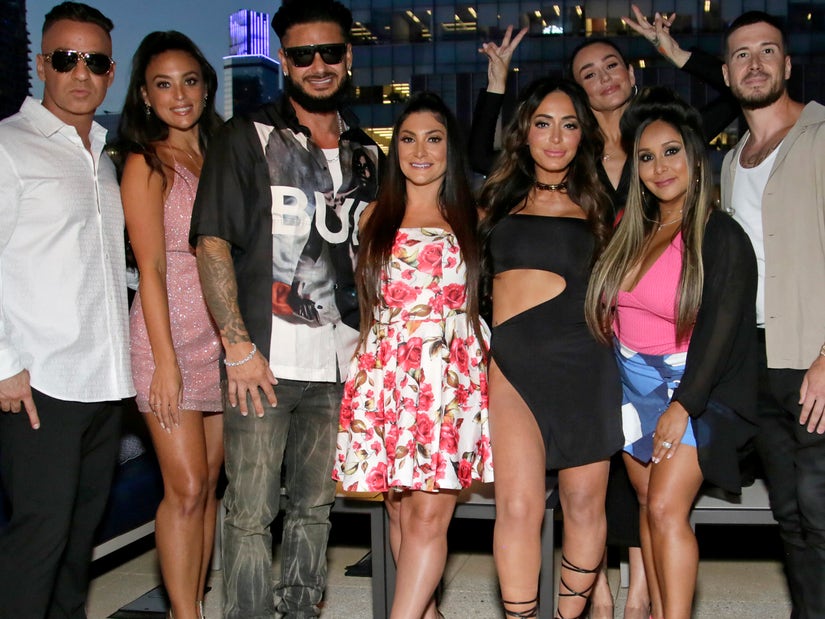 Source: Read Full Article