Botched's Terry Dubrow and Paul Nassif Tease Unfortunate Waxing, Shaving Scene Between Them on Upcoming Season! on Botched
Dr. Paul Nassif and Dr. Terry Dubrow are helping out a fellow Real Housewives star!
On the upcoming season of Botched, the docs will perform corrective surgery on Kim D, who has appeared on multiple seasons of The Real Housewives of New Jersey.
"We have a little kinship with Kim because Kim was a part of The Real Housewives franchise. Paul was one of The Real Housewives on Beverly Hills Housewives," Terry, who is married to former The Real Housewives of Orange County star Heather Dubrow, told E! News exclusively during a recent sit-down.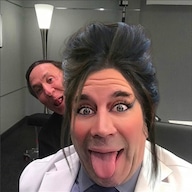 Photos
Paul Nassif & Terry Dubrow's Bromance
"I remember the scene where you jumped in the pool with all that back hair," Terry teased his BFF. "When is that OK to take the shirt off with all that back hair and jump in the pool?"
Botched fans know this certainly isn't the first time Terry has teased Paul about his body hair. But he says this season he may take things to a new level.
"There may be an unfortunate waxing/shaving scene between us this season," Terry teased. "Do not be eating while watching this scene." LOL!
Botched returns Wednesday, May 9 at 9 p.m., only on E!
Source: Read Full Article