Breaking Down the Most Dramatic Moment From The Bachelorette's Season Premiere
Dramatic spoilers for The Bachelorette premiere below!
Becca Kufrin is ready to do the damn thing on The Bachelorette, and said "thing" does not include putting up with guys whose intentions for being on the show are a little suspect. During the season 14 premiere on Monday night, Becca had two interactions with new contestants Chase, Chris R., and Jake that led to a few confrontations and an unexpected elimination. Are you ready for some good old-fashioned drama?
Things began when Chris — who introduced himself to Becca with the help of a gospel choir, NBD — recognized fellow suitor Chase in the mansion, whom he knew from back home in Orlando, FL, because they share a mutual friend: Chase's ex-girlfriend, Danielle. Apparently Danielle texted Chris after Chase appeared on the "After the Final Rose" ceremony back in March and told him that Chase isn't "there for the right reasons" because he's using the show's publicity to "revamp his marketing company."
Chris eventually decided to confront Chase about it. Chase denied everything and said he only dated Danielle for "maybe" two weeks, but clearly looked shaken up by the confrontation. "That's definitely weird," he told Chris. "I think Danielle's a great girl, but that was a long time ago . . . By no means am I here for the wrong reasons. I'm here for Becca."

After repeating "I'm here for the right reasons" a dozen more times, just in case anyone hadn't got the message, Chase decided to bring up the issue to Becca herself . . . with the help of Chris R. She was, obviously, confused by the whole murky situation, no matter how many times Chase assured her that he's "not that guy" (approximately one million times, FYI). What's interesting about their conversation is that it led to an instant elimination — but not of Chase or Chris R.
"My conversation with Chase was strange," Becca said to the camera afterward. "It made me realize that some guys might be here for the wrong reasons. There's somebody here that raised a red flag for me earlier tonight."
The guy in question? Jake.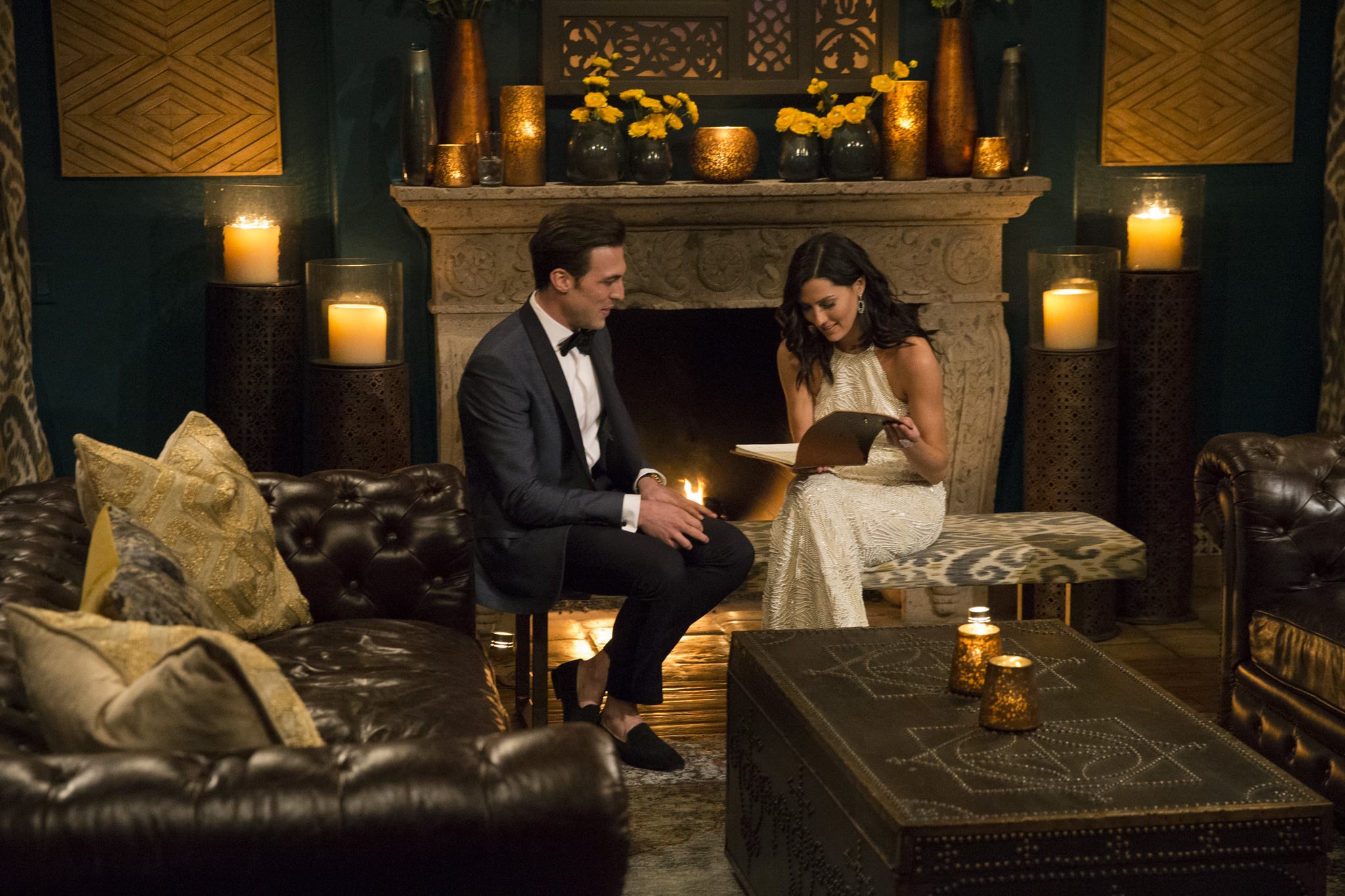 Becca revealed that Jake, a 29-year-old marketing consultant, runs in the same circle of friends with her back home. Although they've hung out multiple times, he never showed interest in her before, which left her feeling confused when she saw him get out of the limo — is he there for her, or for the promise of selling Fit Tea on Instagram in a few months?
She later pulled Jake aside to discuss her fears, telling him that she's "not 100 percent comfortable" and didn't want to waste his or her time. She brought up the fact that they'd met quite a few times, including at a Christmas party. "Honest to God, don't remember that," Jake said, cutting her off. "I hope you don't hold it against me."
Becca wasn't moved by his repeated admissions that he couldn't remember her ("Do you know that I have one conscious recollection of meeting you?"), or when he told her that he's "had a transformative year ("I'm a new Jake"). Because of that, she sent him home long before the rose ceremony even began. Jake didn't take the news well, telling the camera, "I'm one of the most romantic f*cking people there is." Sure, dude.
By the end of the night, Chris R. had survived Becca's first elimination, but Chase was given the ax (as well as a bunch of other guys). Between The Bachelorette and the upcoming Bachelor spin-off, The Proposal, it's safe to say we're going to have no shortage of drama this Summer.
Source: Read Full Article