Check Out John Stamos And Caitlin McHugh Honeymoon At Disney World
John Stamos says that he is the "happiest man on Earth" after marrying Caitlin McHugh in a ceremony held in Studio City, California on Feb. 3, 2018. Previously, Stamos proposed to McHugh while on a trip to Disney World, which bills itself as the "happiest place on Earth." Stamos and his bride love Disney World so much that they chose to return to Disney's Magic Kingdom for their honeymoon.
Visitors to the amusement park were delighted to see the couple have a good time. The paparazzi got their photos and some fans got autographs, but the couple was allowed to freely wander the park like regular people and enjoy all the rides. Of course, the couple had VIP passes, which allowed them to bypass any long lines. That must have been lots of fun.
#oneweek (and they said it wouldn't last) #happiestmanonearth #happiestplaceonearth @waltdisneyworld
A post shared by John Stamos (@johnstamos) on
McHugh gave Stamos a kiss on the check in front of Cinderella's Castle for a photo that the couple then posted on Instagram. McHugh was wearing a white bridal headdress with a big white Mini Mouse-style bow on top and Stamos had on Mickey Mouse ears with the word "Groom" on them. The charming and cute photo almost immediately got about half a million likes from fans.
There was a kind of deja vu moment for the trip to Disney World because, in the 90's television series Full House, Stamos played the character of Uncle Jesse who was a rock star in the show. The character takes his family to Disney World. In front of Cinderella's Castle, he sings the song A Dream Is a Wish Your Heart Makes to Lori Laughlin who played the character of his wife Becky in the show.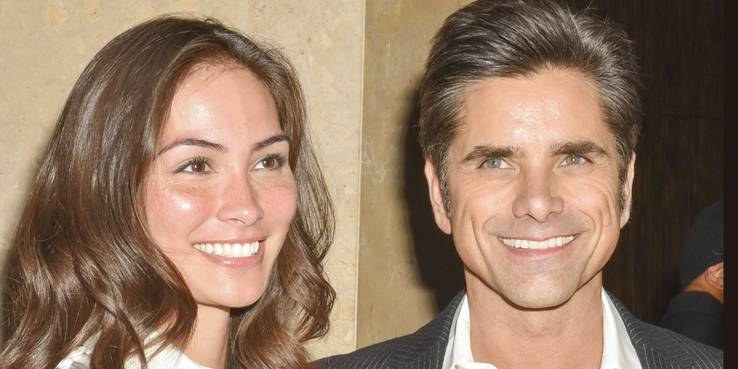 Other good news is that the couple is expecting a baby to arrive sometime later in the year. Stamos thinks of himself as a hopeless romantic and that he will make a great father because he has been playing a father character in television shows for quite some time.
Disney must love all the free publicity and should give the couple a free lifetime pass because it is almost certain there will be many future trips to the theme parks after they have kids old enough to go to the park with them.
Source: Read Full Article