Chrissy Teigen Is Winning the 2018 Emmys With This Priceless Reaction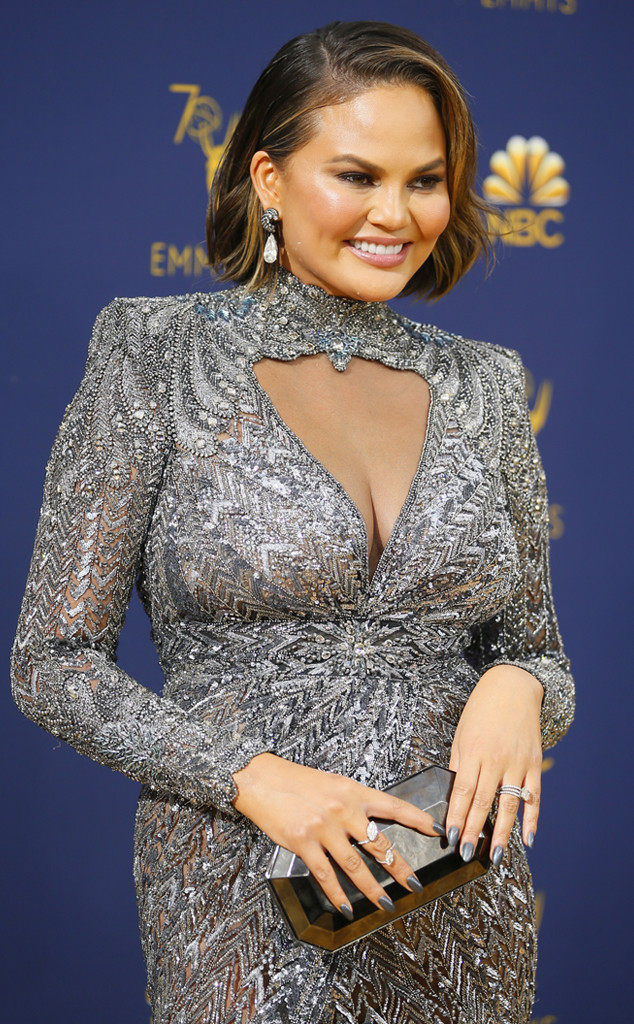 Danny Moloshok/Invision for the Television Academy/AP Images
Who do we have to petition to have Chrissy Teigen in the audience at every award show?
The model and Lip Sync Battle co-host always has us cracking up and her presence at the 2018 Emmy Awards is no different. There to support her husband John Legend, a nominee for his work in NBC's Jesus Christ Superstar Live in Concert, Teigen is proving to be the go-to for perfect reaction shots when the moment requires it.
Case in point? Her priceless, if slightly awkward, reaction to a particularly edgy joke by the ceremony's co-host Michael Che during his monologue with Colin Jost.
After making a few jokes about Roseanne Barr and the complete implosion of her return to primetime TV, the Saturday Night Live star turned his attention to one of her former co-stars who actually managed to earn a nomination in spite of all the controversy. "By the way, congratulations to Laurie Metcalf," he said of the actress, nominated for (though ultimately losing) Outstanding Supporting Actress in a Comedy Series for her work as Jackie on the ABC series. "I mean, wow. That's incredible."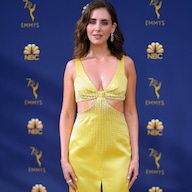 Photos
2018 Emmys Red Carpet Fashion
"You know how great an actress you have to be to get nominated for Roseanne now? That's like nominating a cop for a BET Award," he joked as the crowd gasped at the comparison. "Doesn't happen. It would be weird."
The camera quickly cut to Legend and Teigen in the audience. Legend smiled at the joke, but the second his wife noticed the camera was on her? Well, see for yourself.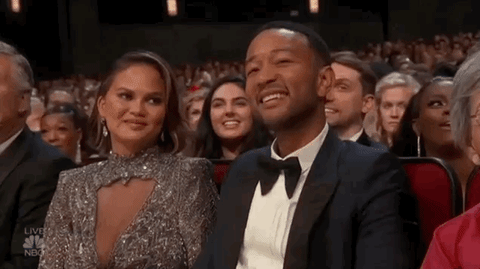 NBC
Of course, Teigen hasn't been the only star caught on camera at just the right time. Godless star Merritt Wever, nominated for Outstanding Supporting Actress in a Limited Series or Movie for her work in the Netflix limited series, was stunned when she was revealed to have won the category. And as the camera trained in on her, she let a little expletive fly.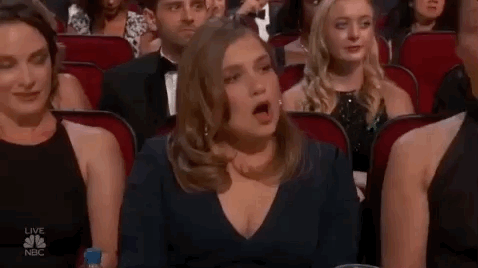 NBC
Never stop with the awkward and charming candid moments, stars!
Watch the 2018 Emmy Awards tonight at 8 p.m. ET/5 p.m. PT on NBC. For complete coverage of the 2018 Emmy Awards, watch E! News Tuesday, Sept. 18 at 7 p.m.!
Source: Read Full Article