Coca-Cola Just Dropped A Cinnamon Flavor — Here's Where To Get It
The recipe for Coca-Cola is a secret formula, and yet, hearing a new flavor has been added to it can still result in a pretty strong reaction. The latest? Cinnamon Coca-Cola, which is being released in the U.K. Coca-Cola probably already has cinnamon in it, but hearing the words "cinnamon Coca-Cola" is still sort of unnerving. It's easy to imagine it tasting like a can of Coke with a bunch of Red Hots shoved in it.
The Coca-Cola U.K. site announced the news, and opened with a nice Spice Girls reference: "Get ready to spice up your life as today, Coca-Cola announces the launch of a brand-new limited-edition flavour, Coca-Cola zero sugar Cinnamon."
The new flavor is being released in time for the holidays, and will be available until the end of the year. Or, as Coca-Cola puts it, "the new addition to the Coca-Cola family is bursting full of warming flavours and is guaranteed to get you into the festive spirit as we head into the Christmas season." According to Coke, it is available in 500ml and 1.25l bottles.
FoodBev Media reports that Coca-Cola zero sugar is big in the U.K. and makes up 58 percent of Coke's retail sales in Great Britain. It's also popular in the U.S. Business Insider reported last year that Coke Zero Sugar sales were on the rise, while Diet Coke sales were declining. In the U.S., Coke Zero Sugar comes in four varieties — regular, caffeine-free, cherry, and vanilla — while in the U.K. it also comes in four, not including cinnamon: regular, cherry, peach, and vanilla. At this point, no announcements have been made about cinnamon Coke being released in the U.S.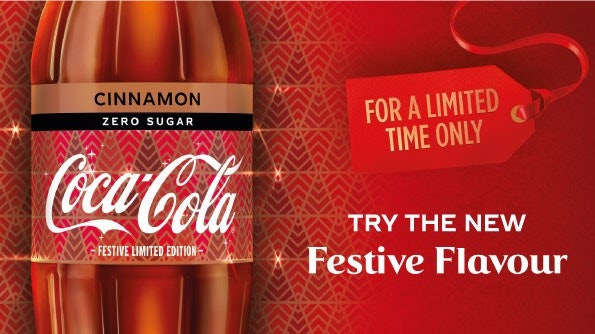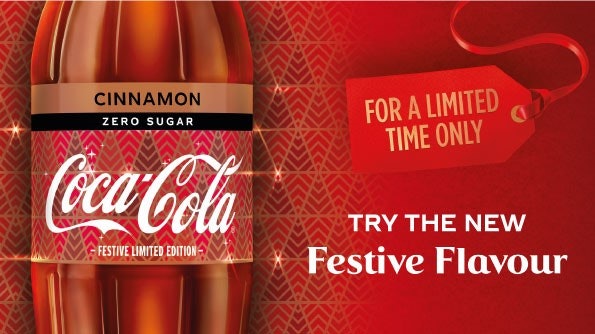 Some Coke fans have been chatting about the new release on Twitter. So far, the responses are a mix of excitement and apprehension:
Coca-Cola Sugar Cinnamon is far from the first new invention Coca-Cola has released this year. As for what was released in the U.S., in January, four new flavors of Diet Coke debuted: feisty cherry, twisted mango, zesty blood orange, and ginger lime. And they're sold in skinny, colorful cans, because ~innovation~ and ~youth~.
There was also the introduction of two new Coca-Cola flavors. Georgia Peach and California Raspberry Coca-Colas were released in February. A press release from the company at the time explained that these additions were a way to honor Coke's flavor-mixing history: "Soda shops would experiment with different flavors. Vanilla and Cherry were favorites, of course, but you'd also find locally sourced flavors on tap in different parts of the country."
Then, there's the news that Coca-Cola might be getting into the CBD game. In September, the company said in a statement to BNN Bloomberg, "along with many others in the beverage industry, we are closely watching the growth of non-psychoactive CBD as an ingredient in functional wellness beverages around the world. The space is evolving quickly. No decisions have been made at this time."
But for now: Cinnamon Coca-Cola Zero Sugar. In the U.K. Enjoy those "warming flavours" across the pond, y'all.
Source: Read Full Article