'Demon Slayer' Season 2: Inosuke Steals the Spotlight This Week
Demon Slayer Season 2 is nearing the end of its Entertainment District Arc, and the anime's recent installments have given Tanjiro, Nezuko, and Tengen a moment to shine. This week's episode of Demon Slayer, "Defeating an Upper Rank Demon," puts Inosuke Hashibira in the spotlight. And his big moment underscores why he's an asset to the team.
[Warning: This article contains spoilers for Demon Slayer's Entertainment District Arc Episode 9.]
Inosuke successfully beheads Daki in 'Demon Slayer' Season 2
Demon Slayer's Entertainment District Arc has built to a confrontation between Upper Moon 6 demons Daki and Gyutaro and the anime's main characters.
Unfortunately, things haven't worked out well for the latter group. Despite the presence of Sound Hashira Tengen Uzui, Tanjiro and his companions can barely hold their own against the villains. And things started to look dire this week when Tanjiro and Tengen failed to remove Gyutaro's head twice.
Luckily, Inosuke and Zenitsu have more success in their fight against Daki. After Tanjiro joins the pair, they're able to gain the upper hand. Inosuke successfully breaks through her defenses and uses his Beast Breathing to remove her head. It's an epic moment, and it shows how impressive his technique has become.
'Demon Slayer' Season 2 shows how far Tanjiro's friend has come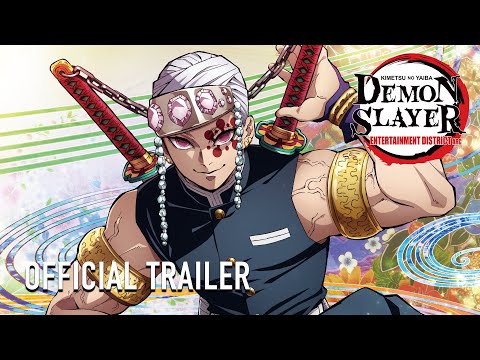 Inosuke often serves as comic relief in Demon Slayer, but season 2 just reminded viewers why he's such a valuable asset to the team. It's been a while since fans saw him break out his Beast Breathing technique. And he seems to have gotten stronger since his fight on the Mugen Train.
Entertainment District Arc Episode 9 also underscores how much Inosuke has grown as a Demon Slayer. When the anime first introduced him, he had trouble fighting alongside Tanjiro and Zenitsu. But his success this week was a direct result of their teamwork — something he's come to embrace more and more as the series continues.
Sadly, Inosuke's victory in "Defeating an Upper Rank Demon" is short-lived. As he runs away with Daki's head — a smart attempt to prevent her from reattaching it — Gyutaro catches up to him. The other demon sticks one of his flying blood sickles through his chest, leaving Demon Slayer fans to wonder if Inosuke's big moment was one of his last.
Does Inosuke die at the end of Entertainment District Arc Episode 9?
That's right, this week's episode of Demon Slayer ends on a massive cliffhanger — one that leaves Inosuke's fate hanging in the balance. Many are wondering if the series just killed off one of its most beloved characters. And really, it's hard to say.
"Defeating an Upper Rank Demon" leaves most of the main characters in mortal peril. However, Inosuke and Tengen are currently in the worst shape. Tengen is missing a limb and unconscious from poison and overexertion. And because of his stab wound, that poison is now flowing through Inosuke's veins.
Additionally, Gyutaro's blade struck Inosuke close to the heart. While manga readers likely know his fate, things aren't looking good based on the anime alone.
Viewers will have to wait for Entertainment District Arc Episode 10 to see how the fan-favorite character fares. Hopefully, Tanjiro and Zenitsu can find a way to take down the Upper Moon 6 demons and save their friends. Considering their own injuries, that won't be an easy task.
New episodes of Demon Slayer drop on Crunchyroll, Funimation, and Hulu every Sunday.
Source: Read Full Article