This Detail From Tom & Abby's Wedding Will Make 'Queer Eye' Fans Weep With Joy
Tom Jackson was first introduced into the Hollywood fold as a subject on Netflix's Queer Eye, which premiered in February 2018. But for Tom, a redecorated room and closet makeover wasn't all that he received, as the Queer Eye alum reunited with his ex-wife and Queer Eye's Tom & Abby got married in a private ceremony recently — according to US Weekly.
The Netflix reboot follows five lifestyle enthusiasts Antoni, Jonathan, Bobby, Karamo and Tan, who appropriately dubbed themselves The Fab Five, as they transform the lives of some shabby, south Georgian hopefuls — from wardrobe to home decor. Together with Tom, Abby made an appearance on the season's first episode, and ultimately served as the motivation for Tom to become the stylish man he appears to be today.
On the episode it was revealed that Abby was Tom's second wife, and though they divorced, they were still fostering a friendship. But for Tom, he wanted it to blossom into something more, and with the help of The Fab Five's musings, the car enthusiast was able to woo his ex-wife, setting a dinner date with the southern belle upon the episode's closing.
Throughout their re-courtship, Tom made sure to keep his newfound fans abreast with occasional Twitter updates. On Feb. 27 Tom announced that he and Abby were no longer together on the social platform, while also stating that she will always be the love of his life. But just a few weeks later, on Mar. 12, Tom tweeted that he and Abby not only got back together, but that they were engaged to be married again. US Weekly reports that the two wed in a private ceremony Mar. 27 in Gatlinburg, Tennessee.
Unfortunately for Queer Eye fans, however, The Fab Five didn't attend the nuptials, but that didn't stop the newlyweds from having a great big day.
And as if Tom and Abby's lovestory couldn't get any cuter, it's also being reported that Tom donned the suit he had tailored on the show and a shirt gifted to him by Queer Eye's resident fashion expert Tan during the wedding, as well.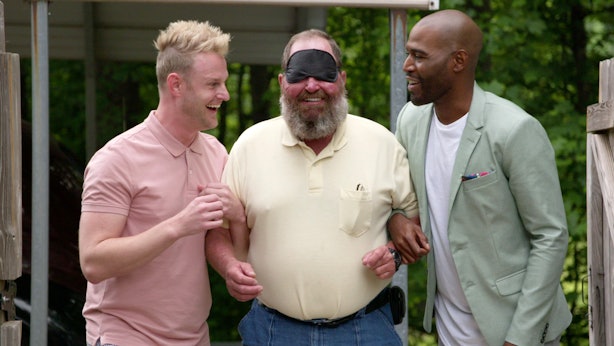 Between The Fab Five's professionalism — amazing catchphrases, included — and the heartwarming subjects, the first season of the Queer Eye was undoubtedly a success. Viewers not only fell in love with the new batch of Queer Eye lifestyle experts, but the stories of the brave men ready to put their best foot forward totally captivated audiences as well.
It goes without saying that Queer Eye Season 1 profiled some pretty awesome people, but in terms of social media praise, Tom may just be the greatest success story the show has had. Everyone featured ended their episodes on a high note — whether striving to impressive friends with their new senses of style, or planning touching coming-out parties for family members — but ending with the rekindling of a romance that turned into an actual wedding later on, totally takes the cake.
Queer Eye Season 2 is well on its way, and according to The Hollywood Reporter, The Fab Five will be returning to Netflix at towards the end of 2018. Details about the subjects for the second season have yet to be announced, but if Season 1 serves as any consolation, fans can bet that the upcoming featured stories will bring just as much happiness and laughter to the fold as those preceding them.
As for Tom, it's been a complete joy watching Tom and Abby's relationship transform since the show's premiere. And now with the news of their recent walk down the aisle, it's clear that Queer Eye Season 2 is going to have some big shoes to fill.
Source: Read Full Article