Devastated Koffa Needs the Botched Docs' Help for More Than One Serious Issue on Botched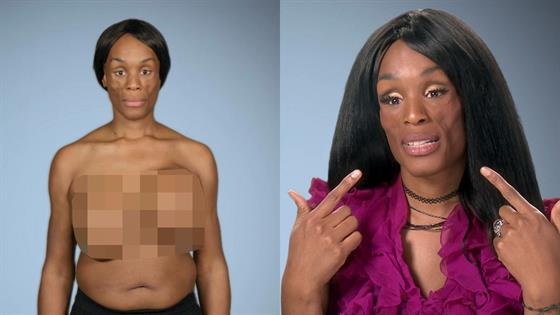 This woman's health struggle has left her feeling "devastated."
In this clip from Wednesday's all-new Botched, new patient Koffa details how her sarcoidosis diagnosis has resulted in insecurities about her body. Per the fashion designer, sarcoidosis is an autoimmune disease, "kind of similar to lupus."
Apparently, the inflammatory disease has left Koffa with "skin and bones" on her face. To make matters worse, it took a bit of time for Koffa to receive a proper diagnosis from medical professionals.
"It wasn't until 2015 that a doctor finally figured that I had sarcoidosis," Koffa explains in a confessional. "I had an emotional breakdown, it was really tough."
Since Koffa was unable to "control what was happening" to her face, she chose to increase her breast size. At first, the breast augmentation helped Koffa build her confidence.
"After doing it, I started going out on dates. New me, baby!" Koffa continues. "I thought I was hot. You know, I was doing the damn thing."
Sadly, Koffa's joy didn't last as she "woke up one day" to encapsulated breasts. Understandably, Koffa reveals she was frustrated upon learning she had a new medical issue.
"So here we are just a couple years later, my breasts still are a huge issue," Koffa notes to the Botched camera. "Both of them look different. They need to be on the same page—they can't be going to different parties, listenin' to different music anymore."
Thus, Koffa hopes Dr. Terry Dubrow and Dr. Paul Nassif will be able to help both her face and chest.
Hear all about her case in the clip above!
Watch a new episode of Botched Wednesday at 9 p.m., only on E!
Source: Read Full Article