Entenmann's Is Hiring A "Chief Donut Officer" — Here's How To Tell If You Qualify
If you already feel like you're low-key living the life of a donut diplomat, you're going to want to hear about this: Apparently, donut company Entenmann's is "hiring" a donut expert through their Chief Donut Expert sweepstakes. So, it's not really a job posting persay — but one lucky person who wins will get the title of Chief Donut Expert, which sounds like a great thing to put on a business card if you ask me.
Here's how it works: The contest will officially elect one lucky prize winner, giving them the honorary title and a few other sweet prizes. If you're fully devoted to donuts, this "job" is for you. For no reason other than the humble celebration of donuts, Entenmann's is looking for someone who loves the pastry just as much as they do. Oh, and the requirements for the job? All they ask is that you love donuts, but that's obvious right? That's why you're heading to their website, and signing up for the contest in the first place.
If you're not great at job interviews, fret not. All you have to do is fill out some basic contact information and answer some questions about donuts and the brand. Basically they're looking for some product feed back, so while each person who enters won't be getting the job (there can only be one CDO), each person does have an opportunity to let the company know how they can improve their product. So that puts you in a position of power, whether you get the job or not. So be honest, tell them what you like, tel them what you don't like and help them help you stay a loyal and full fan.
There are two different prize categories to win from. The first is the most coveted, as only one can win, and that's the title of the Chief Donut Officer, $5,000 cash, Entenmann's swag and a year of free donuts. The second prize — which still sounds pretty damn good to me — is $1,000 cash, and a year supply of donuts. Four contestants will win this prize, so take your chances! Here's how to sign up.
Head To The Site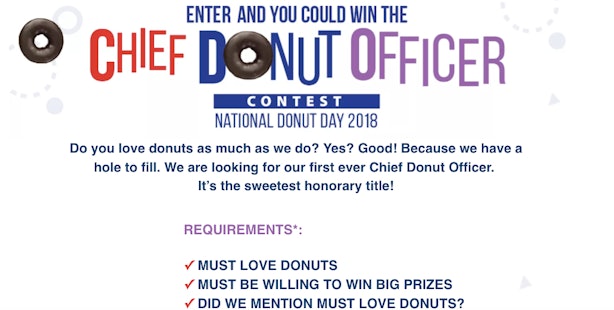 Hurry up! The entry period for the Entenmann's Chief Donut Officer Contest started on on May 7, 2018 and will end on June 30, 2018 at 11:59:00 p.m. ET. Don't wait around if you want to win the title, make sure you get your application in there clear of the end date.
Watch The Cute Video
This informational video features an animated donut, that's all you need to know.
Think About Some Official Business
Entenmann's wants to know how you'd use your platform to spread your love of donuts to the masses if you are selected to be the CDO. So think about some creative ways you could show your support. They also want to know what your favorite donut is, where and when you like to eat Entenmann's donuts and what donut you would add if it could be any flavor. Have a little creative brainstorming session before your fill out the forms. My guess is that the most creative and informative answers will stand out for winning consideration.
Fill Out The "Hole" Form
Make sure you don't miss any part of the form. It's your only ticket to donut town. And make sure that you add a working contact number and address so that if you win, they can get in touch with you to let you know! This is not the time to use a totally made up Hotmail address.
Say A Hole-y Prayer
According to the official rules, applications will be judged on originality (35 percent), creativity (35 percent), and whether or not the applicant demonstrates a passion for Entenmann's donuts (30 percent). The five entries with the highest scores will be deemed potential finalists. After that, they will proceed to the Finalist Judging and Voting Phase, subject to verification of eligibility. In order to be eligible, you need to be at least 18 years old, a resident of the United States, and not related to or living with an employee of the company. Potential finalists will be notified on or around July 9, 2018. If you're a finalist, you'll have to provide a headshot photo of yourself, along with an original video about one minute in length, explaining why you think you deserve the title of Chief Donut Officer. The five finalists videos and pictures will be posted on the contest website for public voting. At that point, there will be nothing left to but say a hole-y prayer.
Source: Read Full Article