Even 'Big Little Lies' Creator Was Hesitant About Season 2, But Here's How He Got Past It
As fans wait patiently for the return of HBO's critically acclaimed miniseries, creator David E. Kelley revealed his initial hesitation in creating Big Little Lies Season 2 in a new interview with The Hollywood Reporter. The series, which is expected to return in 2019, told the story of women in Monterey, California, who become deeply involved in a murder investigation taking place in their town. The twisty and intriguing mystery became a huge hit with fans who were on the edge of their seats during the series' first season finale last spring.
At the season's end, there were a lot of questions about the show's future that remained up in the air. While it was eventually announced that the show would be returning in December 2017, it seems that showrunners of the series weren't initially on board with the idea of creating Big Little Lies Season 2.
In his recent interview with THR, Kelley explained his thoughts on the second season of the Emmy Award-winning miniseries. He shared,
Revealing that Meryl Streep's involvement in the show's return helped him to change his viewpoint, Kelley explained exactly how things came together creatively for the project. He told THR that there were "a multitude of forces, but mainly it came down to a creative analysis. Liane [Moriarty, author of the novel Big Little Lies] wrote a novella of [new] stories, and most of them we're using."
Pinpointing the narrative that prompted his change of heart on the show's sequel season, Kelley continued:
He wasn't the only person associated with the project to have feelings of uncertainty for series' future, though. At the close of the Big Little Lies inaugural season in April 2017, the show's executive producer and director Jean-Marc Vallée shared details that seemed to totally end the notion of bringing the show back.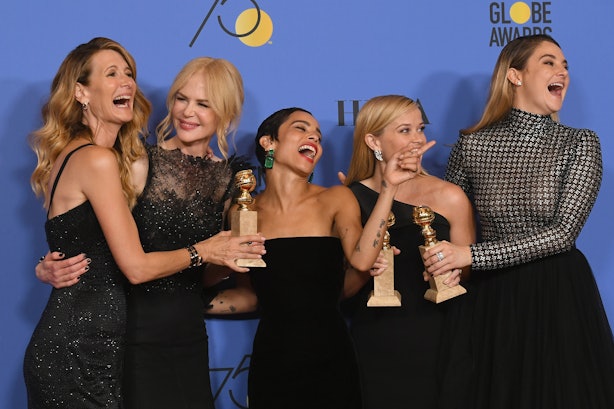 Seemingly adamant about the show being over and done with, Vallée explained to Vulture, "No, no, this is the perfect ending. There is no way; there's no reason to make a Season 2. That was meant to be a one-time deal, and it's finishing in a way where it's for the audience to imagine what can happen." (It's since been announced that Oscar winner Andrea Arnold will direct Season 2.)
Still, Vallée shared appreciation for the amazing work that was done on Season 1, adding that he'd love to work with both Reese Witherspoon and Nicole Kidman on another project. But at the time, he seemed to remain totally opposed to doing a second season. He continued,
At that point, it seemed that there was no way the show was coming back whatsoever. However, another interview with Liane Moriarty, the author of the novel upon which the series is based, appeared to give fans a glimmer of hope.
Speaking to Australia's Sydney Morning Herald that same month, Moriarty explained that she had been approached by the show's producers for a possible sequel of the ratings winning series. She said at the time,
With its star-studded cast, which included the likes of Kidman, Witherspoon, Shailene Woodley, Alexander Skarsgård, Laura Dern, BLL's seven-episode first season became a ratings hit for the cable network and was nominated for 16 Emmys overall. It ended up winning eight of those trophies, including Outstanding Limited Series as well as acting awards for Kidman, Skarsgård, and Dern. The trio also took home Golden Globes for their roles, while the series also snagged the Golden Globe for Best Miniseries or Television Film.
In January 2018, it was revealed that Streep would be joining the cast as Mary Louise Wright, the mother of Skarsgård's character Perry and mother-in-law to Kidman's character Celeste. So, it's pretty safe to say that the awards will be pouring in immediately after the conclusion of Season 2.
Despite Kelley's initial apprehension with the project, there's no doubt that the return of Big Little Lies is going to be biggest thing to hit television in 2019.
Source: Read Full Article