Fans Have A LOT Of Theories About The Meaning Of Drake's Super Emotional Song "March 14"
When Drake dropped his highly-anticipated album on Friday, June 29, fans were sure to listen to every track word-for-word to find out if the Toronto-born rapper would address rumors that have been circulating about him being a father. On "March 14" from Scorpion Drake not only reveals that he has a son, but shares exactly what took place when he found out that he was going to become a dad.
Although Drake makes many references about the young child throughout the album, fatherhood seems to be his primary focus on "March 14." The title of the song is quite curious and leaves one to speculate that it could either be about the day Drake was informed that his child's mother, which TMZ reported to be former adult film star Sophie Brussaux, was pregnant or the date he learned that the child was actually his through DNA testing. Both theories appear to be extremely possible due to the timeline of Drake's brief romance with Brussaux.
A May 2017 report from TMZ revealed that Brussaux was approximately 3 1/2 months pregnant at the time with the outlet pointing that the date of conception was either January 20 or 21. That would mean Brussaux was about 7 weeks pregnant on March 14, 2017 and she, perhaps, delivered the news to the rapper on that day.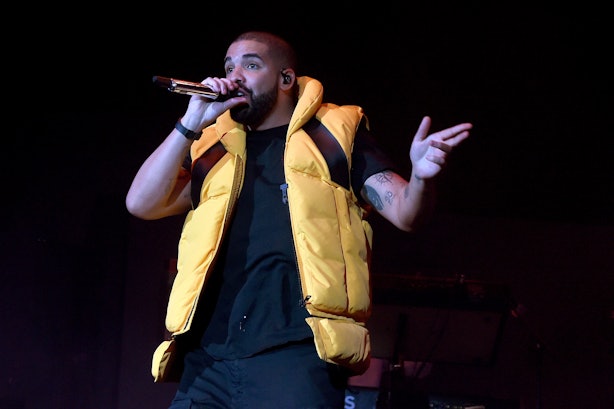 On the other hand, the song could very well be an indication of the date Drake got the results of a paternity test on March 14, 2018 after the child was born. A portion of Drake's lyrics from "March 14" appear to reflect on the moment he received the news that he actually the child's father. He shares:
Either way, the date is one that has seemingly remained engrained in Drake's mind given the fact that decided to use it to name the final song on his new album and dedicate it entirely to his son.
Fans had previously speculated that "March 14" had something to do with Kanye West. Though West is not mentioned on the track, some listeners, like @champagnelima_, have come up with a theory that March 14 was the date that Drake told West about his child, and that it was West who spilled the beans to Pusha-T.
Granted, the Drake-Kanye-Pusha theory is a bit out there, but that doesn't mean fans shouldn't be reading into at least some lyrics from "March 14." For example, on the track, Drake also seemingly implies that the child's birthdate is October 11 and reveals that the number 11 tattoo that he currently bears has now become a symbolism of his son's birth. He raps:
Previous reports from TMZ indicated that the baby boy was born on Drake's actual birthday which is October 24. However, the lyrics of "March 14" appear to negate that theory. Later on in the song, the 31-year-old entertainer also seems to insinuate that there are some custody and visitation issues going on between him and the son's mother.
In the end, he expresses hope for a better co-parenting relationship in the near future. He also addresses the young child directly, telling him that he'll explain it all to him when he gets older. Drake says:
When fans learned that Scorpion would feature a total of 25 songs with an A-Side and B-Side, it was pretty clear that Drake had a lot to get off his chest — and "March 14" seems to do just that.
Source: Read Full Article