Your Favorite 'Game Of Thrones' Character Also Hated Ed Sheeran's Cameo As Much As You Did
The moment has already taken its share of heat from Game of Thrones fans, but Kristian Nairn's response to Ed Sheeran's cameo in Game of Thrones proves that it wasn't just the viewers who felt that the hit singer's appearance was pointless. Nairn played Hodor on the HBO drama right up until his heartbreaking exit in Season 6, and recently sat for an in-depth conversation with HuffPost where he talked all things Westeros.
Perhaps because he now has some distance from his time on the series, Nairn was willing to get a little critical in the June 26 interview, sharing that he's "not a fan" of the cameos in Game of Thrones. He then elaborated, saying, "I don't like them. I think it's stupid. I don't mind going on the record on that. I just think it takes you right out of the world." But of all the celebrity drop-ins that have taken place in seven seasons, one in particular rankled the Northern Irish actor: Ed Sheeran's.
The "Shape of You" singer cropped up in the Season 7 premiere, sitting around a campfire amongst a group of fellow Lannister soldiers in a moment that Nairn said was jarring in its ineffectuality. He told the outlet, "I was like, 'Why is Ed Sheeran here?' I mean, Ed Sheeran's great. He's a great guy, great musician, but why is he in Game of Thrones?" Apparently, there is an answer to that question, but it's unlikely to be a very satisfying one to Nairn or other annoyed fans. According to Vanity Fair, show creators David Benioff and D.B. Weiss had been trying for years to get Sheeran a cameo as a surprise for Maisie Williams, who plays Arya Stark and is reportedly a huge fan.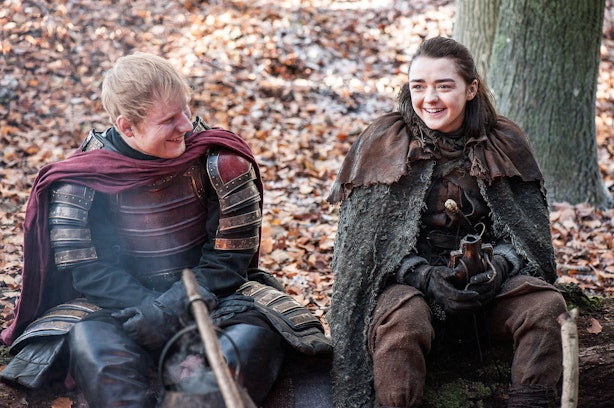 It's a sweet story, but while the moment may have served a personal purpose on-set, it didn't benefit the story, at least not according to Nairn. In fact, he said that he believes the cameo was actually detrimental to the plot, because recognizing Sheeran onscreen acted as a jolt for audiences, fans and non-fans alike. He continued:
Indeed, many viewers did agree with him. When the episode first aired in July 2017, Twitter caught fire with criticism for Sheeran's brief cameo. It may have been just minutes long, but it captivated the social media platform for much longer, dominating all other conversation about the series as people tried to understand what purpose the redhead's cameo was possibly intended to serve. It was such a sticking point for fans, Sheeran's cameo is still a popular point of contention on social media.
The heat got so intense that there were even rumors that the vitriol had scared Sheeran off Twitter. (He left the platform in July 2017, the same month in which his episode aired.) But the 27-year-old quickly denied those reports in an Instagram post from the same time, reassuring fans in a statement that said, in part:
It's clear that Sheeran stands behind his appearance, even if Nairn doesn't, so hopefully these two can just agree to disagree and move on. Even though the latter is being critical about the former's appearance, ultimately they're both on the same side. Game of Thrones is a program that many people are deeply passionate about, whether they're watching it, starring in it, or just doing a cameo, so it's no surprise that emotions run strong.
At the end of the day, Nairn is just being protective of the series that made him famous, and one he clearly loves. And no matter where you fall on the issue, on the side of the actor or the musician, it's hard to fault either one of them for caring.
Source: Read Full Article