I Had A First Date Filmed For TV & It Made Me Feel Like A Reality Star
The most nerve-racking part of having a first date filmed for TV was the time spent waiting for it to begin. When the opportunity was presented to me by Meredith Golden, a dating expert I've worked with at Elite Daily, I barely hesitated. She was scheduled to appear on the TODAY Show to analyze a first date, and needed a volunteer. Was I interested? Sure, why not? It sounded like a fun experience, and as a recent transplant to NYC, I rarely say no to meeting new people. Plus, I'm always ready for my close-up.
I didn't realize at first that I would have to find a date on my own, but setting it up was almost too easy. The only rules were that we had to have connected on a dating app, and we couldn't have met in person before the date. I immediately thought of Alex, a guy who I had recently matched with. From his profile, I could tell that he was outgoing, into sports, and funny; he wrote that his ideal first date involved, "Stealing the Declaration of Independence."
We'd exchanged a few preliminary messages and he seemed interested in getting together, but we hadn't yet succeeded in setting anything up. When I mentioned the idea of us going on a first date that would be filmed for television, he agreed without asking very many questions. This could have been a red flag, but maybe it was a sign of good faith. As it turned out, it wasn't a bad thing — he is just the kind of person who likes to say yes to new experiences. Here's how our conversation went.
I arrived at Serafina, an Italian restaurant attached to the NYLO Hotel on the Upper West Side before the scheduled start time of 6 p.m. I texted Aaron, one of the producers, and he came out to meet me. He then sat me down at the restaurant bar and told me to hold tight for a few minutes. I felt a little weird not ordering anything, but since we were having a drink during the date, I figured I'd wait. I signed a release form and was mic'd up. It all felt so official; I wondered if the other patrons at the bar thought I was some kind of celebrity. Then I remembered this was New York, and most people are used to seeing much more interesting stars on a daily basis.
Once I had the mic on, I still had to wait for Alex to arrive. The producers wanted to keep us apart so we could meet for the first time on camera. It was now a few minutes after six, but I had no way of knowing whether he was here and just in a separate room, or if he wasn't going to show. I was feeling anxious, and I was very tempted to send him a text checking in.
After what felt like an eternity, Aaron said they were ready for me. We walked up the stairs and into NYLO's stylish bar. It was busy but not packed, and I could see that there was an area roped off from the rest of the bar. I was led over to the small reserved table, which was by a red piano, and had a few fake candles and two glasses of ice water on its round surface. There were two big empty chairs waiting expectantly next to the table. The cameras were set up directly in front, as well as big, bright lights. It all looked very staged.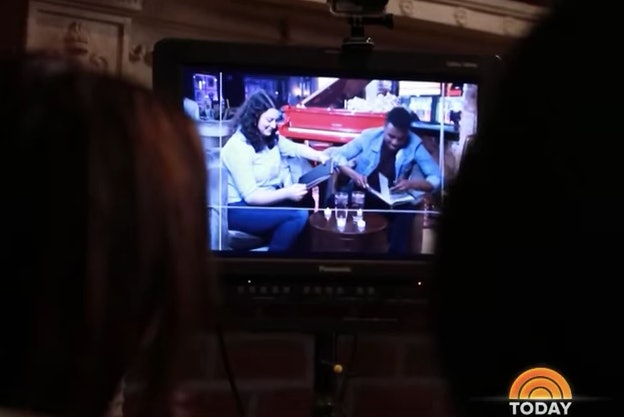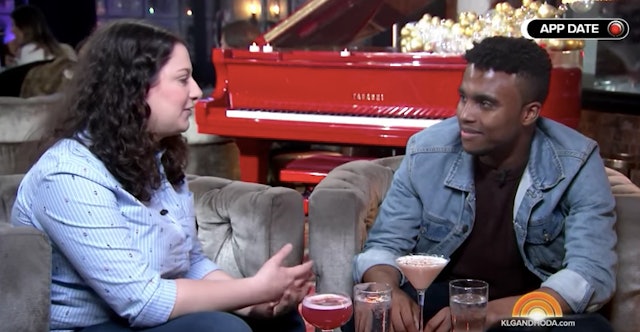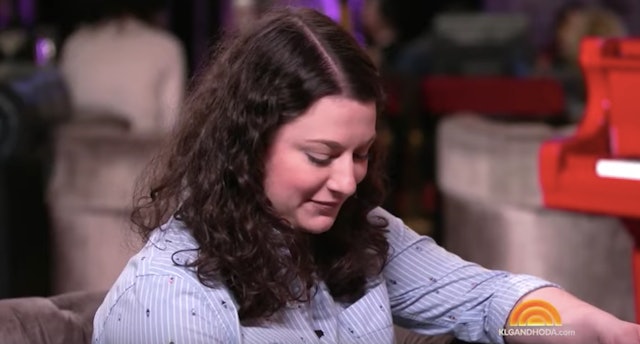 After we were finished, I got up and walked toward the exit. I wasn't sure whether Alex had left, but there he was, waiting for me. Neither of us had finished our drinks. We barely even touched them, because we had been busy talking. He asked me what I wanted to do now, and I admitted I was starving. He said he was too, and that he knew a good taco place downtown. We downed our cocktails and headed out to continue our date.
As for the question of where are we now, we still hang out one-on-one every so often. He accepted my invitation to come to dinner with a few of my friends for my birthday, which I thought was sweet. The fact that we still see each other is honestly more than I expected to come out of it. I think moving our relationship from a dating app to an in-person encounter fairly quickly was a good call. The unique circumstances surrounding the date only helped us get to know one another more quickly. And if nothing else, we'll always have this shared experience in common.
If you want to watch the entire TODAY Show clip and help prolong my 15 seconds of fame, check it out below. I'm nothing without my fans.
Source: Read Full Article