Ginger Tried To Make The Spice Girls Reunion Happen, You Guys, But She Just Couldn't Do It
One day, they're going on tour, the next day, they're not. Or, wait — are they? Ugh. For the last few months, fans have been dying to know whether or not the band is actually getting back together. Sadly, though, Ginger Spice aka Geri Horner addressed the Spice Girls reunion rumors in a recent interview with The Guardian, and fans probably aren't going to be thrilled with what she had to say.
On June 2, Horner opened up about the possibility of a reunion, and honestly, it's probably the most definitive answer fans have gotten to-date. While she didn't exactly say that a Spice Girls tour would never happen, it sounds like the idea of that happening any time soon is basically off the table for now. If it's any consolation, though, Horner seems pretty bummed about the whole thing, too.
"Of course I'm sad that I didn't pull off a Spice Girls reunion," Ginger Spice told The Guardian. "For me it's always about the fans. I didn't care if there wasn't any new material. I pushed so hard [for the 20th anniversary] and it was a bit like having a boyfriend who doesn't want to be in a relationship with you. I can't make the other girls get up on stage, so at some point you have to let it go."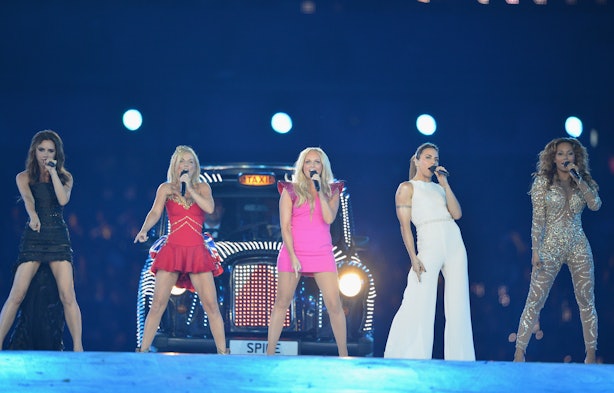 Oof. That felt like a punch straight to the gut. It's harder to say which part is more of a bummer, though: the fact that Horner really wanted to make it happen, or the fact that she basically put her reunion dream to bed. Either way, it all sounds pretty final.
Although, at the very least, it's probably a good thing for fans to get some semblance of closure on the issue when it comes to why it wasn't happening. It's been a bit of a roller coaster since the most recent bout of rumors of a reunion first surfaced back in November 2017. At the time, a source for The Sun said that the Spice Girls "have been locked in secret talks since the summer, and finally they are all on-board for a 2018 reunion."
This would reportedly include the Girls working together on several projects, including a television special and a compilation album. One month later, The Sun reported that they would not, in fact, be performing together as a group again, but that they'd be reuniting to judge a Chinese talent show instead.
After that, things really took off. In February 2018, TMZ said that the Spice Girls would be going on tour, and that they'd be hitting up the U.S., specifically. Then, Victoria Beckham posted a photo of all five of them hanging out (and a second photo of them with their manager, Simon Fuller) — further fueling the rumors — only to tell Vogue UK a few days later, "I'm not going on tour. The girls aren't going on tour." Anyone else feeling dizzy yet?
Everything that followed just produced a constant flurry of confusion. Beckham made some vague statements, as did Mel C and Emma Bunton. Mel B then dangled the reunion tour carrot a little bit more, and pretty much implied that they'd be performing at Prince Harry and Meghan Markle's wedding — which, now we know didn't happen.
The whole thing has just been … a lot, to be honest. The back-and-forth, the will-they-or-won't-they, the supposedly veiled confirmations that turn out to be denials. So, while Horner's comments about having to "let go" of the idea of a Spice Girls reunion are, undoubtedly, a major bummer, at least fans are getting a look into her thought process and little more finality. Kind of. For now, at least.
Source: Read Full Article