These Glittery Rosé-Infused Marshmallows Will Make Your Drinks Sparkle Like DIAMONDS
Someday, when I am old and gray and all rosé-d out, I am about 93 percent certain that I will be teaching a college class about the 2010s called "Rosé All Day: The Millennial Pink Generation." For truly, who has seen more pink edible things on this internet than I, a known lover of pink things, a rosé guzzler, and a lifestyle editor who covers both of those things to the extreme? But nothing perhaps has lit my proverbial millennial pink fire quite like these rose gold glitter marshmallows, which are not only gorgeous, but literally flavored like rosé.
First, to fully appreciate these marshmallows — which come by way of inventive 'mallow makers XO Marshmallow — you need to remember the versatility of this particular dessert. A glitter marshmallow is remarkable on its own, but then consider: glitter hot chocolate. Glitter tea. Glitter s'mores. And, if you're really feeling frisky, glitter rosé itself. (Oh, c'mon. If you're above dunking a giant glittery marshmallow into your rosé, do you really deserve to be drinking rosé in the first place?)
The marshmallows are available for preorder on XO Marshmallow's website, where they'll be officially available for purchase on April 27. They'll also be available at the XO Marshmallow Cafe in Chicago.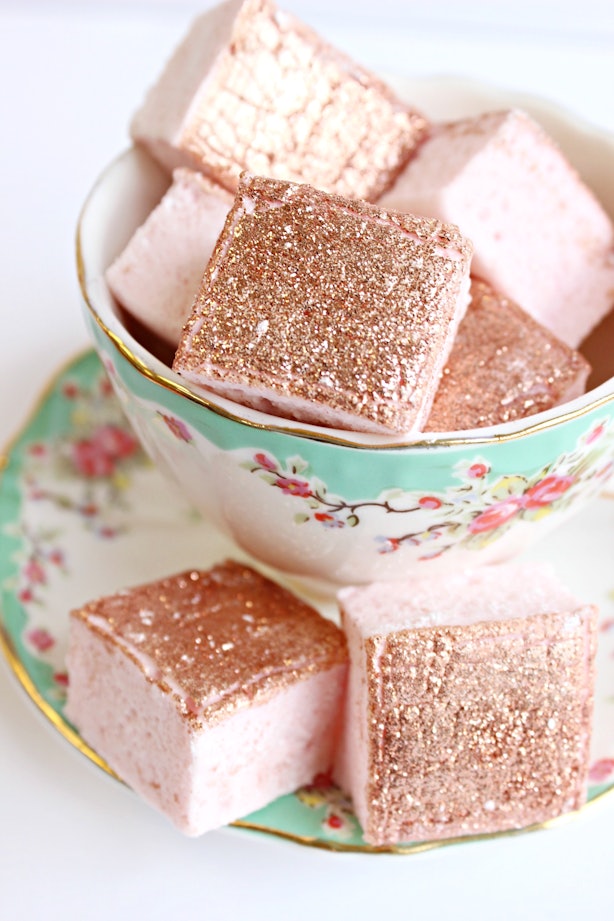 The website suggests including them as party or wedding favors, which happens to fit perfectly into the theme of my wedding, which is currently Tea Time/No, That's Not A Cutout Of Chris Evans, That's The Real Thing-themed. But these are so cute and summery that they'd be perfect for jazzing up that monthly office happy hour or just enjoying on your own (granted, as long as you chronicle it for Instagram, because otherwise did it actually happen?).
Anyway, if you find yourself perusing XO Marshmallow's site, you might have a bit of déja vu. They are also the company responsible for those butterbeer marshmallows and the avocado toast marshmallows that have also been buzzed around on the internet. The long and short of it is, whether you want to go full nerd, full basic, or commit to a slightly unholy combination of the two the way I do every day of my human life, XO Marshmallow's got your back. Now if you'll excuse me, I'm going to go do some unsightly things to a glitter marshmallow in the Bustle office's microwave and hope for the best.
Source: Read Full Article