Gwenyth Paltrow's Engagement Ring Is Absolutely Massive
Gwyneth Paltrow recently revealed her engagement ring at the Producer's Guild Awards, and it is utterly gigantic.
The Oscar Award-winning actress was presenting at the 29th Annual Producer's Guild Awards at the Beverly Hilton Hotel in Los Angeles on Saturday where she wowed the crowd with a rock the size of Delaware.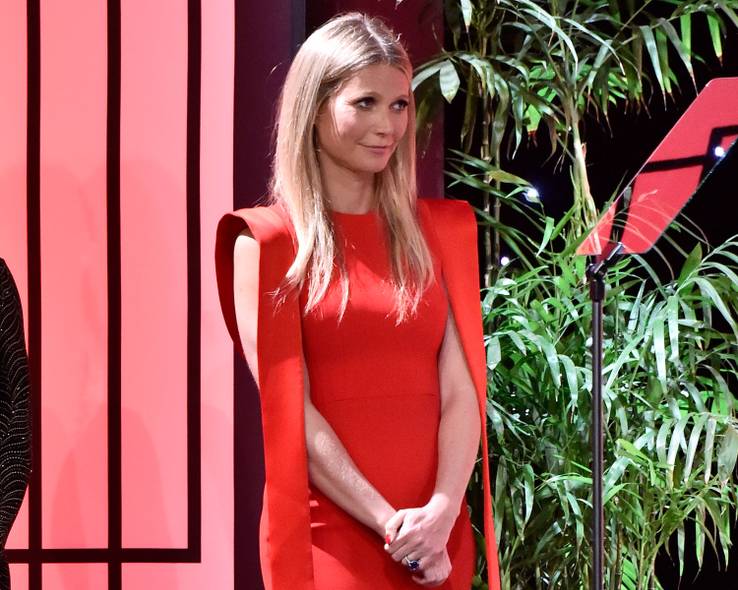 While presenting the Normal Lear Achievement Award in Television to Ryan Murphy (a longtime collaborator with Paltrow's fiancee, Brad Falchuk) one couldn't help but notice the enormous blue rock attacked to Paltrow's left hand.
Paltrow's deep red Alex Perry dress was the perfect backdrop to the vivid cerulean sapphire that made up the bulk of her engagement ring. Diamonds surrounded the band that seemed barely able to contain what must be one of the largest sapphires ever to be placed on a ring.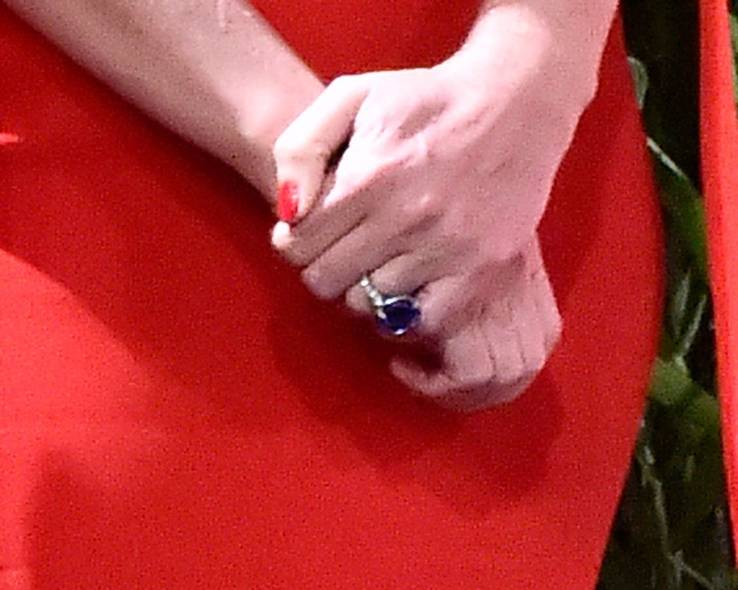 At least, we're fairly certain it's a sapphire. Paltrow hasn't made an official announcement on the ring, so it's entirely possible it's made of glass and we're all making a big deal over nothing, but given Paltrow's past love of jewelry, it seems likely it's the real deal.
The 49-year-old Goop founder announced her engagement to writer/producer Brad Falchuk on the latest issue of her magazine, which dealt with love, relationships, and the intimacy of the bedroom.
Hot off the press, goop mag #2 ?This issue of our quarterly mag aims to answer some pressing questions about sex and love ❤️Inside you'll find a candid conversation about making intimacy work with @estherperelofficial and GP, the intense and often fleeting energy behind a crush, and, let's not forget, the big O. Look for it on newsstands tomorrow, or tap the link in our bio to order it online. #gooponpaper #catsoutthebag ?
A post shared by goop (@goop) on
"We feel incredibly lucky to have come together at this juncture in our lives when our collective successes and failures can serve as building blocks for a healthy and happy relationship," the couple said in a joint statement to Good Morning America.
The issue of Goop revealed that the two had been dating for three years before Falchuk popped the question and that they first met when Paltrow made a guest appearance on Glee back in 2010.
"Personally, at midlife, I have tried to accept how complex romantic love can be," Paltrow wrote in her magazine. "I have decided to give it a go again, not only because I believe I have found the man I was meant to be with, but because I have accepted the soul-stretching, pattern-breaking opportunities that (terrifyingly) are made possible by intimacy."
Paltrow was previously married to Coldplay's Chris Martin for 11 years. They divorced in 2014 after having two children together, but the divorce seems to be an amicable one as revealed in a November Instagram post.
Sunday brunch #modernfamily
A post shared by Gwyneth Paltrow (@gwynethpaltrow) on
Source: Read Full Article