'Halo' Episode 3 Release Date and Time: When We'll Meet Cortana
Cortana will finally make her debut in Halo Episode 3, and many fans can't wait to see Paramount+'s iteration of the beloved video game character. But when will the episode premiere? Here's the Halo Episode 3 release date and time, plus what fans can expect from the next chapter of the adaptation.
[Spoiler alert: The following story contains spoilers for Halo Season 1 Episode 2, "Unbound."]
'Halo' Episode 2 recap: A visit to Master Chief's old friend
Halo Episode 2 depicted the aftermath of John-117/Master Chief (Pablo Schreiber) and Kwan Ha's (Yerin Ha) escape from UNSC custody. They sought refuge with Master Chief's former comrade, Soren-066 (Bokeem Woodbine), who built a secret insurgent community called Rubble and started a new life with a family.
While hiding out from the UNSC, Master Chief tried to learn more about the strange relic he took from Madrigal, which caused him to experience more visions of his childhood.Soren brought Chief and Kwan to a man who escaped a Covenant ship in the hopes of finding answers about the relic. The man revealed that Master Chief somehow has a dangerous connection to the relic that no one else seems to have.
Meanwhile, the episode also showed more of the Covenant's base, High Charity, and its aliens. Makee (Charlie Murphy), a human who was raised by the Covenant, revealed that the alien race has searched for the artifact for quite some time. She decided that she must be the one to retrieve it from Master Chief.
Back on Rubble, Master Chief made the choice to head back to the UNSC, leaving Kwan with Soren. He knew the UNSC would be the only ones who could discover the truth about the artifact. So, he returned to his base and turned himself in.
When does 'Halo' Episode 3 come out? Release date and time
Paramount+ drops new episodes of Halo every Thursday at 12 a.m. PT. For fans on the east coast, that's 3 a.m., so it'll be a late night for anyone who wants to watch the episode right away. Halo Episode 3 has a release date of April 7. Provided there are no delays, the rest of season 1's release schedule should look like this:
April 14: Episode 4
April 21: Ep. 5
April 28: Ep. 6
May 5: Ep. 7
May 12: Ep. 8
May 19: Ep. 9
Fans will need a Paramount+ subscription to watch Halo. Thankfully, Microsoft is generously offering a 30-day free trial of Paramount+ to people with an Xbox Game Pass Ultimate subscription. The offer can be claimed until May 23, 2022.
'Halo' Episode 3 teaser finally introduces Cortana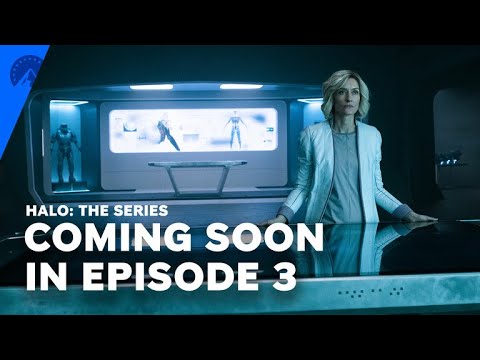 As seen in the trailer above, episode 3 will see the UNSC begin their investigation of the artifact. Additionally, it looks like Kwan will try to escape Rubble to find Master Chief, despite his orders to stay with Soren. Master Chief will also meet his new AI partner, Cortana (Jen Taylor), who was created to help the Spartans in their fight against the Covenant.
Here's the full synopsis for Halo Episode 3, per CarterMatt:
"John meets his new partner, and he discovers secrets inside his own memory. Kwan wants to return to Madrigal to continue her people's fight for independence, but Soren has other plans for her. Makee initiates her plan to retrieve the Madrigal object, with deadly consequences."
New episodes of Halo drop on Thursdays on Paramount+. Stay tuned to Showbiz Cheat Sheet for more updates.
Source: Read Full Article