'The Handmaid's Tale' Explores Emily's Gut-Wrenching Back Story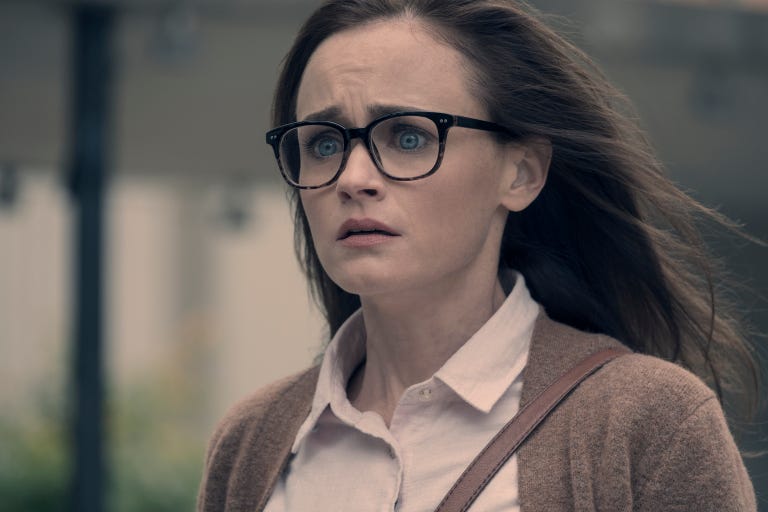 ? Spoilers for The Handmaid's Tale Season 2 Episode 2, "Unwomen," below.?
The fate of Alexis Bledel's Emily has been up in the air since the midpoint of The Handmaid's Tale Season 1, when the broken Handmaid commandeered a car and ran over a guard with it, fueled by fury and trauma after her forced clitoridectomy. It was a cathartic moment—June noted in her voiceover that Emily looked "invincible"—but it came at a heavy price. As most fans had predicted, Emily was sent to the Colonies, an uninhabitable toxic wasteland where Gilead sends its "Unwomen" (those women deemed useless to the Republic because they're either unable or unwilling to perform their required roles). Meanwhile, June's new life as a free woman turns out to be its own litany of horrors.
Here, six points to review from The Handmaid's Tale Season 2 Episode 2, "Unwomen."
1) June is through with rules.
As lonely as June felt when she was Offred, she was never truly alone. She was always under scrutiny, whether from the Waterfords or Aunt Lydia or her fellow Handmaids, always conscious of the walls around her. Now she's free, and the sensation of being genuinely alone with her own thoughts is "dizzying… like an elevator with open sides." Her voiceover takes on a stream-of-consciousness quality, her thoughts poetic and disjointed as she's lying in the back of yet another truck, the Eyes transporting her to a safe house where she'll stay until she can be smuggled out of the city. This is the context for that striking voiceover we heard in Season 2's trailer, as June goes over the tenets of Gilead: "Wear the wings. Shut your mouth. Be a good girl. Roll over and spread your legs. May the lord open."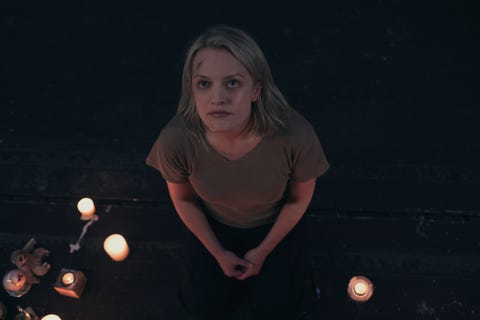 Now, the only person giving June orders is Nick, and though he (presumably?) has her best interests at heart, she bristles when he shows up to tell her no. No, she can't get out of Boston; no, she can't try to find Hannah; and no, she can't leave this safe house no matter how upset and disturbed she is by being here. Because this is not just an abandoned building. It's the former offices of the Boston Globe, the site of a massacre. In a harrowing sequence, June wanders the buildings deserted halls until she comes upon a wall riddled with bullets and covered in bloodstains. Journalists, naturally, were a high priority on Gilead's elimination list. "You have to get me out of here," June begs Nick. "Do you know what happened here? It's a slaughterhouse."
It's only later, while June is watching Friends (this is somehow one of the episode's biggest gut punches: pop culture survives the apocalypse unchanged) that she figures out how to make peace with staying in house of horros. She turns that awful execution wall into a shrine to everyone who died at the Globe, lining up knick-knacks and photographs and clippings and lighting candles in their honor. It's interesting that she also prays out loud; June has never seemed to be particularly religious, and given the theocratic nightmare she lived under Aunt Lydia, you might imagine she'd be less inclined than ever to invoke God. On the other hand, profound trauma and loss can sway even confirmed atheists, and this moment was less about her personal belief than about paying tribute to the fallen Globe staffers.
2) Nick and June's physical connection is more powerful than ever.
Despite June's desperation to leave, Nick makes the very reasonable point that she's the most wanted woman in the city—she can't be safely transported anywhere right now. He admits he doesn't really even know Mayday's plan for her, which prompts a fight. He's risking his life for her, she's putting her life in his hands, and what's emphasized here is that these people really don't know anything about each other. All they share is an instinctive and raw physical attraction, and once again, it's this connect that brings them back together for an extended sex scene.
It's. A. Good. One. She pulls his hair, she bites him, he takes her from behind, and the emphasis is on her ecstatic face, her pleasure and her agency. Later, they've moved to a couch, and judging by the sweat on both, they've been at it for a while. June wants to go again. Nick says he can't, and June whispers: "Try." In case you can't tell from the detailed recap, I am extremely here for all of this.
3) The Colonies are exactly as horrifying as you'd expect a forced labor camp to be.
Last season, Moira warned Janine that in the Colonies, she'd be forced to clean up radioactive waste until "her skin peeled off in strips and she died". That was not an exaggeration. Emily is back after a six-episode absence, and she's been sent to the Colonies to work herself sick alongside other "unwomen," all of whom are in various stages of sickness from their toxic surroundings.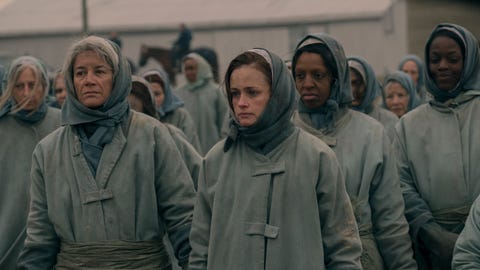 It's only been a few weeks, but Emily's skin is already blistering. Though she uses her past expertise as a biology professor to provide basic medical treatment, there's only so much she can do. She can patch up blisters and scars and dole out pills to treat surface symptoms, but it's clear that everyone here is living on borrowed time—work at the Colonies is a death sentence. Even the water is contaminated, as Emily explains to a new arrival whose blue robes instantly mark her as a target. Marisa Tomei's character is not a disobedient Handmaid or Martha, but a wife who cheated on her husband.
That's a significant new piece of information in itself; it wasn't clear last season how the social strata of Gilead worked, and what degree of protection wives had in comparison to other women. While most of the women in the Colonies understandably shun and scorn the wife, Emily makes an effort to help her, because the mistress of her last household was kind to her. "What happened to your husband?" Emily asks, and the Wife dryly responds, "I don't know. He probably got promoted." But I wouldn't be so sure—remember Commander Putnam?
4) Emily's gut-wrenching backstory illustrates the role homophobia played in the rise of Gilead.
Now that Bledel is a series regular, we get to set Emily's life before Gilead for the first time. She worked as a college professor teaching biology, and after counseling a female student on how not to let mansplainers get her down (in case you were in any doubt that Emily is an excellent teacher), she's pulled aside by her dean, Dan, who has some bad news he's trying to pretend is good. She's not teaching next semester, because the college's new board is concerned she's "not maintaining a healthy learning environment"—i.e. she's a lesbian and has a picture of her wife and son on her phone.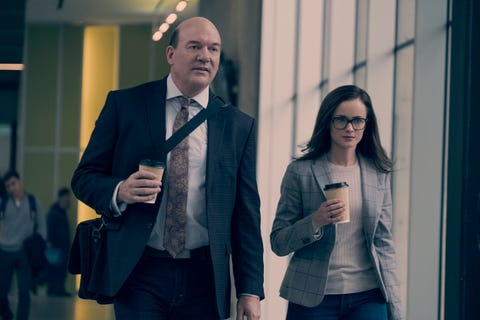 What makes this scene even more painful is that Dan is not the bad guy; in fact he has a husband whose existence he's now trying to hide in order to avoid rocking the boat. "They can't scare us back into the closet," Emily insists, while Dan muses sadly that he thought his generation was the last who had to worry about this bullshit. "I thought you were all so spoiled," he tells her, referring to millennials and their freedom to be sexually fluid. The final, awful beat of this storyline comes a few scenes later, when Dan is hanged from the school building with the word "FAGGOT" scrawled on the sidewalk beneath him.
5) Emily detained at the airport is one of the show's most powerful real-world parallel moments yet.
After what happened to Dan, Emily and her Canadian wife Sylvia (Clea DuVall) immediately try to leave the country. Chaos reigns at Logan airport as the government hands down a new set of rules every few hours, leaving passengers and border agents equally confused. The parallels to Donald Trump's xenophobic, abrupt, and clumsily-introduced 2017 travel ban are inescapable.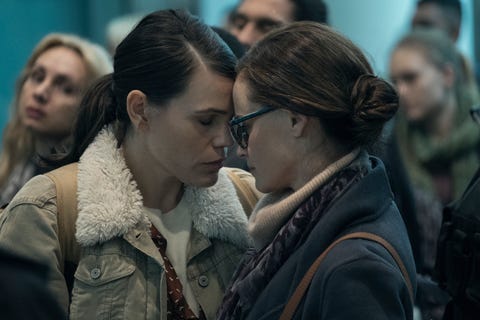 Though Emily doesn't have Canadian citizenship, it initially looks as though she'll be allowed to go with Sylvia; she's well-prepared and brought their marriage certificate, which the first ICE agent approves. But the second agent they encounter flatly tells them the document is no longer valid because the law has changed: "You are not married. It's forbidden."
With barely any time to absorb the disorienting horror of this bureaucratic evil, Emily and Syl tearfully kiss goodbye, and Emily watches her wife and son disappear up an escalator. Maybe she still has hope at this point, but we know better. Much like in her spotlight episode last season, Bledel speaks volumes with very little dialogue, her silent agony palpable. Much as I want June to reunite with Hannah and Luke, I'm now infinitely more invested in Emily getting to see Syl and Oliver again, even though she likely doesn't have long to live.
6) After killing two people, is Emily at a moral point of no return?
This was an excellent twist, because it's genuinely surprising without selling out the character in any way. Despite taking the antibiotics Emily gave her, the Wife is getting sick much faster than anyone else at the Colonies. "It hurts," she moans. "I don't think the pills are working." But they are. Emily gave her poison; she's not a lamb of God but an angel of death. "Every month, you held a woman down while your husband raped her," Emily tells the wife with cold fury before leaving her to die alone. Running over that guard was just the beginning—Emily is furious and has nothing to lose.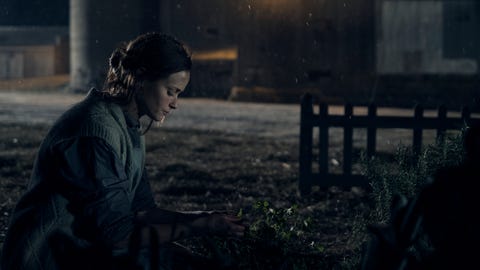 This is an interesting setup for the one brief moment of hope that comes later: Janine arrives at the Colonies after avoiding being stoned to death in the finale and immediately runs to hug Emily. Through everything that's happened to her, Janine has retained a kind of innocence that Emily lost a long time ago, while Emily has the resilience and grit that Janine will need to develop. I'm intrigued to see where their relationship goes from here.
Source: Read Full Article