Here's How To Find Out If You Can Watch Harry & Meghan's Wedding In A Theater Near You
If you're beyond excited about Meghan Markle and Prince Harry's wedding on Saturday, May 19, you might want to sit down for this news. Markle and Harry's wedding will be shown in theaters. Fans can thank Fathom Events and BritBox for arranging "Harry & Meghan: The Royal Wedding" to be shown in an encore performance at 10 a.m. local time. The special event will be uninterrupted and commercial free in nearly 200 theaters across the United States.
Unfortunately, you may not have a theater close to you, but if you're dying to watch Markle and Harry become wife and husband, then you can try to find a theater showing it close to you by entering your zip code on Fathom Events' site. Tickets can be purchased online or at participating box offices, so you better act fast.
Markle and Harry's isn't the first royal wedding to be shown in theaters. On April 29, 2011, Prince William and Kate Middleton were also given the theater treatment. It doesn't appear that as many theaters made the wedding part of their lineups as with Markle and Harry's wedding, but it was still considered a big enough deal for some theaters to show it.
For example, the Palace Theatre in London hosted a viewing party for the Duke and Duchess of Cambridge's wedding and showed CNN's coverage of the ceremony. Like pretty much every British Royal Family wedding, people took William and Middleton's wedding seriously. Some of those who watched the couple exchange vows at the Palace Theatre even wore fancy hats, like they were attending the wedding in person.
British royal weddings are a big deal to a lot of people, so it only makes sense for Markle and Harry's to be shown in theaters. Many fans are thrilled about this option, as one person tweeted, "Does anyone wanna watch the royal wedding with me in a movie theater in va? I'll sneak in the champagne and tix are only $10". Another Twitter user posted, "I'm not sure my friends care about the #RoyalWedding but I'm legitimately considering going to a theater to watch Harry and Meghan get married."
Then, there are some people who would rather be doing so many other things than watching Markle and Harry's wedding in a movie theater, i.e. this person: "I'd rather take a lawn dart to my eye…. The royal wedding is coming to a theater near you – commercial free!"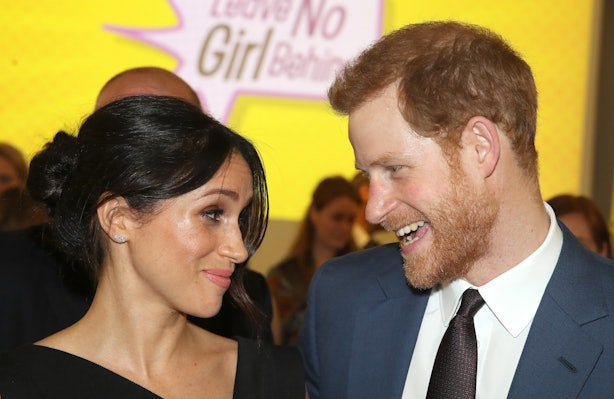 The major celebration will be here before you know it. In just 12 days, Markle and Harry will make their relationship even more official than it already is and their wedding already sounds magical.
The Royal Family released a statement on May 4 revealing more wedding details. Not only will Markle's father, Thomas Markle Sr., walk her down the aisle, but her mom, Doria Ragland, will ride with her daughter by car to the ceremony at St. George's Chapel at Windsor Castle. "Ms. Markle is delighted to have her parents by her side on this important and happy occasion," the statement read.
It was also recently announced that Markle will not have a maid of honor, unlike Harry, who chose William as his best man. A palace spokesperson told Us Weekly on May 4, "She has a very close circle of friends and she could not just choose one. They will all be traveling to London that week to spend some quality time with her and she is pleased to have all their support there on her wedding day."
Even though some might have hoped for Markle to choose a maid of honor, the fact that she didn't speaks to who she is as a friend. Not many people can say they cherish their friends equally and support them to the same degree that they can't even pick one to stand beside them on such a memorable day.
If you don't have the opportunity to watch the wedding in theaters — or you just prefer staying home — don't worry, because you can still watch Markle and Harry marry on TV or even stream it online.
Source: Read Full Article