Here's When Prince William & Kate Middleton May Arrive At The Royal Wedding
Millions of Americans will be waking at the crack of dawn to watch Meghan Markle and Prince Harry tie the knot at St. George's Chapel at Windsor Castle on May 19. So what time will William and Kate arrive at the Royal Wedding? For those going so far as to plan early morning Royal Wedding viewing parties, one of the most highly anticipated arrivals (aside from the bride and groom, of course) is that of the Duke and Duchess of Cambridge.Read on, royal revelers.
While the exact timing has not been officially confirmed, Kensington Palace has released a rough timeline of how the Royal Wedding festivities will unfold. But because we're not ones to take chances on missing a single fairy tale moment, we've gone back to Prince William and Kate Middleton's own 2011 Royal Wedding itinerary to nail down a more precise timetable of when we might catch our first glimpse of the husband and wife who celebrated their seventh wedding anniversary on April 29.
It's worth noting that Harry and Meghan's approximately hour-long ceremony is scheduled to commence at 7 a.m. ET — an hour later than William and Kate's. But those expecting a grand entrance of the couple who welcomed their their third child, Prince Louis on April 23 may be disappointed. Serving as Best Man, just as his brother did for him for his wedding, Prince William will arrive with Prince Harry, according to Kensington Palace. In 2011, the duo showed up 15 minutes before the rest of the Royal family started trickling in, according to ABC News. With this year's Royal arrivals scheduled to begin at 6:20 a.m. ET, expect to catch your first glimpse of the brothers shortly after 6:00 a.m. ET.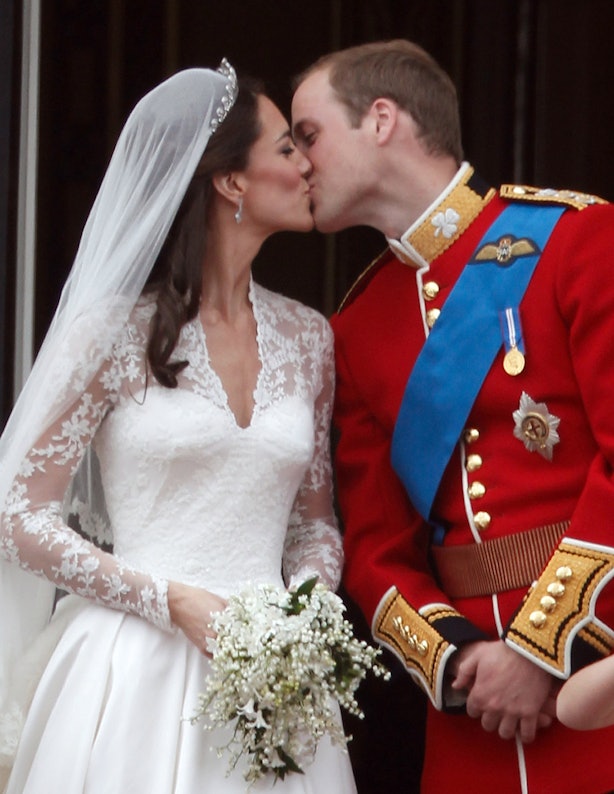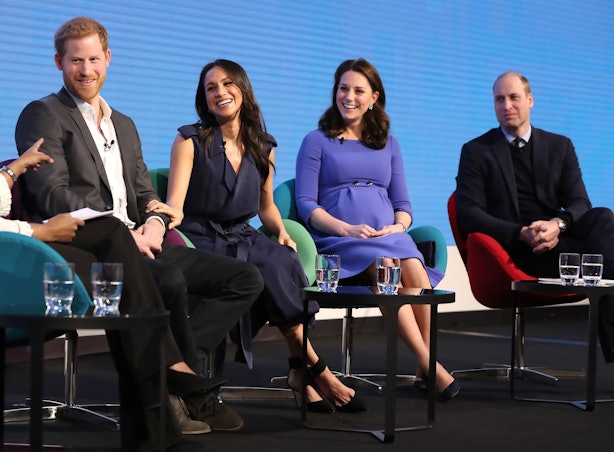 Preceding these high-profile arrivals, will be that of 1,200 charity workers, local school children, employees of the queen and other special attendees nominated by authorities to be present for the royal wedding at 4:00 a.m. ET. And buses carrying the 600 lucky invited guests will begin arriving on site at 4:30 a.m.
When the ceremony, which Kensington Palace announced will be officiated by Archbishop of Canterbury Justin Welby, with the Dean of Windsor conducting the service, concludes at around 8 a.m. ET, the bride and groom's 25-minute procession to the reception hosted by Queen Elizabeth II at St. George's Hall in the castle will begin. Our best guess is that this is when we'll see William and Kate together for the first time.
As much as there are bound to be some similarities, aside from the timetable of events, Harry and Megan have endeavored to make the day uniquely their own. As Kensington Palace's official site says in its wedding timeline: "This wedding will be guided by tradition, allowing everyone to celebrate what makes Royal Weddings so special, but also one which reflects the personalities of Prince Harry and Ms. Markle."
Whether you'll be celebrating with mimosas or coffee or if you'll be celebrating decked out in fascinators or pajamas (or, even better, both), if you follow this schedule, you're sure to not miss the very first glimpses of Prince William and Kate Middleton.
Source: Read Full Article