Here's How to Throw a Royal Wedding Watch Party That's Better Than the Wedding Itself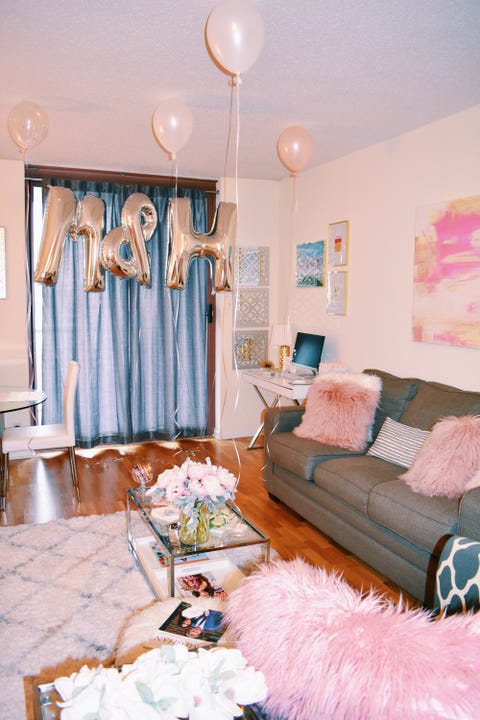 Prince Harry and Meghan Markle's royal wedding is almost here, and while you might not have close to $3 million to spend on a celebration (hi, royals), you can still host quite the watch party on May 19. Here's everything you'll need for a last-minute get-together to celebrate Meghan and Harry's love. Or to cry on your couch because Harry is marrying someone who isn't you. Either way!
Champagne. Lots of it.
If you're trying to drink like a queen — and I mean, who isn't? — grab a bottle of Bollinger Champagne, which has been the royal bubbly of choice since 1884 (!!). It's the same drink Prince Charles and Princess Dianna sipped on during their wedding reception in 1981, and Prince William and Kate Middleton in 2011.
I can confirm that Bollinger — which is $85 a bottle — will make you feel royal, but if your bank account is that of a mere mortal, I'd go for La Marca Prosecco. It costs $13 but tastes fancy enough to fool any guest. The Champagne will be flowing at Harry and Meghan's wedding, so it should at your party, too.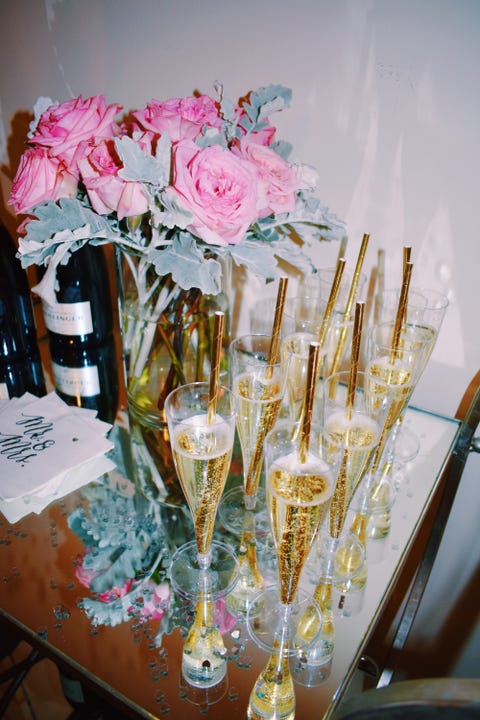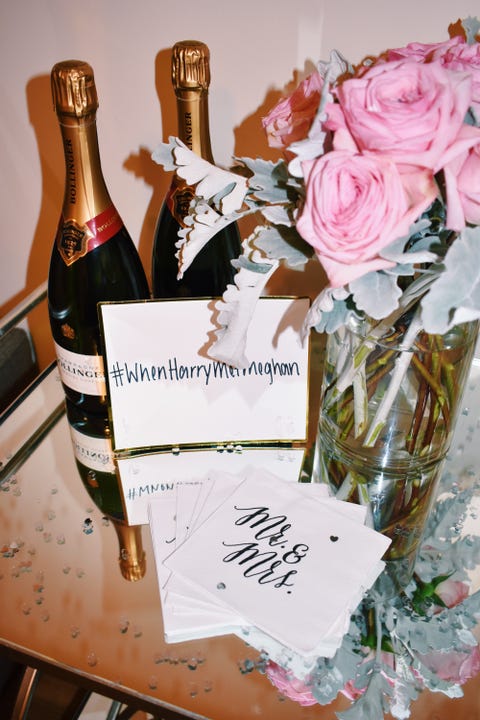 Meghan's favorite flowers.
Achieve royal wedding vibes by adding soft flowers like garden roses or peonies — Meghan's favorite — to your space. While gorg, these blossoms can get pricey, so here's a very easy party hack: Add a dozen balloons and a tablecloth to any empty space, and take it to the next level with hardly any effort. You're welcome!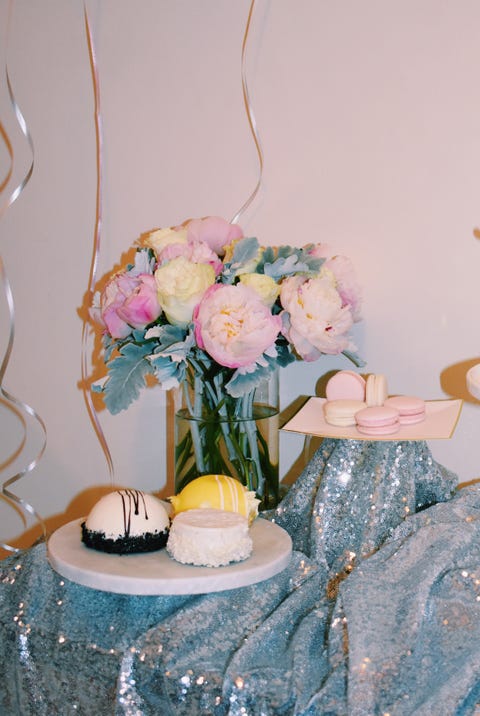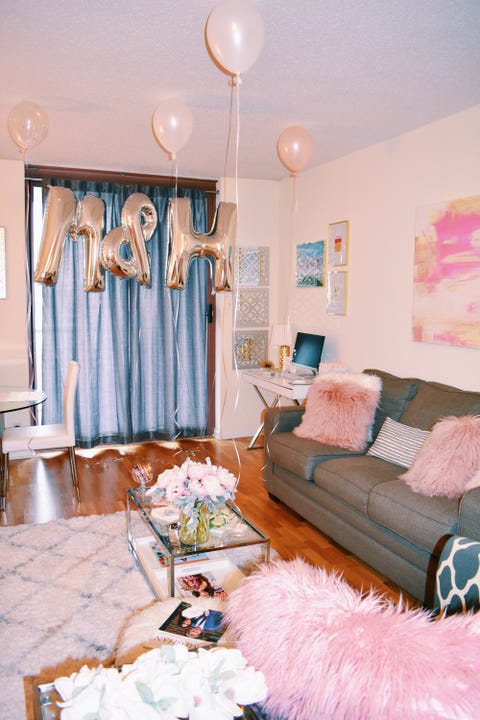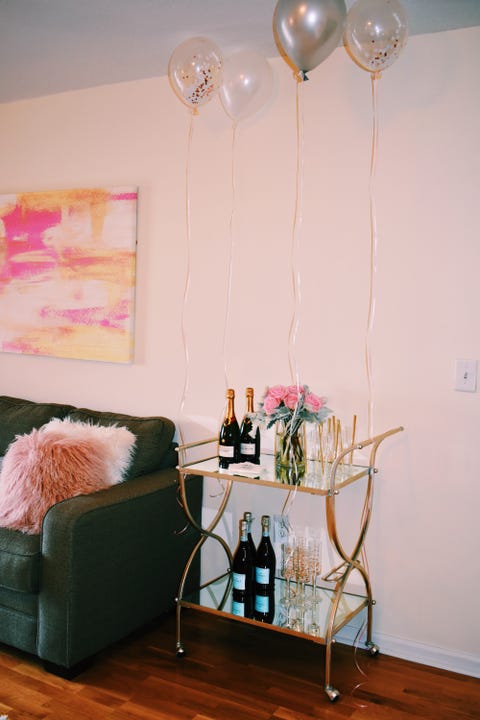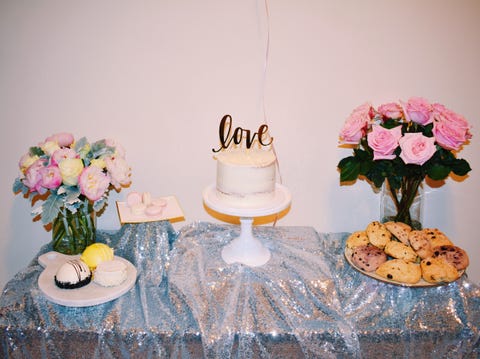 A high tea-inspired menu.
It's still unclear what Meghan and Harry plan to serve at their wedding, but if you're an American throwing a British royal wedding party, what better to make than finger sandwiches, pastries, and scones?
For easy cucumber tea sandwiches, all you need is 15 minutes, cucumbers (duh), cream cheese, fresh dill, and white bread. You can grab scones at your local pastry shop, or order the ones pictured below from Wolfermans.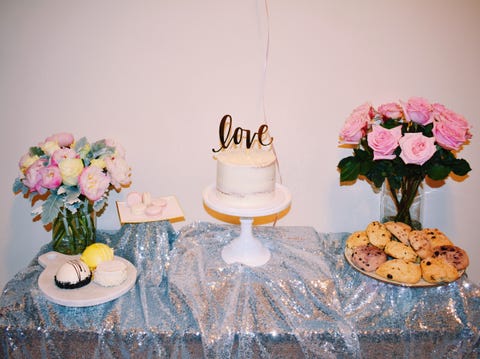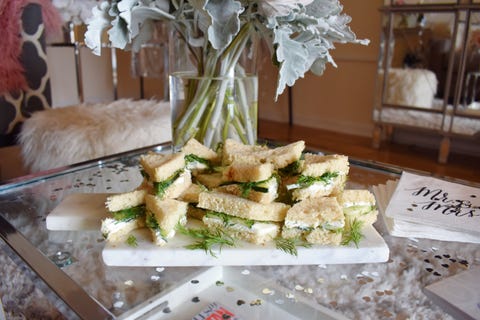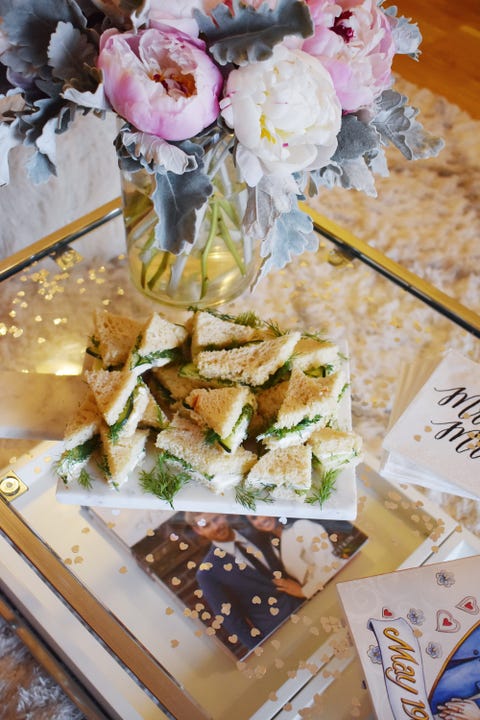 A fancy and delicious cake.
Prince Harry and Meghan will have a lemon elderflower cake covered with buttercream and decorated with fresh flowers. I couldn't get my hands on fresh edible flowers — the sad reality of not being royal — but I did find a local baker, Jennifer Choi of the dessert studio Sugarsuckle, who made a simple lemon and buttercream cake.
In lieu of flowers, I added a cake topper that says "love," because it's the royal wedding, and Meghan and Harry are in love!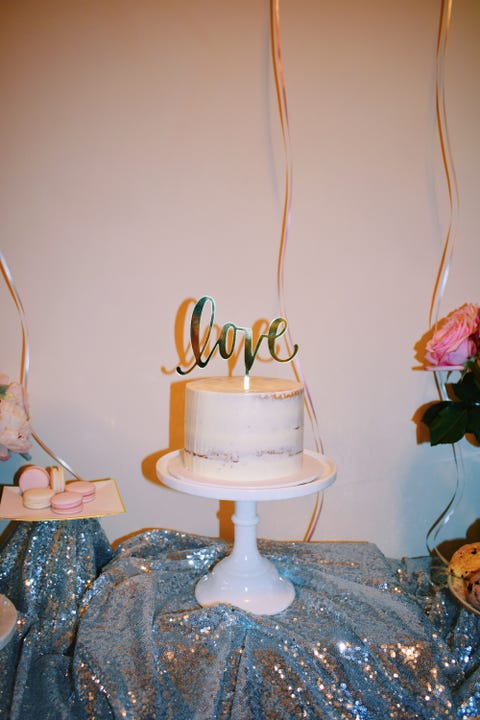 SHOP NOW Love Cake Topper, KATE ASPEN (Available on Amazon), $13
A DIY photo booth.
Is it really a party without a photo booth? Nope — or, at least, not any party I'd want to be at. Hack a DIY picture station by closing your curtains and using them as a backdrop, or simply set up against an empty wall. With M&H foil letter balloons placed against the background, lay a Polaroid camera with some fascinator hats nearby. Just like that, you have a very easy, very adorable spot for Instas.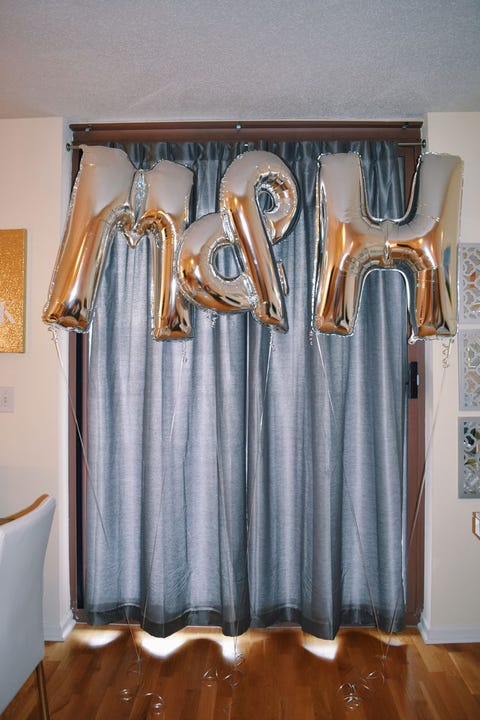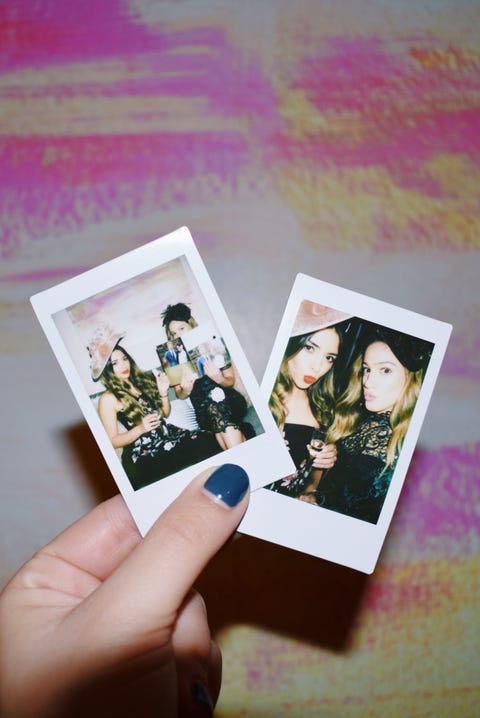 A hashtag to blast all over Instagram.
OK, fine, Meghan and Harry probably won't have a wedding hashtag, but your party can! And it should. #Hashtagsoyouknowitsreal. #WhenHarryMetMeghan2018.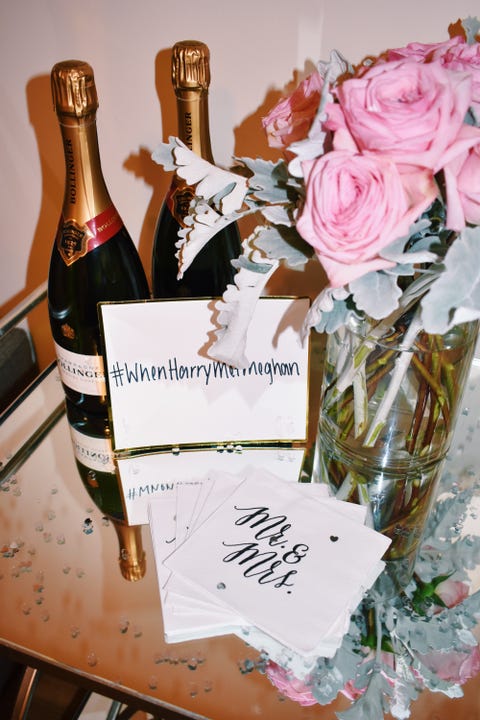 A game station.
Will Meghan wear a tiara? Will her dress have long sleeves or no sleeves at all? THE SUSPENSE! Have your guests fill out a card with their predictions, and see who ends up winning. Maybe the winner gets a bottle of Bollinger, maybe they just get to show off — it's fun either way. There's even a Harry & Meghan: A Love Story coloring book you can buy on Amazon, and yes, your party needs it.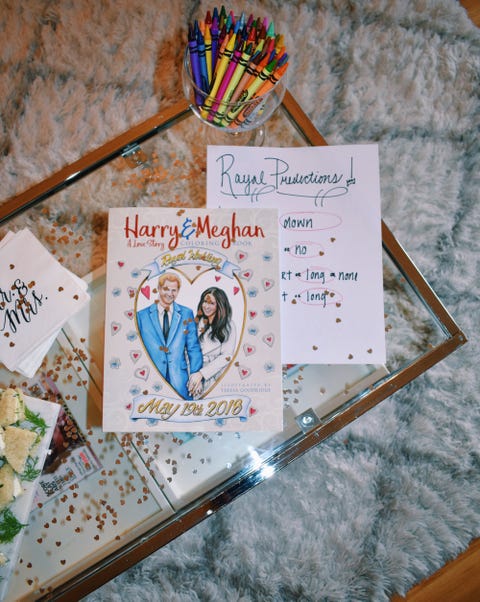 A royal dress code.
Women in the UK traditionally wear hats in church — never forget Princess Beatrice's headpiece at William and Kate's wedding — and there will be plenty more accessory moments at Harry and Meghan's ceremony too.
Tell your friends to wear fascinators (you can find one on Amazon for as little as $8) and their fanciest dresses. Whether it's on loan from Rent the Runway (they carry brands like L.K Bennett, a favorite of Kate Middleton's, for $75) or a steal from Revolve, you don't have to overspend to play the part.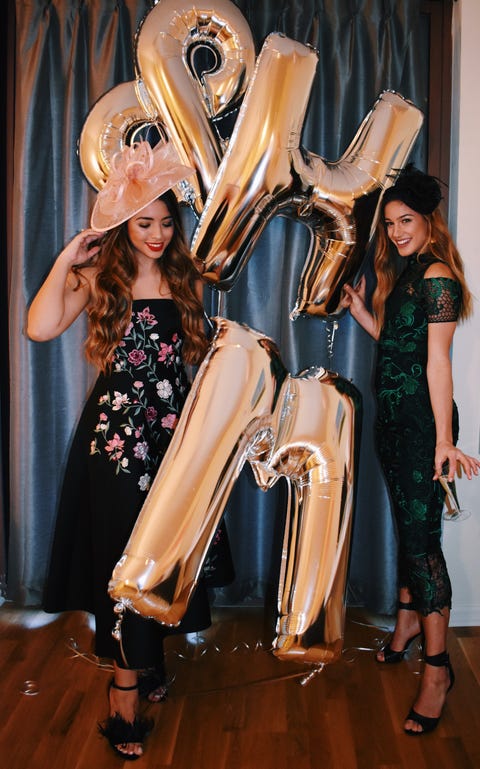 Source: Read Full Article