Hulu's New Barbie Doc Will Make You View The Controversial Doll In A Totally New Way
For decades, Barbie has been a debated figure among women. With her big breasts, trademark tiny waist, and knack for fitting into gender roles, many feminists have alternately loved and hated Barbie for quite some time. Now, this debate has found itself at the heart of the new Hulu documentary Tiny Shoulders: Rethinking Barbie. And even those with firmly held opinions on the empowering or sexist nature of the doll are sure to find that this new documentary will change the way you think about Barbie forever.
The question of whether or not Barbie is feminist is one that Tiny Shoulders director Andrea Nevins has struggled with over the years. "Barbie was invented with an intent to allow girls for the first time to imagine something other than being mothers," Nevins tells Bustle over the phone, speaking two days before Tiny Shoulders' April 27 premiere. "When I was growing up in the '70s, my mom was an ardent feminist, and the idea of playing with a doll that seemed antiquated… [it felt like it] was the wrong play toy."
How women should think about the iconic doll is a debate explored in the film through interviews with renown feminist thinkers including Gloria Steinem and Roxane Gay. Tiny Shoulders examines the complicated history of Barbie, tracing her journey from inception in 1959 to her most recent makeover in 2016. What is most clear in the documentary is that as Barbie evolved over the years — the Mattel empire growing, creative directions changing — she fell victim to the trends of the times, specifically concerning the feminist movement.
"I do think that at the beginning, allowing little girls to imagine something other than being mothers was revolutionary," Nevins says. "And then after that I think she did a lot of reflection of culture, and I actually think we as women did as well. There was push that we were allowed and then we were stopped."
As seen in the film, over the years Barbie went from being a feminist doll, teaching young girls about women's bodies and careers outside the home, to fitting into narrow gender stereotypes like being bad at math, mirroring in many ways the backlash to women's rights. "Once Barbie was launched into the world, watching her is an exercise of watching that push back and forth," Nevins explains.
Tiny Shoulders also shines a light on some of Barbie's groundbreaking changes over the years, ones that young feminists today might not know about. One particularly interesting sequence in the documentary focuses on the tenure of Jill Barad, who was put in charge of Barbie in the '80s, and made it her mission to create an African American doll that would speak to black culture in America. "She wanted to be at the forefront of that," Nevins says, noting that the first black Barbie was released in 1969 (pictured below), before it was trendy to have diverse skin color among toys.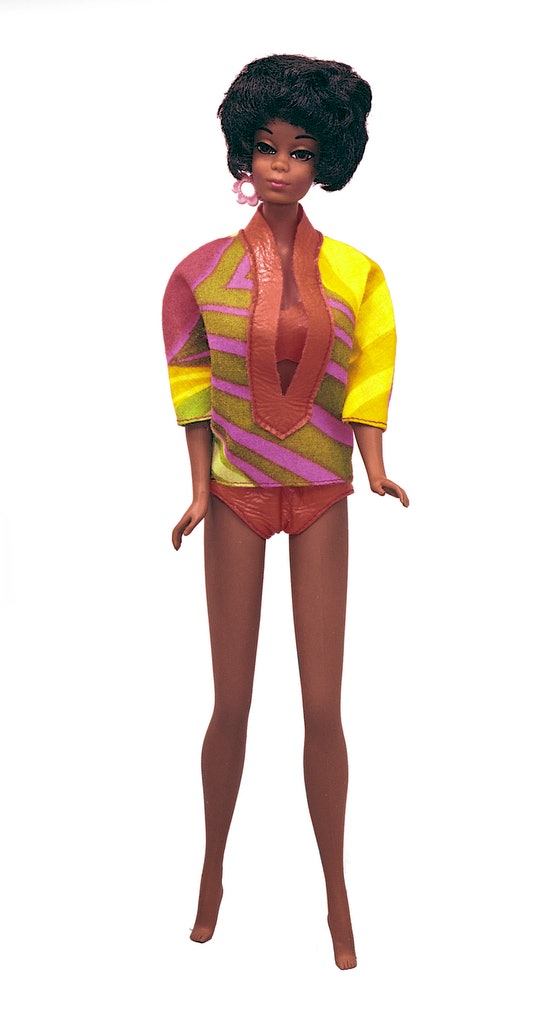 Barad is just one of the many female visionaries featured in Tiny Shoulders, whose filmmakers were given unprecedented access to the inner workings of Mattel as the company worked on expanding Barbie's body type prior to the 2016 re-launch. Watching the predominantly female team at Barbie debate how to change the doll's body and what changes to prioritize (like getting rid of thigh gap), it's impossible not to see the feminist value in the doll and her makeover.
And it should be noted that the filmmakers were not influenced by the corporation. Speaking over the phone, producer Cristan Crocker describes the ongoing negotiations for access with Mattel as "a long, slow, but ultimately rewarding process," and Nevins is clear that under no circumstances did Mattel pressure them for positive coverage. "The agreement that we made was that we were going to show them as we saw them," Nevins says.
In fact, Tiny Shoulders includes some astute criticism of the brand from both Steinem and Gay. Steinem, for example, criticizes Barbie's "You Can Be Anything" slogan as putting pressure on young girls to be perfect while also being misleading as to the state of women's rights. "That really moved me to tears," Nevins says, noting that it was important to her to include that perspective in the film. The director says that Gay was an equally important voice, citing the author's book Bad Feminism as a particular inspiration. "I think that's something that a lot of us struggle with. This idea of, you know, I like clothing. I like clothing as an art form, and yet I really consider myself a strong feminist. Can those two ideas exist in my one mind?"
In many ways, just like Barbie herself, Tiny Shoulders is an exploration of these opposing views on feminism. Can Barbie still be feminist after years of perpetuating unrealistic body proportions and playing into heteronormative and patriarchal gender roles? You'll have to watch the documentary and decide for yourself.
Source: Read Full Article