Why 'Infinity War's Shocking Ending Throws 'Black Panther 2' Into Question
Major spoilers ahead for Avengers: Infinity War. This year's Black Panther is by far the most popular Marvel Comics movie in the 10-year history of the MCU — not only is it the highest grossing of all of the studio's movies, it's also the highest rated on Rotten Tomatoes, with a 96 percent certified fresh score. So there's no doubt that people are clamoring for more of T'Challa, Shuri, Okoye, and Wakanda itself. But with the shocking events of Infinity War killing off half of the MCU's superheroes, including the beloved Black Panther, what will happen to Black Panther 2?
The end of Infinity War sees the mad titan Thanos succeed in getting ahold of all six of the intensely powerful Infinity Stones. By welding them into his Infinity Gauntlet, he wields the unlimited power of the universe, and wants to use it to save the galaxy by killing half of the inhabitants. "If life goes unchecked," Thanos says, "It will cease to exist." So at the end of the new movie, he snaps his fingers, unleashing the power of the stones, and one by one, half of our beloved superheroes disintegrate into dust, including fan favorite T'Challa, aka the Black Panther.
It's a pretty devastating ending, to say the least. Fans were expecting the tears to flow when and if big names like Captain America or Iron Man died in Infinity War. But nearly no one has been expecting characters like Black Panther, the new Spider-Man, or Guardians' beloved Groot to die in Infinity War. Watching those heroes break down into dust and fly away on the wind isn't just jaw-dropping, but incredibly sad. Thankfully, we know some of the cast of Black Panther survives the half hack. General Okoye doesn't disintegrate, though she watches in horror as her beloved king does. Nor does fan favorite M'Baku. But the fate of T'Challa's super smart little sister Shuri is left up in the air.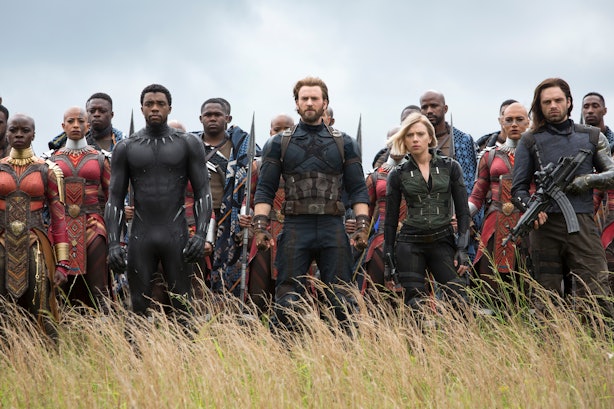 But fear not, fans. There's definitely no way all of these characters, especially Black Panther, are going to stay dead. At the end of the Infinity War closing credits, Nick Fury sends an SOS to Captain Marvel. The only thing we really know about the Brie Larson-starring origin movie is that it takes place in the '90s, and that is will probably involve some sort of time travel. There are a number of fan theories floating around that involve how Avengers 4 is going to deal with time travel, but we can probably guess that it will have to do with using Captain Marvel's time travel abilities to undo Thanos' destruction. With Captain Marvel premiering in March 2019, and Avengers 4 hitting a couple of months later in May, let's hope that Black Panther and our other favorites get brought back to life.
So what does that mean for Black Panther 2, exactly? Well, considering that the sequel to the popular movie isn't even planned yet, we can't really be sure. MCU producer Kevin Feige says they're waiting on Black Panther co-writer and director Ryan Coogler to become available again. As Feige told Collider, "We definitely want Ryan to come back and that's actively being worked out right now. When will it be? A lot of it will be when Ryan wants to and not rushing anything, but I think we have an idea of when it will be." Feige is clearly being intentionally vague about anything that happens in the MCU's Phase 4, adding, "Again, [we're] not going to announce any post-Avengers 4 movies until hopefully after Avengers 4, which is another reason we're not going to Comic-Con."
So despite Black Panther's tragic ending in Infinity War, there are initial plans to bring the character back in a sequel. We'll just have to wait and see how he comes back to life in Avengers 4, and then find out where Marvel goes from there.
Source: Read Full Article