Jenna Dewan's Comments About Her Split With Channing Tatum Will Make You Tear Up
While it's always sad to hear about a long-term relationship coming undone, for former Mrs. Tatum is staying positive. In a recent interview with Vegas Magazine, Jenna Dewan's comments about her split from Channing Tatum indicate that the former couple will always be friends, because the roots of their friendly beginnings are still strong. Though she and Tatum are divorcing after nine years of marriage, she only has nice things to say about their non-romantic future.
Dewan told Vegas Magazine that they became friends quickly on the set of 2006's Step Up, where the duo met. It is because of this history of friendship she has faith they will remain amicable even if the romance has fizzled. "We started out as friends, and I would say it was an instant recognition," Dewan said. She then added:
Dewan and Tatum starred opposite each other in the romantic dance film. Dewan, who worked as a professional dancer since she joined Janet Jackson's All for You tour as a 19 years old, played a modern dance student from a more affluent background. Tatum played a student from the wrong side of the tracks who could really move — and their onscreen chemistry was intense. The two married four years later in 2009 and their daughter Every, was born in 2013.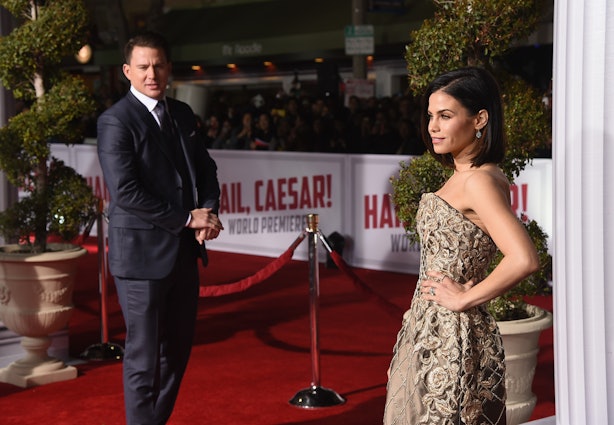 Dewan's latest comments echo the former couple's earlier statements. When the two announced that they were separating in early April, they published a sweet joint statement that explained that they had "lovingly chosen to separate as a couple." The focus was not on the end of their relationship but instead their diverging paths forward. They wrote in the join statement:
The two were also quick to get ahead of any rumors for why they might be splitting, but explaining that cheating or other scandalous factors were not factors in their split. The statement continued,
When rumors began circulating shortly after for various reasons why they may have parted, Dewan was quick to shoot the rumors down. She told The Mirror, "Happy to clarify that absolutely none of these rumors are true. The reason our statement was so positive [was] because that's the reality of the situation."
The pair wrote in their statement that they plan to remain "loving dedicated parents to Everly" and their commitment to keeping things friendly and positive will surely make things easier for their young daughter.
Dewan also revealed in Vegas Magazine that her path forward post Tatum also includes new career opportunities to explore. She recently joined the cast of Fox's upcoming musical drama series Mixtape. She described the project as :a mixture between the drama of This Is Us and the musical, fantastical element of La La Land." She added, " It's emotional and deep, and also adds in this really fun element of music and lip-syncing."
Regardless of what Tatum and Dewan's futures bring, it's nice to see a Hollywood couple keeping things amicable and positive.
Source: Read Full Article