Kanye West Calls Slavery a 'Choice' and Reveals He Got Liposuction in His Craziest Interview Yet
Rapper and Kardashian husband Kanye West has seen more than his share of (self-imposed) controversies over the years. From his eyebrow-raising comments like "George Bush doesn't care about black people" to his seemingly endless feud with Taylor Swift, it seems as if Kanye has no problem speaking his mind anytime, whatever might be on it.
But lately, it seems as if Kanye has gone from outspoken to unhinged. He recently gave a bizarre interview on TMZ Live, and his latest meltdown has fans wondering about the state of his mental health.
The disastrous interview
The interview was seriously cringeworthy. | Jewel Samad/Getty Images
On Tuesday, May 1, Kanye announced he'd be going on TMZ Live with Harvey Leving alongside conservative commentator Candace Owens, whom he recently praised on Twitter. Many people tuned in, hoping the get some clarification on Kanye's recent pro-Trump comments, which came after weeks of positive non-political tweets about love and life.
Next: If people were hoping for clarity, they were very disappointed.
The rambling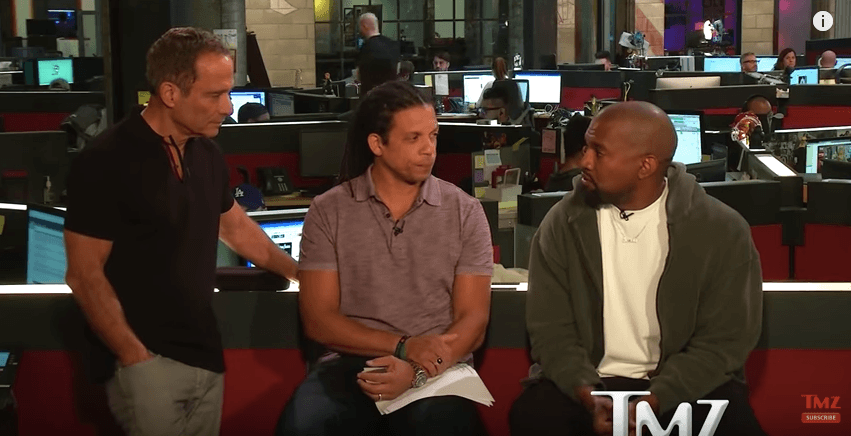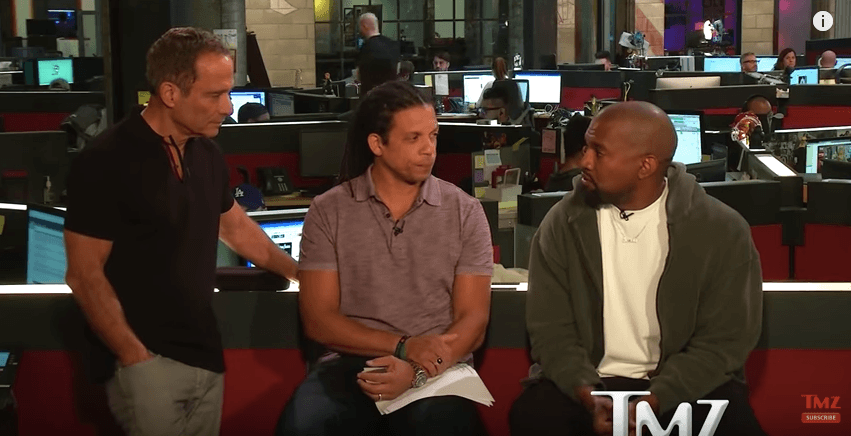 This Kanye West interview is unreal. | TMZ via YouTube
But instead of Kanye pinpointing his political positions and explaining himself, Kanye remained as vague as ever. When asked why he'd recently tweeted photos of his MAGA hat, he explained, "You can't tell me what I'm supposed to do … I don't subscribe to icons. You take the Nazi symbol, if you go to India, it is all over the place, but it doesn't represent that. It represents something different. So to me to wear that hat means I want to make America great in my own way."
He also added that he "just loves Trump," calling the president "one of rap's favorite people."
Next: Kanye's Trump comments weren't the most controversial thing he said.
Slavery is a what?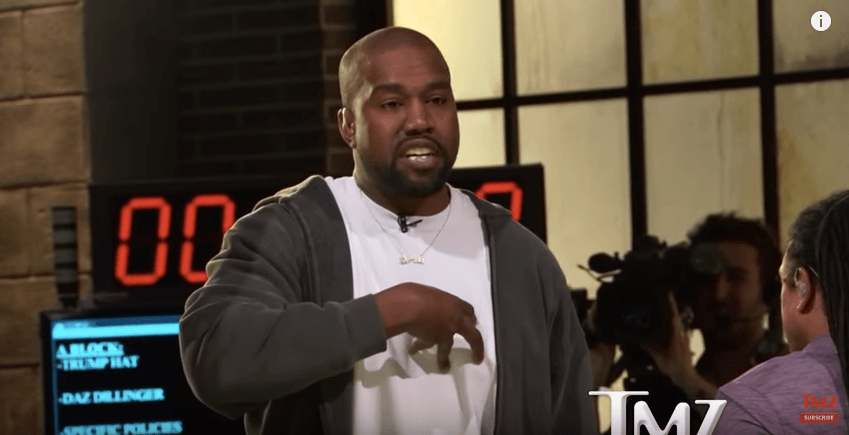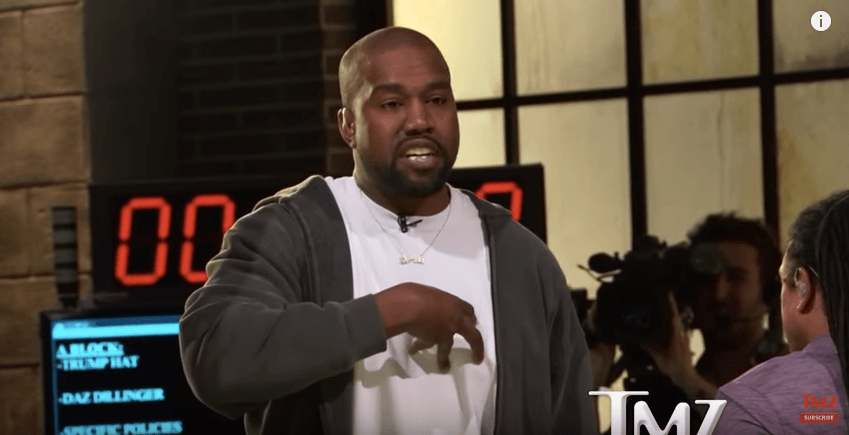 Yes, he really did say this about slavery. | TMZ via YouTube
The most shocking part of Kanye's interview was when he implied that slavery was a choice.
"When you hear about slavery for 400 years — for 400 years? That sounds like a choice," Kanye stated. "You were there for 400 years and it's all of y'all. It's like we're mentally imprisoned."
Next: A TMZ staffer was quick to take Kanye to task.
Van Lathan called Kanye out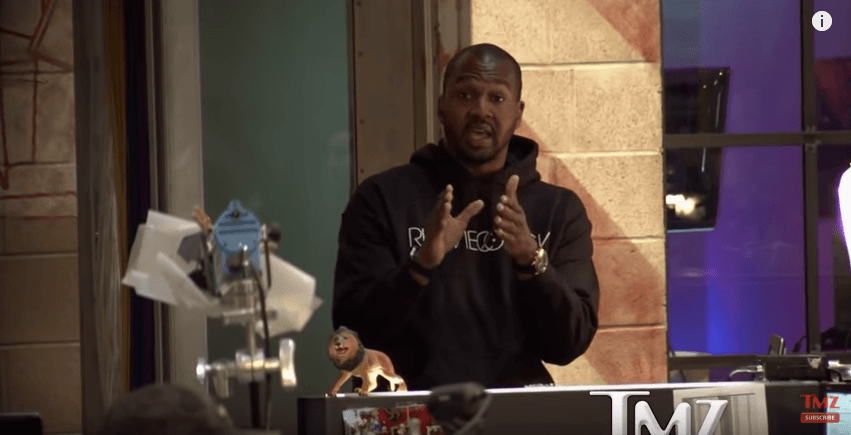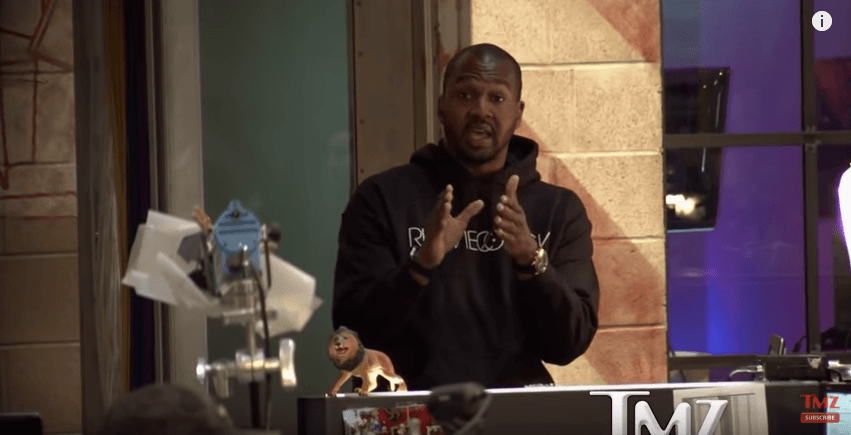 Van Lathan was 100% not having it. | TMZ via YouTube
Needless to say, Kanye's comments turned heads in the TMZ newsroom — and staffer Van Lathan responded almost immediately.
When Kanye claimed he was "being free and thinking free" with his comments, Lathan replied, "I actually don't think you're thinking anything. " And what Lathan said next was pretty powerful:
"Kanye, you're entitled to your opinion, you're entitled to believe whatever you want, but there is fact and real-world, real-life consequence behind everything you just said. And while you are making music and being an artist and living the life that you've earned by being a genius, the rest of us in society have to deal with these threats to our lives." He also said he was disappointed, appalled, and unbelievably hurt by Kanye's statements.
Next: Kanye is already trying to recover.
Time to do damage control
His recent behavior seems to have humbled him. | Kanye West via Twitter
Kanye appeared to take Lathan's comments to heart, as he eventually walked over to him and said "I'm sorry I hurt you." Lathan reminded him, "Bro, you've got to be responsible. Your voice is too big."
And it seems Kanye is already trying to do damage control by explaining what he meant by his slavery comments.
"My point is for us to have stayed in that position even though the numbers were on our side means that we were mentally enslaved," he said in a series of tweets. He also said, "Of course I know that slaves did not get shackled and put on a boat by free will."
Next: Could addiction and medication be to blame?
Kanye also admitted to a prior opioid addiction
Kanye says his last breakdown was from being "drugged out."| Kevork Djansezian/Getty Images
Of course, many fans remember Kanye's breakdown in 2016, when he was hospitalized and forced to cancel some shows to focus on his health. The incident occurred shortly after the election, when Kanye had tweeted — and eventually deleted — some pro-Trump tweets. Kanye shed new light on that time in his life when he was on TMZ.
Kanye admitted that at the time of his breakdown, he was "drugged out" on opioids following a liposuction surgery, which were partially to blame for his erratic behavior.
"I had plastic surgery because I was trying to look good for y'all," he told the TMZ newsroom, gesturing at his midsection. "I got liposuction because I didn't want y'all to call me fat like y'all called Rob (Kardashian) at (my) wedding and made him fly home before me and Kim got married." Kayne added that he went from taking two pills a day to seven, saying that was the reason he "dropped those (Trump) tweets."
Next: This might be the reason for Kanye's behavior.
Does Kanye need help?
He said he's no longer taking his meds, which could be a bad sign. | Kevin Winter/Getty Images
Aside from some praise for his "bravery" by some Fox News hosts, the rest of the world seems to be concerned about the state of Kanye's mental health. But Kanye just admitted that he's not taking the medication doctors have prescribed him, saying that instead of taking three pills a day, he's taking one of two per week.
If Kanye's medications make him feel unpleasant, he should talk to his doctors. But trying to control the way he feels by going off his meds entirely clearly may not be his best course of action.
Check out The Cheat Sheet on Facebook! 
Source: Read Full Article