Katherine Heigl Apologized For Posting "Disrespectful" Cemetery Selfies
Yesterday, Katherine Heigl took to Instagram to apologize for posting a few "disrespectful" photos in a cemetery. If you don't keep up with Heigl on the 'Gram, she went to a cemetery in Buffalo, New York to visit her grandparents' and brother's graves, which is fine, but the pictures she posted while there didn't sit well with her followers.
Reportedly, the actress and former Grey's Anatomy doctor went around the cemetery posing for photos with some of the gravestones and statues. The photos are basically cheesy graduation pictures, except they're taken in a cemetery and not on a campus or commemorating a huge achievement. According to People, her Instagram captions were supposed to be "comedic."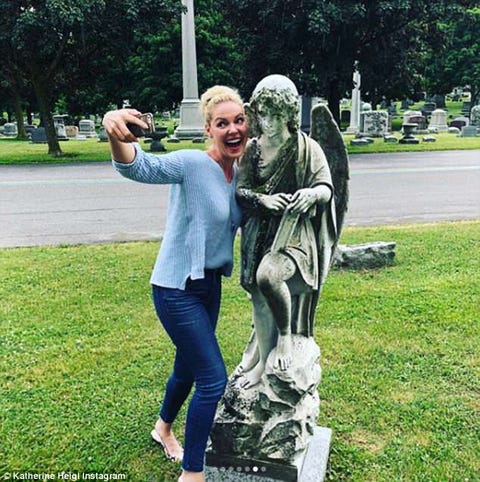 Her husband, Josh Kelley, joined in and shared a video of him walking alongside a "ghost" and giving them a little kick in the tush.
Unlike Kelley, Heigl has since deleted the photos from the cemetery in favor of two apology videos. Heigl said she noticed her fans were upset with her photos, understands why they're upset, and is glad they keep her in check.
"I realized you guys are right and that was not appropriate and was disrespectful and I've taken it down." She went on to say, "It's kind of a heavy thing to go and visit my loved ones' graves and I decided to try to find some moments of levity and humor and didn't realize how inappropriate I was being. So I deeply apologize and I thank you guys for understanding that sometimes I don't think things through clearly enough."
Everyone grieves in their own way… I guess?
Source: Read Full Article