Khloé Kardashian's Nursery For True Is Probably Even Cooler Than Your Own Bedroom
Khloé Kardashian is already busy with Keeping Up With the Kardashians and her Good American brand. But based on the design of her daughter's nursery, she may want to add interior home designer to her résumé too. Khloé Kardashian posted new photos of True's nursery on her app on Monday, and honestly, it's the most chic nursery ever.
The Revenge Body star explained exactly how one particularly spectacular furniture piece in her daughter's room(s) came to be. She wrote, "When I was pregnant with True, I had two of these Baby Thompson neon signs made so I can have one in her Cleveland nursery and one in her Calabasas nursery." Not only is the light fixture totally cool (so cool that I need one like it in my own room ASAP), but there's also something super special about it. Kardashian went on to say, "I love them so much, especially since it's my mom's handwriting!"
That makes the whole piece that much more adorable. As E! News mentioned back in March, Kris Jenner helped her daughter pick out a slew of different items for the nursery. So it makes sense that she'd have such a big mark on this particular piece.
As she mentioned before in her post, True has multiple nurseries (in Cleveland and Calabasas). But Kardashian's little one doesn't need to fret about any differences between the two rooms. The KUWTK star wanted both of the rooms to be as similar as possible for the sweetest reason. "This is a shot of the Calabasas nursery, but I tried to keep both rooms as identical as possible—same lucite crib and butterfly mobile—so wherever True is, she feels at home," she wrote. Basically, everything about True's nurseries is too cute.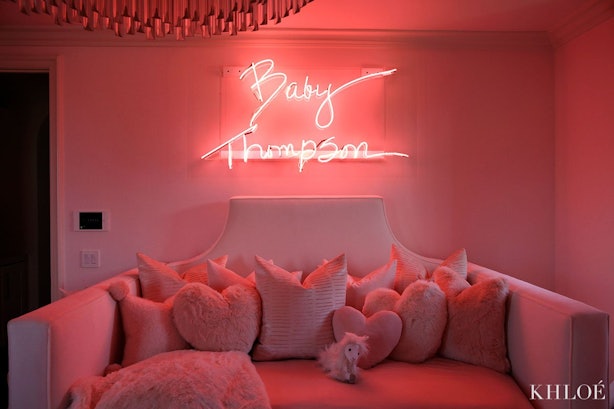 This isn't the first time that Kardashian opened up about her daughter's adorable room. In May, she also took to her app to share a very special detail about a particular piece of furniture. Apparently, True is twinning with Kim Kardashian's kids, as she has the same crib brand that her three cousins — North, Saint, and Chicago West — have had.
In June, she detailed some of the other features of her daughter's nursery on her app. The reality star explained that she was set on a pink color tone for the room. However, she didn't want it to be a pink overload. She joked, "I had to find a way to have pink everywhere and not have it be too feminine. Only I would ask for that challenge." She settled on some softer pinks for the room, including some very chic flamingo wallpaper. From the wallpaper to the neon Baby Thompson sign, the gorgeous color shined throughout the nursery.
If the Baby Thompson sign looks at all familiar to you, that's not too surprising. The stunning piece was actually on display way before Kardashian detailed its origins on her app. Back in March, during her baby shower, the pink color palette was majorly on display, with various balloons and flower arrangements a-plenty (because, as you know, the Kardashian family obviously goes all-out for their parties). One of the more extravagant decorations on display was the neon sign. Of course, back then it was unclear that it was Jenner's handwriting that really made up the fun light. If the sign wasn't already cool enough, that little fact just puts a whole new, sweet spin on it.
Kardashian really did design the cutest room imaginable for her daughter True. And honestly, even though it's a nursery, the beautiful room, complete with that super stylish neon sign, is sure to make many out there pink with envy.
Source: Read Full Article