Kim Kardashian Speaks Out About Khloé​ Kardashian and Tristan Thompson's Relationship Status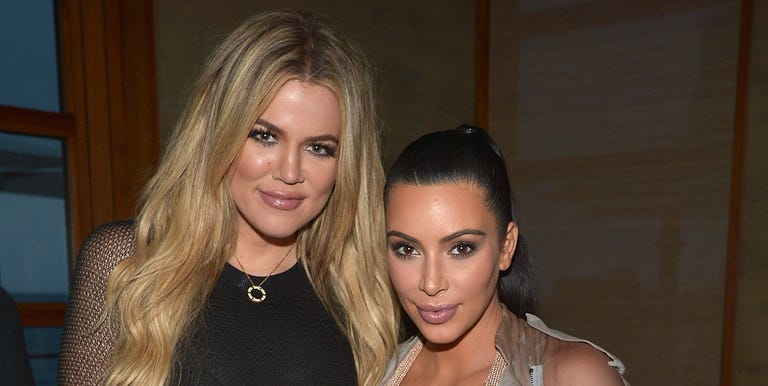 So Kim Kardashian is set to appear on Ellen today, which means she'll be the first family member to finally let everyone know what's up with Khloé Kardashian and Tristan Thompson's relationship. That is, if they even have one anymore.
To jog your memory, Khloé just gave birth to a baby girl named True and in the same week that happened, rumors of Tristan's alleged affairs surfaced. Kim and other members of the Kardashian-Jenner family had flown out to Cleveland, Ohio to be by Khloé's side when she gave birth, and Kim is graciously sharing what it's been like ever since.
In a sneak-peek released last week, Kim said it's not going that great for the youngest Kardashian sister.
In Kim's interview with Ellen DeGeneres, Kim said, "Like, I don't even know how to describe it besides it's just so f*cked up." Indeed it is, Kim.
And in the full interview clip, Kim said Khloé is taking some time for herself and True and isn't making any hasty decisions about her and Tristan's relationship.
According to Kim, Khloé is currently alone in Cleveland to have time to bond with her baby and is still on the fence about whether or not she and Tristan will stay together.
"You know, I think she's not thinking of anything," Kim said. "I think she just wants a clear head and just wants to be alone with her baby and figure that out and the family's flown out there a few times."
She went on to say, "I think it must be so hard to have your heart broken and fall in love all in a day or two, all happening at the same time and I think she just needs some [space]."
Kim said her whole family is just trying to be supportive of Khloé.
"We really were rooting for Khloé, and we still are. She's so strong and she's doing the best that she can. It's a really sad situation all over."
The only thing she didn't talk about was if she ever liked Tristan.
When Ellen asked her about her opinion of Tristan, Kim danced around the question and threw some shade toward him.
"I kind of made this rule with my brother, if there's a baby involved, I'm not going to talk. I'm going to keep it cute and keep it classy and not talk too bad. I'm going to try not to say anything so negative because one day True is going to see this."
And there you have it folks, a prime example of if you don't have anything nice to say, don't say anything at all.
You can watch the full interview here:
Source: Read Full Article