Lala's 'Pump Rules' Co-Stars Supported Her In A Major Way After Her Father's Passing
The Vanderpump Rules cast might have their ups and downs with each other, but they'll always support one of their own during a hard time. Lala Kent's Vanderpump Rules co-stars supported her at her father's funeral, as E! News noted. It really shows that this crew will always be there for one another.
According to the publication, multiple members of the Pump Rules cast flew out to Salt Lake City, Utah, Kent's hometown, in order to support their friend and castmate. The source noted that, according to their social media accounts, Brittany Cartwright, Kristen Doute, Katie Maloney, and Ariana Madix all made the trip to attend the memorial service for their friend's father, Kent Rulon Burningham. Based on one of the photos posted on Cartwright's Instagram story, it appears that Scheana Marie also flew to Salt Lake City to support her friend.
E! News noted that the Pump Rules cast posted numerous photos of themselves in Kent's hometown, which signified that they were there for her father's memorial service. The SUR host and singer also posted about the service on Instagram, in which she showed off an outfit styled with her dad's own shirt and tie. She captioned the photo, "Representing my pops today as we celebrate his life. He was an epic human."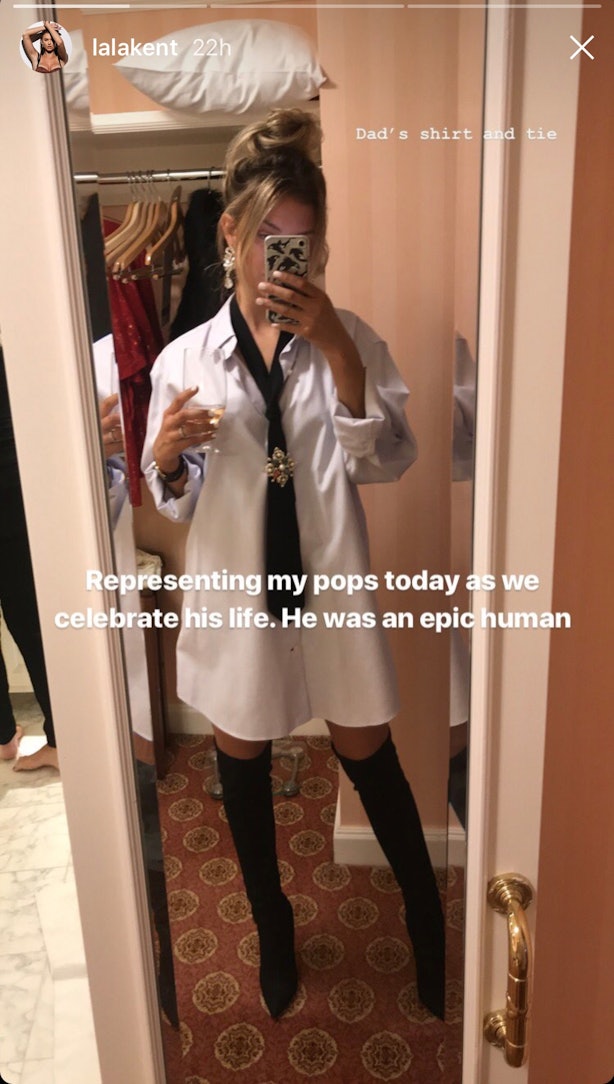 It was only a short while ago that Kent revealed that her father had passed away. On April 23, the Pump Rules star posted a throwback video of herself and her dad. The video showed the two, along with her mom and brother, during happier times as they joked around, thanks to some fun filters, in a car together. She captioned the photo with a somber message relating that her father had passed away. She wrote, "Rest in paradise, my sweet dad. The world seems to be spinning much slower." She continued, "I've never felt so lost. I've never felt so sad. My world has crumbled."
When the news broke, Kent's co-stars took to social media to express their condolences. Cartwright wrote on Twitter that she loved Kent and that she was sending "lots of love and prayers" to her family. On Instagram, Scheana and Maloney wrote tributes to their friend, too. Scheana said, on the same day that the news was announced, "My heart breaks for you my love. I will always be here for you…" Similarly, Maloney said that she was sending Kent "all my love."
Doute sent her touching well wishes to her friend on Twitter. She wrote on April 23, the same day that an episode of Pump Rules aired in which Kent performed, that the singer's father would be looking down on his daughter during her performance. Doute finished her tweet with a kind, "love you, baby girl."
Kent later wrote on Instagram that the entire Pump Rules cast was there for her during the tough time. In a photo of the cast, in honor of the show's Season 6 finale, she wrote that the difficult experience helped her to realize who really has her back. She wrote, "Every single person right here came to my rescue when I felt I was falling after such a great loss. Thank you, family. You all mean the world to me."
The Pump Rules cast also rallied behind one of their own not too long ago. When Jax Taylor lost his father, Robert Cauchi, in late December 2017, the group of friends, from Tom Schwartz to Peter Madrigal, expressed their condolences for Taylor on social media. In an Instagram post, Taylor also revealed that numerous members of the cast, such as Doute and Stassi Schroeder, flew to Michigan to be by his side, despite their past drama.
The support that the cast has showed Kent and Taylor shows that no matter what drama happens with this crew, this group has each other's backs 100 percent when things get tough.
Source: Read Full Article