Lil' Tay: How The Next Cash Me Outside Girl Rose To Fame
Just when you thought it was safe for your sensibilities to enjoy reading up on the latest internet trends again, hold on there, buckaroo. The one and only Cash Me Outside Girl, Danielle Bregoli may not be making headlines like she was last year or earlier this year, but now there is someone else making waves in Bregoli's category.
And it gets worse. Lil' Tay has an attitude to match Bregoli's, can out-curse any sailor and loves to boast about how tough she is. The kicker? Lil' Tay is just nine years old! She's not even in middle school yet.
"I got a message to all y'all broke a** haters," Lil' Tay says in an Instagram video as she tosses money onto the ground in a parking structure and struts over to a red convertible. The nine-year-old wears a pair of leggings with red sandals and a denim jacket with the tag still attached. "Y'all ain't doing it like Lil' Tay. This is why all y'all broke a** haters hate me, b****. This s*** cost me two hundred thousand. I'm only nine years old. I ain't got no license but I still drive this sports car, b****. Your favorite rapper ain't even doin' it like Lil' Tay."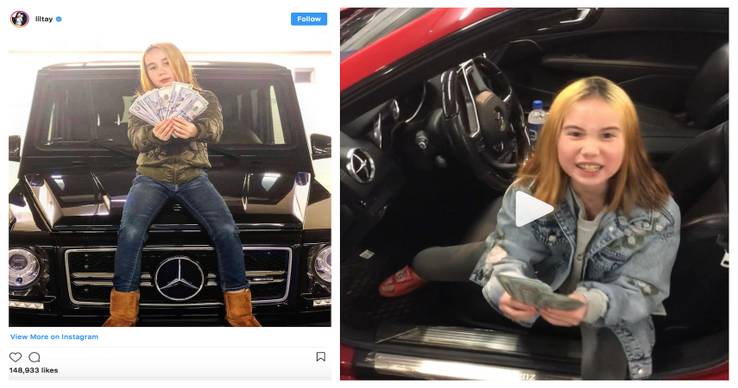 Find that disturbing? Hold on to your hats. If you watch the video, it immediately becomes clear that based on the high camera angle it isn't another nine-year-old who is filming Lil' Tay. So when then, you're probably asking, would not only be able to stomach this kind of appalling and reckless behavior from a fourth-grader let alone enable it by filming her to post for all the world to see?
Many speculate that Lil' Tay's mother, Angela "Angie" Tian and Lil 'Tay's older brother are the ones behind the camera for most of the nine-year-old's outrageous videos. In fact, Lil' Tay's family decide to move from Canada to Hollywood Hills in Los Angeles for Lil' Tay to pursue her dream of, well, we're not quite sure—fame at any cost? Or maybe being the next out of control girl that the internet can't get enough of for some reason?
If you're as confused as we are about all of this, here are key points that paint a foggy timeline of Lil' Tay's rise to fame. It all begins with Danielle Bregoli who, after soaring to meme-turned-household name heights for being snarky and rude on Dr. Phil, it brought out a plethora of young girls just like Bregoli who were apparently waiting for their time to shine.
One such girl is known as Woah Vicky, an aspiring rapper who took to social media to bash Bregoil also known by her rap name, Bhad Bhabie after Bhad Bhabie said some not-so-nice things online after watching Woah Vicky's rap video. Woah Vicky happens to be friends with Lil 'Tay, so when Bhad Bhabie and Woah Vicky decided to take their feud offline and meet up in an outdoor shopping mall in person to square up last month, naturally, Lil 'Tay came along for moral support.
Lil 'Tay has a few words with Bhad Bhabie who largely ignores the nine-year-old in favor of delivering a sucker punch to the back of Woah Vicky's head during the melee. But nonetheless, that bit of exposure skyrocketed Lil 'Tay's Instagram followers from 250,000 to 1.2 million during just a week and a half.
The nine-year-old has claimed many times to be rich and famous, worth millions, in fact and while it's true that she has caught the attention of the likes of rapper Chief Keef and YouTuber Jake Paul with her Instagram followers rising to over 2 million, the fact about her being a multi-millionaire doesn't quite pan out.
Lil' Tay's mother, Angie Tian worked as a real estate agent near Vancouver in Canada. Basic fact-checking proved that the luxury homes Lil' Tay shot some of her videos in were her mother's listings and the red convertible sports car she showed off in actually belong to her mother's former boss at the real estate agency in Vancouver. In fact, word has it that Tian's boss forced her to resign when he found out that Tian had used his car without his permission. Oops.
Where will fame take Lil' Tay? We're sort of afraid to find out. And what do Bhad Bhabie and Woah Vicky's futures look like with a nine-year-old competitor as the world's most outrageous and foul-mouthed girl?
With regrets, stay tuned to find out.
Source: Read Full Article