Meghan & Harry Just Chose Their Fancy Pants Royal Wedding Carriage
Prince Harry and Meghan Markle might not have any public appearances scheduled for the final weeks leading up to their wedding day, but that doesn't mean the soon-to-be married couple isn't as busy as ever. In the latest news of royal wedding preparations, plans for Prince Harry and Meghan Markle's horse-drawn carriage procession are well underway. According to a string of updates tweeted out Wednesday morning by the official Twitter accounts associated with both The Royal Family and Kensington Palace, the almost-newlyweds have made their pick for which traditional royal carriage they'll ride in during their special day.
As long as the weather is fair, the couple will take one of the Royal Mews' most prestigious horse-drawn carriages, of which there are only a select few. Kensington Palace announced the couple's carriage selection early Wednesday morning via its via its official Twitter account, writing,
Following their much-anticipated wedding ceremony at St. George's Chapel, Harry and Markle will complete a quick tour of Windsor's surrounding neighborhood via horse-drawn carriage. According to a recent statement from the Palace, the couple's post-wedding carriage procession is intended to provide "an opportunity for members of the public to see them and join in with celebrations."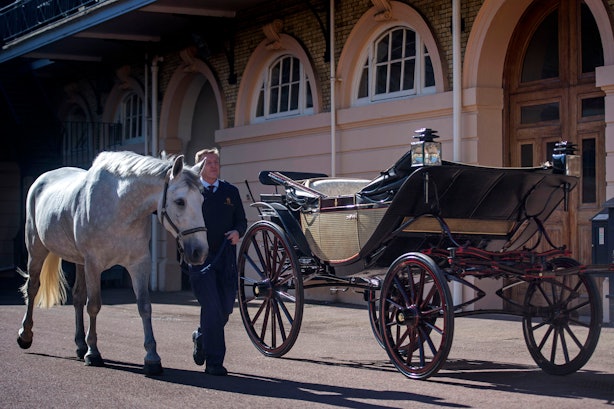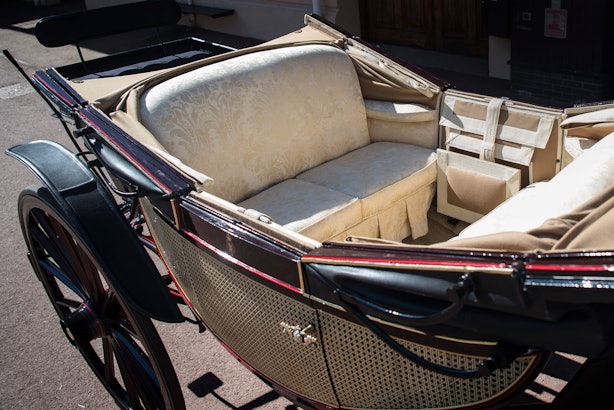 In conjunction with the morning's robust series of tweets unveiling the details of Harry and Markle's upcoming carriage procession, the Palace also released a lengthier statement via its official website. The statement offers a more thorough explanation as to the multi-pronged historical significance of the Ascot Landau carriage, especially within the context of the royal family.
According to the statement, Harry and Markle's carriage will be accompanied by a band of six Windsor Grey horses (each of which touts a truly fantastic name: Plymouth, Londonderry, Milford Haven, Sir Basil, Tyrone, and Storm), which have historically been involved in the major ceremonial happenings of Britain's royal family.
And, per the Palace's statement, a traveling escort of the Household Cavalry Regiment (Prince Harry's former army regiment) will also be accompanying the couple during their carriage procession.
At the request of Prince Harry, who served in the British Army for 10 years before his departure in 2015, the Palace also has other plans set in motion to involve members of the Army in his and Markle's special day. Back in March, Kensington Palace announced via Twitter that several Armed Forces units with a "special connection" to Prince Harry received invitations to the wedding. According to a statement by The Ministry of Defence, the couple invited more than 250 members of the military to perform "ceremonial duties" during the day's wedding proceedings.
So, for any U.K. residents angling to catch a glimpse of Prince Harry and Markle perched atop a horse-drawn carriage after they tie the knot, that might actually be possible (if you're able to make it over to Windsor, that is). As for the rest of us — it seems we'll just have to bear witness to the couple's fairytale-like procession from our television screens.
Source: Read Full Article