Melania Is Basically A Prisoner In The White House, According To France's First Lady
There's more to First Lady Melania Trump than the seemingly somber, and at times even sad, public image she puts forth, according to French First Lady Brigitte Macron. France's first lady commented on Melania's constrained life inside the White House following her husband's state visit in Washington earlier this week, saying she felt sorry for the U.S. first lady. Macron said her U.S. counterpart had a fun and charming personality but appeared to be trapped in the White House.
"Melania can't do anything," Macron reportedly told La Monde earlier this week, adding that the U.S. first lady seemed "much more constrained than me." "She can't even open a window in the White House. She can't put her nose out. Me, every day I'm out in Paris."
But Melania isn't the only first lady to be told she can't, for example, open a window. In a 2015 interview with Stephen Colbert, former First Lady Michelle Obama said she was most looking forward to finally being able to do "little things like, you know, open a window" when her time at the White House was over.
"I can't open my windows," Obama admitted. "I really can't.. One day as a treat my lead agent let me have the windows [in the car] open on the way to Camp David… He was like, 'the window's open, enjoy it.' I was like, 'Thanks, Alan.'"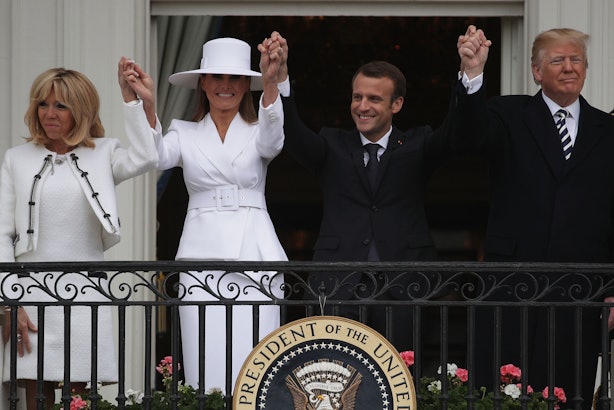 In remarks to La Monde, Macron also said there was more to Melania's personality than the public could see. "Everything is interpreted, over-interpreted," the French first lady said in reference to the intense levels of scrutiny first ladies often live under. "She's a woman with a lot of character but tries to hide it. She laughs very easily about everything but shows it less than I do." Macron also said she found Melania to be "kind, charming, intelligent and very open."
As first lady, Melania has been dogged by rumors she's something akin to a prisoner held captive by her husband's presidency. Images of her appearing somber at President Donald Trump's inauguration spurred a number of #FreeMelania jokes on social media, including requests she "blink twice if you need help."
But although Macron claimed it seemed as if Melania was "much more constrained" in her life than she had to be as France's first lady, she said she understood the pressures that come along with the role. "I have the impression that every word is a word too many," Macron reportedly told La Monde, adding she was all too aware she had to "be careful" of what she said. "I'm constantly holding myself back," Macron went on to say. "That's the hardest part: there's never really any time off, never a moment when you can be completely calm."
Melania, however, has been one of America's more private first ladies since the start of her husband's presidency. She didn't join her husband at the White House until June 2017, opting instead to spend the first few months of her husband's presidency living in their Manhattan apartment with their son. And even while living in New York, Melania was reportedly "a virtual shut-in," according to the Washington Post. "Two months after her husband's swearing-in, the nation's new first lady approaches her role with a discernible reticence, her paucity of public appearances — each defined by tight smiles and spare verbiage — overshadowed by a vanishing act that stretches days on end," the Post reported.
Macron accompanied her husband, French President Emanuel Macron, on a three-day official state visit the the United States earlier this week. That visit included a lavish state dinner hosted by Melania at the White House.
Source: Read Full Article