Netflix's Rachel Dolezal Doc Show Off Her Paintings & Surprise, They're All About Race
Back in 2015, Rachel Dolezal made national news when an interview revealed that the NAACP chapter president and African Studies teacher, who claimed she was black, was white by birth. In the time since, the controversial figure has written a book, legally changed her name to Nkechi Amare Diallo, and focused on her other pursuits — like art. As seen in The Rachel Divide, Netflix's new documentary, Rachel Dolezal's paintings show that the mind of an artist really is reflected in their work, whether they're aware of it or not.
With all the controversy around Dolezal's race and activism, it's easy to forget that she initially came to attention as an artist, receiving a full scholarship and MFA from historically black college Howard University. Dolezal sued her alma mater in 2002, claiming that the removal of her work from a 2001 student exhibition was motivated by "a discriminatory purpose to favor African-American students" over Dolezal (then going by her maiden name Moore). Her piece in the exhibit in question? "Hypocrisy: A Form of Godliness."
After the 2015 interview, Dolezal defended her self-claimed black identity, claiming she was "transracial" and saying race itself was a construct created by white supremacy. Whether or not that's true has no bearing on the fact it doesn't make race's effect on individuals any less devastating and real, and many angrily asserted that a white woman claiming black identity was the ultimate expression of white privilege.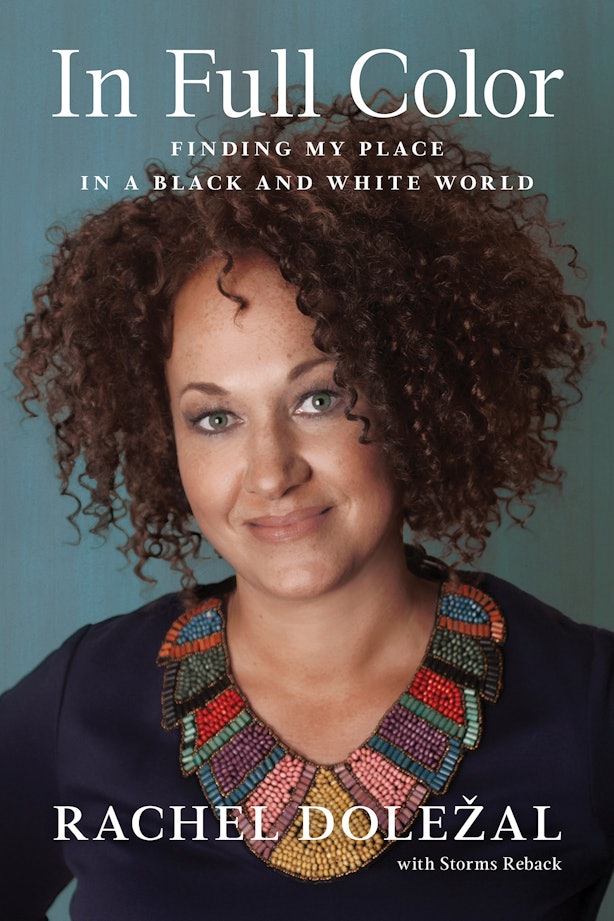 In a fascinating 2017 piece for The Stranger, author Ijeoma Oluo visited Dolezal at her home following the latter's dismissal from her job and name change. Dolezal, Oluo noted, is a very talented painter, and the majority of her subjects are black people dressed as slaves or tribespeople. An exception is a more recent self-portrait done in the style of a Warhol print, which Oluo inquired about, as seen in the section below:
Dolezal's self-portraits can be seen and are available for purchase, discounted to $75 from $100, here. It's an immense step down from two now-defunct eBay auctions selling her smaller pieces, which listed an opening bid of $5000 ($50,000 if using Buy It Now). The pieces, acrylic portraits on elk hide the seller claims bridge "Rachel's youth spent hunting elk in Montana with her deep involvement in the black civil rights movement," apparently sold, one for $51,300.
Unsurprisingly, Dolezal's artwork has been the focus of more controversy, as some people questioned whether Dolezal had plagiarized artist J.M.W. Turner's painting "Slave Ship (Slavers Throwing Overboard the Dead and Dying, Typhoon Coming On)" in the second panel of her triptych "The Shape Of Our Kind" Turner is clearly the direct inspiration for Dolezal's piece, and normally the copying would be seen as re-appropriating a famous white artist's image of black experience for and by the black community. But… Dolezal is also white, and referring to "our kind" in the piece is incredibly frustrating.
This kind of obliviousness marks much of her artwork, the body of which up to 2012 can be seen on her blog. Given what she shares in the The Rachel Divide and what can be seen in the art, it seems unfortunately unlikely that Dolezal has learned from her earlier mistakes.
Source: Read Full Article