Non-Royals Can Get Married At The Royal Wedding Venue, Too — But They Must Follow These Rules
With Prince Harry and Meghan Markle's wedding rapidly approaching, it's almost impossible not to get caught up in the excitement of the event. Between all of the news stories about the wedding and the constant coverage of behind the scenes info, it almost feels like we're all invited to the big day. (We aren't, of course, but one can dream.) Even if you've never been particularly interested in Britain's monarchy before this union, you likely know many of the details of the event: like where the happy couple is getting married, and who will be in attendance. And in the midst of all of this, you might start to wonder: could you, a completely normal non-royal person, also get married at St. George's Chapel? Or is the venue reserved just for the royal family?
After all, if you're planning your own wedding, or getting ready to do so, it might sound really nice to pick a ceremony venue as special as St. George's Chapel. Imagine saying "I do" in the exact same spot where Prince Harry and Meghan Markle said it before you? It's like your wedding is literally a part of history (figuratively speaking, of course).
There's no doubt that St. George's is a really special place. It sits on the grounds of Windsor Castle, which is where the Queen and Prince Philip live for most of the year. Imagine the Queen of England appearing as you say your vows — it would be legendary! The chapel is nestled near the Horseshoe Cloisters and the Henry VIII gate, giving some much-needed privacy for anyone there. St. George's is also considerably smaller than Westminster Abbey (where Prince William and Kate Middleton were married in 2018), holding about 800 guests compared to 2,000. In fact, one of the reasons the couple chose St. George's over Westminster Abbey is that they wanted a quieter, more intimate ceremony.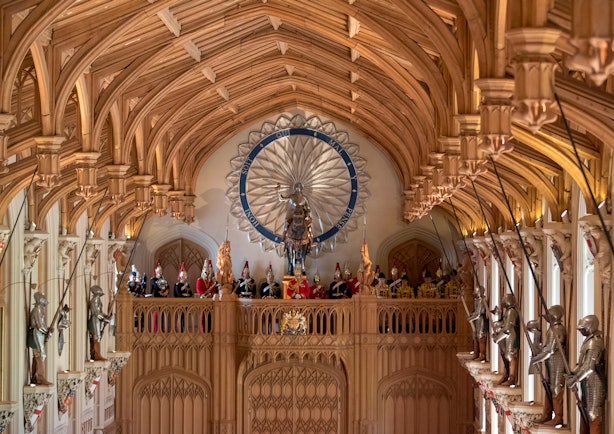 The chapel also offers up a lot of personal history for the royal family. Harry was christened there, and Prince Charles and Camilla had their own wedding there in 2005. Although it isn't the site for every royal wedding, it is the spot for plenty of them: the children of Queen Victoria were all wed at the chapel, as were Prince Edward and Sophie Rhys-Jones in 1999, and Queen Elizabeth's oldest grandson, Peter Phillips, who married Autumn Kelly there in 2008.
Sold on the idea of getting married there? Unfortunately, there's a good chance you probably can't. While you do not have to be a member of the royal family in order to have your wedding ceremony at St. George's, you do have to meet other requirements. Since it's considered a Royal Peculiar, it's governed by the monarch and a chapel of the Order of the Garter. In other words, this isn't your average parish church that welcomes just anyone. Some of the people who can get married there include knights, residents of Windsor Castle, residents of the College of St. George, and, of course, royal family members. Even if you are a member of one of those elite groups, you can't just decide you want to get married there and drop off your deposit — you need permission from the Queen herself. Even Harry and Meghan had to ask!
The good news? You can visit St. George's Chapel, as well as Windsor Castle, if you want to check it out. Windsor has an adorable town, and the Castle is open daily (you just need to pay for a ticket to explore it). St. George's is open for visitors as well, and you can even experience a service there if you'd like.
Source: Read Full Article