Photos of Britney Spears That Prove She Looks Nothing Like She Used To
Oops, she did it again. Britney Spears is turning heads (again) but this time with what looks to be an entirely new face.
The internet let out a collective gasp when images emerged of Spears, modeling for the new denim Kenzo campaign. The singer is featured in a number of Kenzo looks after the brand spent days hinting that the new line would feature a "new face" with star power. Once the line launched with Spears as the "face," fans and fashionistas were completely bemused wondering, "Is this really Britney Spears?" So is this new Spears due to time at the plastic surgeon's office or intense photoshopping?
1. The old and the new Britney Spears
Left: Britney Spears in a 2004 concert | Staff/Getty Images, Right: Britney Spears performing in 2016 | Mike Windle/Getty Images
When she emerged on two magazine covers in 2016, fans wondered whether photo editors went a bit overboard with the photoshopping, Daily Star Online reports.
But then she appeared on a UK-based talk show called Loose Women where Spears' transformation was noticeable. Beyond comments on Twitter about on-air gum chewing, Spears' face looked different, Cosmopolitan reports.
Next: This doctor thinks she's gone under the knife.
2. Her nose is the striking difference
Left: Britney Spears in her Kenzo ad | Kenzo via Instagram, Right: Britney Spears in 2012 | Jason Merritt/Getty Images
Spears' nose is one striking difference in the "before" and "after" photos. Daily Star Online reached out to MYA plastic surgeons for an opinion. "I believe that Britney has had a nose job to create a slimmer and more feminine shape to her front profile. It's clear that the tip of her nose is slender and less bulbous in the more recent images of her," the group spokesperson told Daily Star Online.
Next: It might not stop with the nose.
3. She has more defined cheek bones
Left: Britney Spears' altered appearance raised some eyebrows. | Matt Winkelmeyer/Getty Images, Right: Britney Spears in 2011 | Danny E. Martindale/Getty Images
The plastic surgeon also speculated that Botox and fillers are being used to reduce or eliminate any signs of aging. "I also believe cheek fillers have been used to help give her more defined cheek bones," MYA told Daily Star Online. "Weight loss, weight fluctuation and general aging all affect skin quality and take its toll on the fullness and elasticity of skin." Also, adding fillers can help to enhance and create the high cheekbones Spears really seems to have now.
Next: The Kenzo images really punctuate Spears' transformation.
4. Fans are shocked by the latest images
She looked extremely different in these recent ads. | Kenzo via Instagram
Fans are dishing about Spears' face. Wendy Williams posted a poll: "Do you think Britney Spears looks like herself in her ads for Kenzo?"
Wendy Williams sounded off as usual. | Wendy Williams via Twitter
And others seemed to wonder whether she had surgery or was just photoshopped for the shoot.
Twitter went crazy over the ads. | Chrissie Mayr via Twitter
Next: Some even compare her to this other famous blonde.
5. Fans are comparing her new look to Jessica Simpson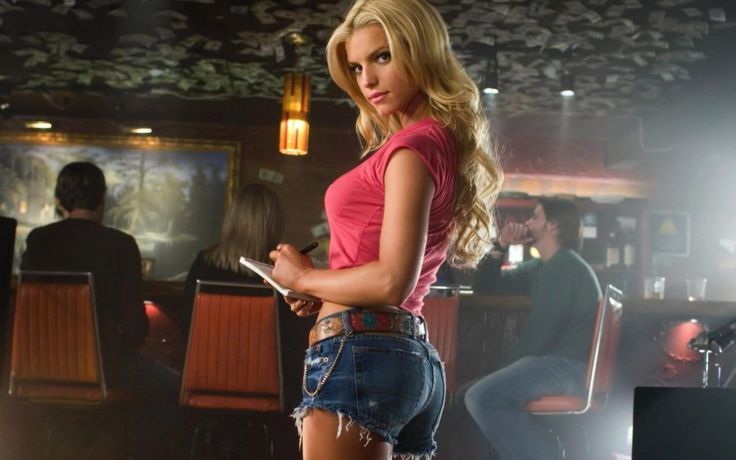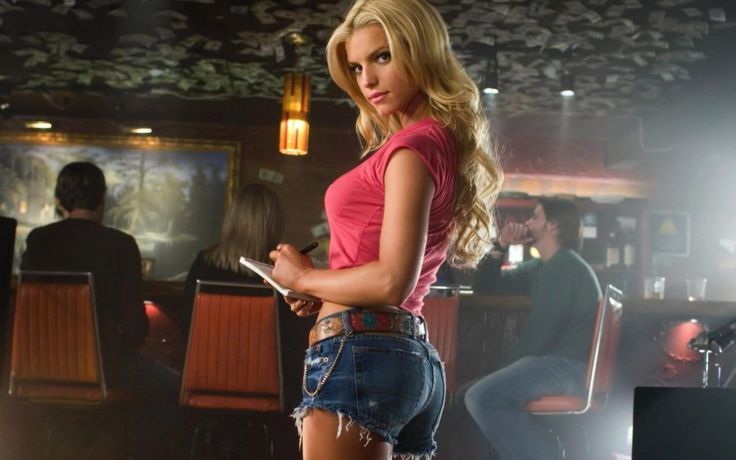 Jessica Simpson in The Dukes of Hazzard | Village Roadshow Pictures
Beyond commenting that Spears no longer resembles herself, others are pointing out how much she looks like another blonde singer: Jessica Simpson.
Do they really look that alike? | Rranney1 via Twitter
Next: Some say she looks just like this reality TV personality.
6. People also thinks she looks like this Real Housewives star
Kim Zolciak | Dave Kotinsky/Getty Images for Empire City Casino at Yonkers Raceway
Perhaps if you put Britney Spears in the same room with Jessica Simpson and Real Housewives of Atlanta cast member Kim Zolciak, you might find it hard to decide who is whom.
In addition to Jessica Simpson, fans think she looks like Kim Zolciak. | MissyandNicole via Twitter
Fans seem to agree on this one. | ImTheMom_TaDa via Twitter
Next: But most fans agree Spears is gorgeous no matter what.
7. Fans still love Spears no matter what
Fans still think she looks beautiful. | Jane Daley via Twitter
Spears is getting plenty of love from fans and news outlets alike about her latest fashion shoot.
Next: Photos that prove Spears is in the best shape of her life
8. Her hot, red lingerie
This photo was presented without a caption. | Britney Spears via Instagram
Maybe gearing up for Valentine's Day, Spears shared a photo of herself in revealing red two-piece lingerie. The post was flooded with fans' comments, including "You are amazing!" and "Body goals." The snap was followed up by a video of Spears sporting cat ears, nose, and paws, commenting in a faux-British accent, "I would love nothing more but a sip of milk at the moment."
Next: She celebrates a major milestone.
9. Celebrating her anniversary
She's not afraid to show off that she's in love. | Britney Spears via Instagram
Both Spears, 36, and her fitness model boyfriend Sam Asghari, 23, are in killer shape, as was revealed in another recent Instagram post. She shared a photo of the two looking incredibly buff in front of a waterfall. The caption mentioned the couple being together over a year. Asghari enjoys spending time with Spears' two sons, skateboarding, playing sports, and swimming in the pool, Daily Mail reported.
Next: Speaking of her kids …
10. Hanging out at the beach
She shares her kids with ex Kevin Federline. | Britney Spears via Instagram
After finishing her Las Vegas residency, Spears took some time off relaxing on a beach in Hawaii with her sons: Sean, 12, and Jayden, 11. She shared some photos on Instagram, including one of her in a yellow bikini and wide-brimmed hat, standing next to her boys. Spears shares her sons with ex-husband Kevin Federline. The two married in 2004 and divorced three years later.
Next: Here's how she preps for the swimsuit season.
11. Gearing up for summer
She wants to be in shape for bathing suit season. | Britney Spears via Instagram
If you've been wondering what Spears is doing to stay in shape, in a recent Instagram post she provided a glimpse of her gym workout with dumbbells. The post was captioned "Gearing up for summer!!!" Spears is seen doing squats, pushup position rows, backbends, and more in front of a mirrored wall. "Now I know why you look that amazing. It's hard work," one follower commented.
Next: She shares some workout advice.
12. Don't overdo it
She's figured out a healthy exercise-life balance. | Britney Spears via Instagram
When she had been done with her Vegas residency for around a month, Spears posted a photo on Instagram of herself in workout clothes at the gym. Her caption contained what could be viewed as some workout advice: "I love cardio and sweating, but over doing anything just isn't good. It's been nice working out a little less these last few weeks and enjoying my time off with my children!!!!"
Next: What else does she do at the gym?
13. A combo of sprints and weights
She works hard for her figure. | Britney Spears via Instagram
When Spears is in Los Angeles, she works out at Drench Fitness, where she does a combination of sprints and weights for an hour, Us Weekly reported. The gym has personal trainers on hand to help keep members on track. "You've got a trainer holding your feet to the fire," gym founder Julie Kennington said.
Next: See what amazing stunts she can do.
14. Walking on her hands
She's crazy about this extreme upper body workout. | Britney Spears via Instagram
"Life is actually better upside down," Spears captioned an Instagram video showing her standing on her hands performing acrobatic moves with her legs against a wall. Her Instagram page also features a video of her walking on her hands on a carpeted room. When does she find time to engage in this type of upper body workout? In the wee hours of the night, she said in the video.
Next: A non-cardio workout that helps keep her toned
15. Yoga
Yoga is an important part of her regimen. | Britney Spears via Instagram
In an Instagram video, Spears showed off some yoga moves, gymnastics, free weights, and more. At one time, the songstress credited yoga for helping her become sleek and toned, according to Shape. Spears practiced twice a week with the owner of a Los Angeles yoga studio, doing a mix of yoga poses for 60- to 90-minute sessions.
Additional reporting by Karen Bennett.
Check out The Cheat Sheet on Facebook!
Source: Read Full Article