Pippa Middleton Is Reportedly Pregnant With Her First Child
Kate Middleton is expected to give birth to her third child in April, but it looks like there's already more baby news to celebrate in the extended royal family. Kate's sister, Pippa Middleton, is reportedly pregnant with her first child. According to the Express, Pippa told friends and family that she's 12-weeks pregnant after a scan at the doctor. This will be her first child with husband James Matthews, and her extended family is reportedly very excited about the announcement.
"When Pippa found out she was pregnant, she was obviously thrilled and utterly overjoyed," an unnamed source told the publication. "Naturally, big sister Kate and parents, Carole and Michael, were the first people she told — James aside — and they could not have been more delighted."
Matthews and Pippa tied the knot in a private ceremony in Englefield, England in May of 2017, and the two took their honeymoon in Australia. According to The Sun, the newlyweds both shared a desire to start a family. "Pippa and James have always known they wanted children," another anonymous source told the paper. "They have made the most of their first few months of marriage and felt the time was right to expand their family." It looks like the couple was ready for this next step, and if the reports are true, Pippa will be due in August.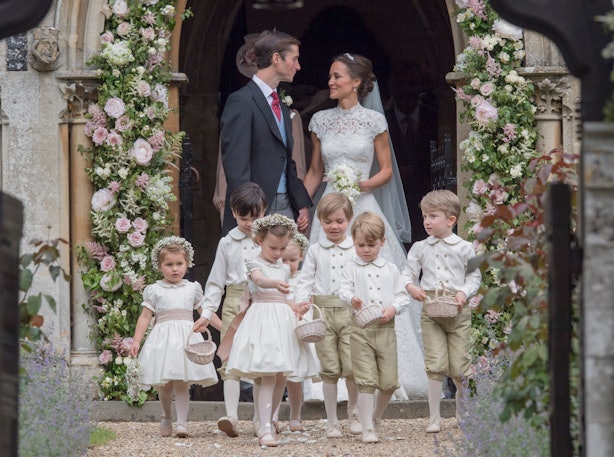 The news comes just days before Pippa's sister, the Duchess of Cambridge, is expected to give birth. The baby will be Kate's third. She's also mom to Prince George, age 4, and Princess Charlotte, age 2. This isn't the first time the two sisters have helped each other through major life milestones. For example, they both had a role in each other's wedding, and Pippa famously held the train when Kate wed Prince William. The Duchess then returned the favor at her sister's own wedding. It's likely the two will swap parenting tips as well, and there will no doubt be some adorable royal playdates for fans of the sisters to look forward to.
The baby marks the beginning of a new chapter for Pippa and Matthews, who wed after several years of dating. She was first linked to Matthews, a hedge fund manager, in 2012, but their initial relationship only lasted a few months. The two reconnected three years later, and this time stayed together. "James has always been on the scene," an unnamed source told E! News when the rumors the two were back together began. "He is super charismatic and charming, good looking and always held a torch for Pippa. They have always had insane chemistry, but Pippa was always in a relationship." Their high-profile relationship went public with an appearance at a charity event in Lillehammer, Norway in 2016, and the two announced their engagement not long after.
It will be a busy month for the Royals and their extended family. Kate and Prince William are preparing to welcome their third child, and the birth could be any moment now. In the meantime, Prince Harry and Meghan Markle are preparing for their Royal Wedding, which will take place on May 19 at Windsor Castle. Pippa's reported pregnancy is yet another happy occasion for the family to celebrate during a time when the next generation of royals are all heading toward major milestones.
Pippa may not officially be a royal, but Kate's sister is still a favorite among royal watchers thanks to her charismatic personality. If the reports that she's expecting are true, then the prospect of seeing her become a mother is beyond exciting. The only thing that makes this potential news even sweeter is knowing that these two wonderful sisters could have babies so close in age. Those cousins would almost certainly be future BFFs, and that's something that the world needs to see.
Source: Read Full Article