Prince Harry and Prince William Mingle With the Public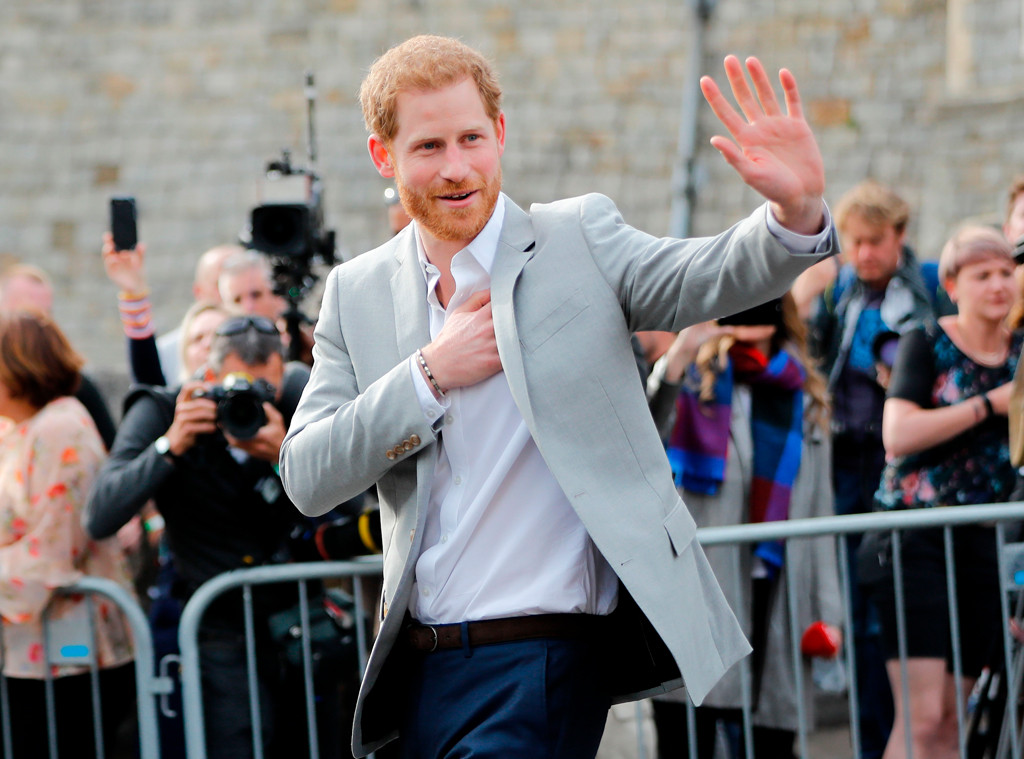 TOLGA AKMEN/AFP/Getty Images
Hi, Harry!
Traveling fans of the royals got what they have been waiting for this week when Prince Harryand Prince William surprised crowds and stepped outside for a brief walkabout in the streets of Windsor on Friday, just a day before the big wedding.
The two brothers thrilled the throngs of onlookers as they shook hands and chatted. The groom-to-be paid particular attention to the youngsters dispersed in the crowd, crouching down to the floor to talk to them as they were divided by a barrier.
People in the crowd were understandably ecstatic to see the siblings and had their cameras and cell phones at the ready to document the special moment.
Before saying goodbye, Prince Harry was even gifted a small teddy bear outfitted with a red sweater as others in the crowd shouted questions at the royal, including "You ready, Harry?" and "How are you feeling?" to which he replied, "Great."
"He asked us about school and what we did today and what we think the weather is going to be at the wedding?" 5-year-old Meghan O'Shea from Windsor told E! News about her chat with Prince Harry. "He was nice. He seemed relaxed the day before his wedding."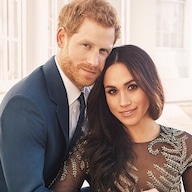 Photos
A Timeline of Meghan Markle's Whirlwind Life
"I had heard there were some rumors that they might do a walkabout so yeah, I've been standing here for about four or five hours," London resident Jane Toffolo told E! News. "They came over here and they were delightful. They looked so happy, so relaxed. They were a real pleasure. Gorgeous! I shook both their hands and wished Harry all the happiness, and hoped he has a fabulous day tomorrow and he said thank you so much."
"William was cracking a few jokes and somebody congratulated him on his new baby and he said, 'Actually, we're looking for babysitters tonight, so if you're free.' So obviously that got a bit of a laugh," Toffolo continued. "They were just lovely. To come out the day before your wedding…you have to give credit to the royal family."
Judging by his cool, calm demeanor, Prince Harry is indeed ready to be married!
After the 10-minute mingle, the brothers returned to Windsor Castle with the bear in tow.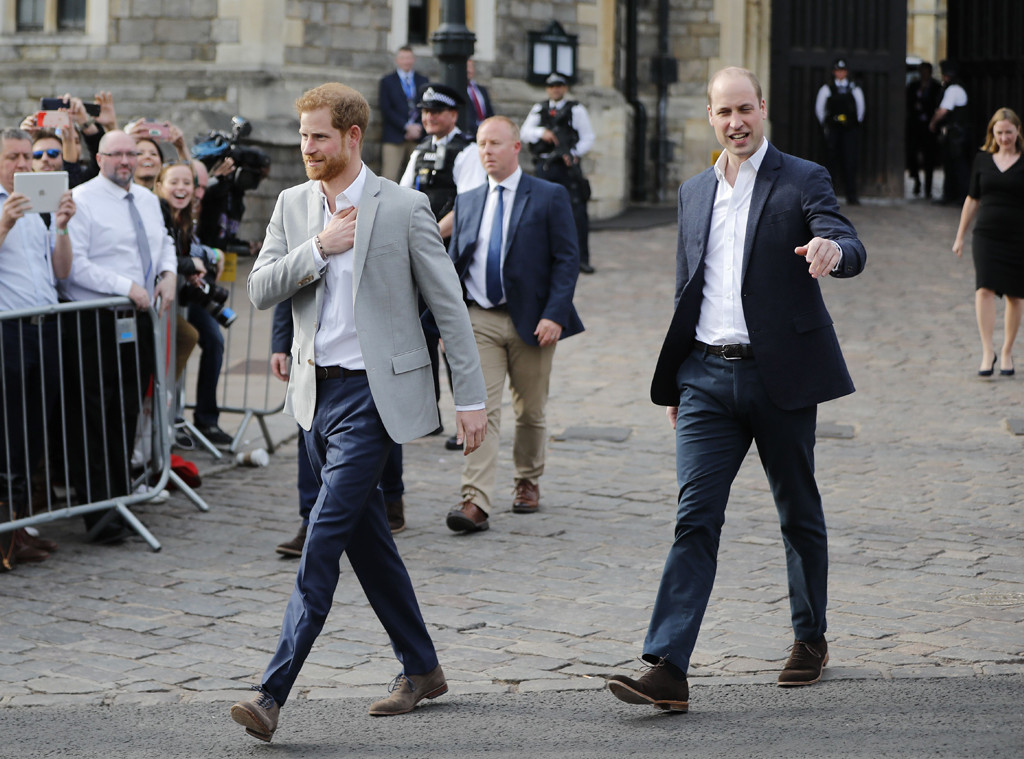 TOLGA AKMEN/AFP/Getty Images
We last saw Prince William leaving Windsor Castle on Thursday with page boy Prince Georgein the backseat. The bridesmaids and page boys were reportedly inside the castle today for a wedding rehearsal with their parents
Once the day wraps up, Meghan Markle and her mother Doria Ragland will check into the Cliveden House Hotel in Taplow, Berkshire for the night while the groom will head 15 miles away to the Dorchester Collection's Coworth Park in Ascot, where he and Best Man Prince William will spend the night. The soon-to-be husband and wife will reunite at the altar inside St. George's Chapel on Saturday.
With about 24 hours until the couple exchanges vows, last-minute details are being sorted out, including who will walk Markle down the aisle in the absence of her father, Thomas Markle. As the star confirmed on Thursday, her dad will no longer be attending the nuptials.
On Friday, Kensington Palace announced that Prince Charles will be stepping in. "Ms. Meghan Markle has asked His Royal Highness The Prince of Wales to accompany her down the aisle of the Quire of St. George's Chapel on her Wedding Day."
As the statement concluded, "The Prince of Wales is pleased to be able to welcome Ms. Markle to The Royal Family in this way."
See you two tomorrow!
Watch E!'s five-hour Live From the Royal Wedding coverage Saturday, May 19, starting at 5 a.m. ET/2 a.m. PT for wall-to-wall coverage of Meghan Markle and Prince Harry's big day! Also, catch E! News every night at 7 and 11 the week prior for everything you need to know.
Source: Read Full Article