Rihanna Beautifully Complimented Anne Hathaway… While Also Complimenting Herself
The Ocean's 8 cast is absolute goals. And Anne Hathaway provided evidence of just that during an interview on The Ellen DeGeneres Show on June 7. As BuzzFeed noted, Anne Hathaway said Rihanna, and other members of the Ocean's 8 cast, gave her invaluable compliments that helped boost her confidence after welcoming her child. And you'll love what the singer turned actor told her co-star.
Hathaway first related that the movie was significant to her because it was the first one she was filming after the birth of her son, Jonathan. She also said that she's "come to terms with the pressure that you get to look a certain way as an actress." When she first started filming Ocean's 8, she said that she was a different size than she normally was. She vowed, as she arrived on set in jeans, "I'm going to love myself no matter what." The actor was soon welcomed by so much love from her castmates, including Rihanna, which made her feel way more at ease on the set.
The star said that when "Work" singer saw her she said, "'Damn, girl you got an ass.'" Naturally, Hathaway was thrilled by her statement because what could be better than Rihanna giving you any kind of compliment? She continued, "And I was like, 'Really?!' and she goes, 'You got an ass like mine.'" One surefire way to boost anyone's confidence? Rihanna telling you that you're looking good (and as good as her, no less).
Rihanna really went out of her way to make everyone in the cast feel at-ease. In an interview with BET, Sarah Paulson said that the singer was so nice and truly wanted everyone to feel welcomed. "The minute she met you, she would say something complimentary about you as a way of diffusing the very obvious elephant in the room which is that she's the coolest person on the planet," she told the publication. So, basically, Rihanna really is an actual queen.
Rihanna wasn't the only member of the Ocean's 8 cast who gave Hathaway a great compliment. The actor said in her interview on Ellen, "Sandy Bullock just looked up at me and said, 'Looking good, mama.'" She also explained (in a perfect imitation of her voice), that Cate Blanchett said, 'Nice jeans, Hathaway.'" Hathaway said she has never experienced that kind of love on a movie set at any other point in her career. "It was so beautiful to be surrounded by that much love and understanding. It was so great," she told Ellen DeGeneres.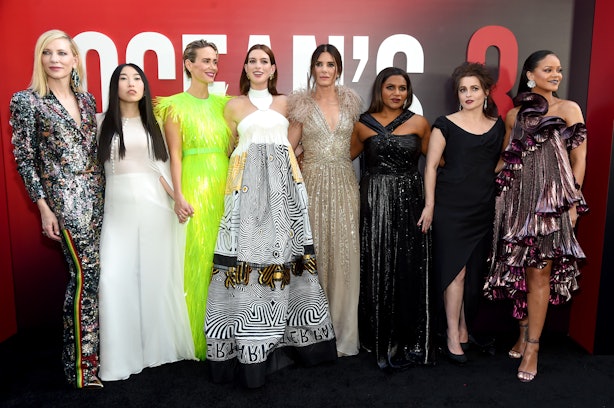 It's incredibly clear that the Ocean's 8 cast is a very tight-knit group. Based on Hathaway's comments especially, it seems like they're just so supportive of one another. As the Princess Diaries actor noted on the Today show on May 31, not everyone was interested in their friendly camaraderie. "It's been really… amazing to watch the way certain members of the media have wanted us to fight each other," she said. But with this crew, there was no drama involved.
Hathaway continued, "We were all collaborating all the time. And now, we're friends and we genuinely love each other. And we're so there for each other."
If her recent comments aren't enough to exhibit that point, the cast have had numerous other fun moments together as of late. For example, Blanchett and Paulson's own Today show interview on June 5 was all kinds of delightful and gave a little insight into how much fun the cast must have had in between takes.
As Hathaway's comments show, the Ocean's 8 cast are so close with each other after filming. And that kind of positive camaraderie is such a beautiful thing.
Source: Read Full Article