The Rise in Motorcycle Crash Deaths Is Worth a Closer Look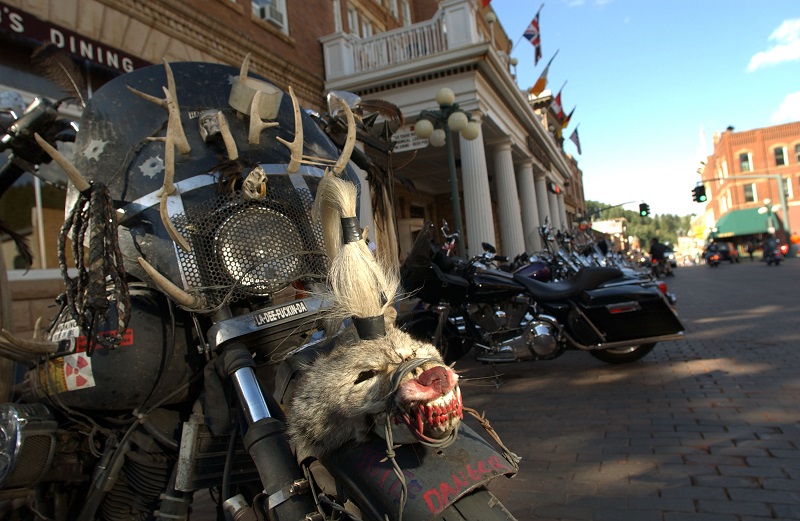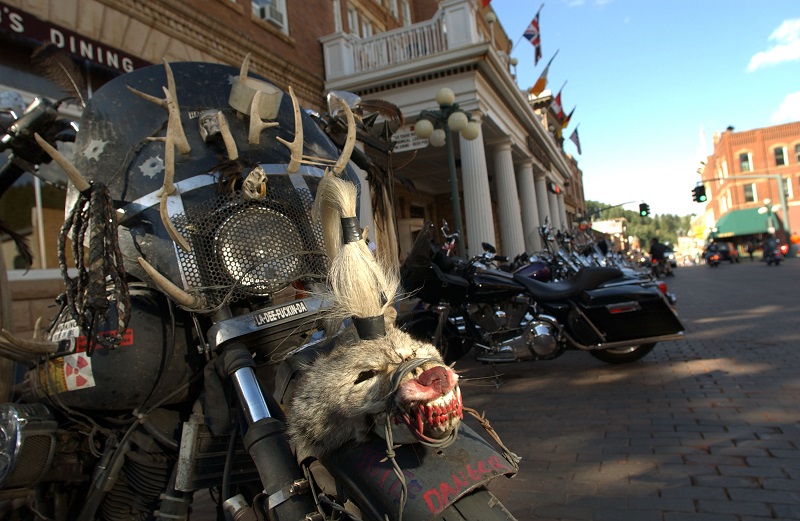 The latest data on motorcycle crash deaths should prompt some alarm. | David McNew/Getty Images
From the latest roundup of vehicle crash deaths on U.S. roads, it's clear one choice of transportation remains far more dangerous than the rest: motorcycles. While that's been the case forever, a significant rise in the death rate for two-wheelers is impossible to ignore.
We're not simply talking about the volume of fatal crashes involving motorcycles. As we noted following the 2017 report on U.S. crash deaths, those numbers rose because bikers logged many more miles since the recession.
Instead, the more worrying trend is the fatality rate involving bikes. The 2018 report showed those numbers at a mark not seen since 2008 — one of the worst for motorcycle deaths in recorded history.
Motorcycles' share of vehicle deaths more than doubled since 1994.
While motorcycles account for 3% of the U.S. registered vehicles, they made up 14% of all traffic fatalities in 2016 (the year used for the '18 report). Since 1994, that percentage has soared.
According to a report by The Mercury News, motorcycles were behind 5.7% of all traffic deaths in '94. Twenty-two years later, the numbers more than doubled, for a total increase near 150%.
Looking at just the raw numbers, the 5,286 deaths were the highest count since 2008, when the largest number ever recorded (5,312 deaths) went on the books.
In between came the Great Recession, when overall ridership and miles logged dropped. But that doesn't explain the higher rate of deaths.
Steady growth in fatality rates since 2012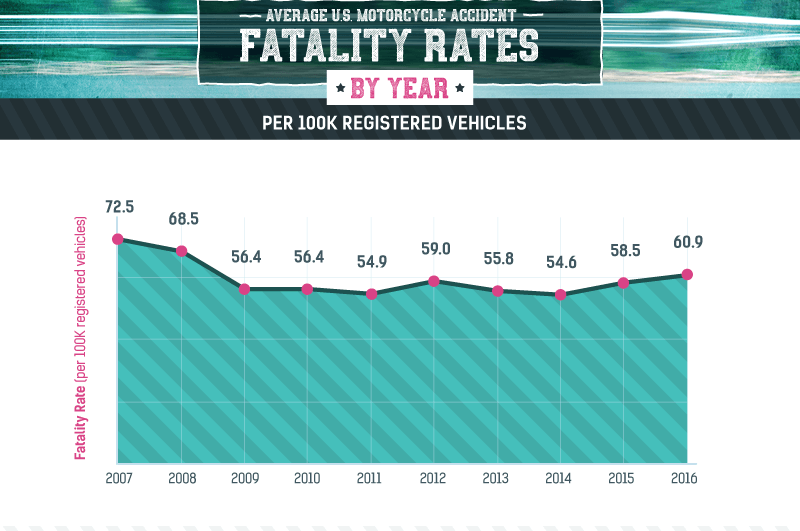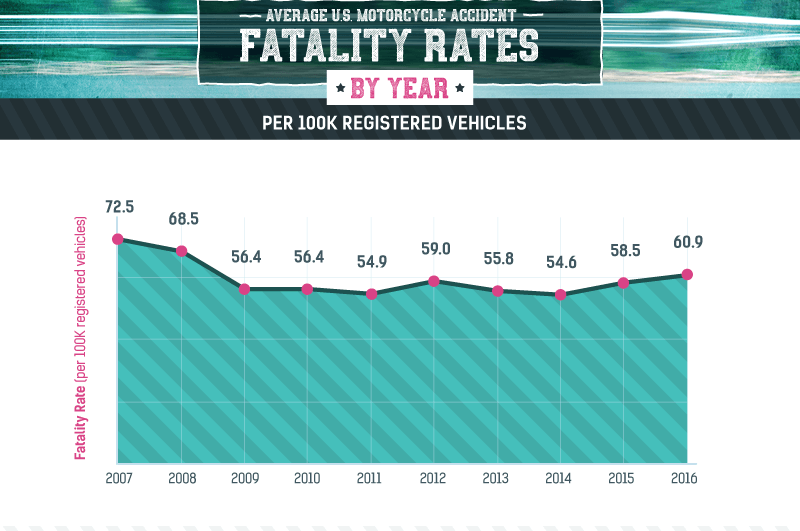 It's been nearly a decade since motorcycle fatality rates were this high. | FARS data via Auto Insurance Center
An analysis by Auto Insurance Center charted some of the trends in crashes involving bikes. Following the economy's prolonged slump (starting in 2007), both the volume and rate of fatal motorcycle crashes dropped.
But those hoping for an end to the days of more than 60 deaths per 100,000 registered vehicles got a rude awakening in the latest report. The rate, which hasn't been as high since '08, meant bikes were six times more likely than passenger cars (9.9 per 100,000) to be involved in deadly wrecks.
Data from the National Highway Traffic Safety Administration (NHTSA) shows that about 20% of car/SUV/truck crashes result in death or injury, The Mercury News reported. On a bike, 80% of crashes either involve either injury or fatality.
Potential causes for the spike
In Pennsylvania, where a law has allowed bikers to ride without helmets since 2003, the number of crash deaths has risen significantly in the state. However, that also coincided with the rise in ridership and miles covered in recent years.
Overall, it's very difficult — if not impossible — to match deadly crashes to states with lax helmet laws. As the Auto Insurance Center report showed, a state like Montana (which mandates that riders wear helmets) still had unhelmeted riders involved in fatal crashes 71% of the time.
Perhaps that's an enforcement issue in a state with such a small population. However, the NHTSA has said helmets saved over 1,600 lives in a single year (2013). NHTSA said helmets reduce the risk of fatal crashes for bikers by 37%.
Others suggest the rise in distracted driving and the use of in-car safety systems (which may not recognize bikers) contributed to the spike.
Here are a few things everyone can agree on:
More people are driving more miles every year. That includes more bikers.
The number of drivers working for Uber and other ride-hail services has skyrocketed in the past few years. Casually blocking traffic — forcing bikers and drivers to swerve around them — is now an hourly occurrence in most U.S. cities.
Summer is when traffic peaks. The weekend is when Americans drive the most.
No matter what type of vehicle you drive, it's been a deadly era in the country with the highest rate of traffic deaths in the developed world. Plan accordingly.
Check out The Cheat Sheet on Facebook!
Source: Read Full Article