The Royal Baby Name Is Sparking 1D Fans' Best Tweets (Including A Reply From Louis Himself)
One Direction has a large, devoted fanbase, and when Prince William and Kate Middleton revealed the name of their newborn child on Friday, the news had some people thinking the Duke and Duchess of Cambridge might be Directioners. 1D fans are so excited about the royal baby's name, and even Louis Tomlinson reacted to the news on Twitter.
Middleton gave birth to Louis Arthur Charles on April 23, also known by his official title, His Royal Highness Prince Louis of Cambridge, Kensington Palace announced Friday. He is fifth in line to the throne, and was born at St. Mary's Hospital in Paddington, London.
While many people had been placing bets on what the royal baby's name might be, Louis was not a top contender. According to CNN, the name is not traditionally British, and was given more frequently to French monarchs, so the choice came as a bit of a surprise. However, Earl Mountbatten of Burma, uncle of the Duke Edinburg— Queen Elizabeth's husband — was named Louis, and fans of The Crown will recognize that name. Mountbatten, a decorated World War II veteran and the last British Viceroy of India — head of the British colonial administration in the country — was something of a mentor to the Duke of Edinburgh and was very close to Prince Charles. Mountbatten was killed in an explosion in 1979 after the Irish Republican Army put a bomb in his fishing boat, and the newborn Prince's name acts as a kind of tribute.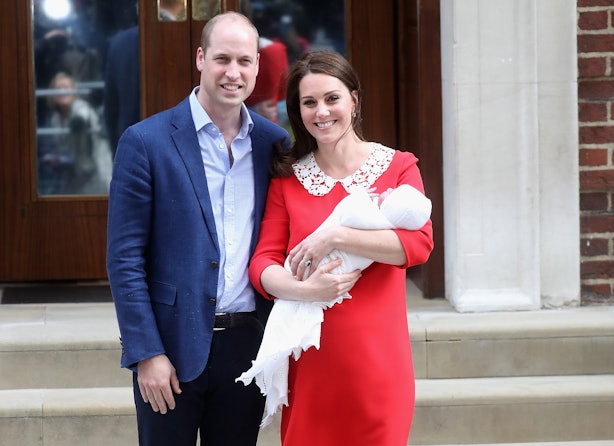 For One Direction fans, though, the announcement also called to mind another famous Louis, 1D member Tomlinson. As the singer tweeted on Friday:
Others also took to Twitter to voice their excitement.
@agalhasnochill tweeted, "'Louis Arthur Charles', William said quietly, so that nobody but Kate could hear, 'you were named after a member of One Direction and he was probably the bravest man I ever knew'," while @opinionatedbish wrote, "Anyway regardless of what else happens today I just learned that the British royals named their new baby after my favorite member of One Direction you cannot change my mind."
The group announced a hiatus in 2015, and each member has pursued their own projects. They've all released successful singles and albums. Harry Styles and Niall Horan are currently on tour in support of their new records, while Liam Payne and Tomlinson recently became parents, welcoming sons with Cheryl and Briana Jungwirth, respectively.
Others users also pointed out that between Prince Harry and Prince Louis, two of the four members of the band (Styles and Tomlinson) now share names with members of the royal family.
"We have a Prince Harry and Prince Louis," wrote @Corvus_Jobs. "Now we need a Prince Niall, Liam and Zayn and we have the royal one direction…" and @harryskindnesss said, "THERE IS A PRINCE HARRY AND A PRINCE LOUIS – ONE DIRECTION IS BECOMING ROYAL".
Middleton actually met the members of the band back in 2014 when they performed at the Royal Variety Performance, where she and William were in attendance. After being introduced, Tomlinson's bandmate Liam Payne told The Mirror, "It's the most nervous I think I've ever been in my life." Meanwhile, Tomlinson was concerned about his etiquette, stating that he "didn't say ma'am … I said, 'Hi, how are you? I'm Louis.'"
While it appears many fans were only kidding and it seems certain that the baby's name was inspired by a family member and not Tomlinson, if there is any truth to the rumors circulating online, the musician clearly made a good impression.
Source: Read Full Article